Social work alumnus awarded fellowship to expand work as first openly transgender elected official in Pennsylvania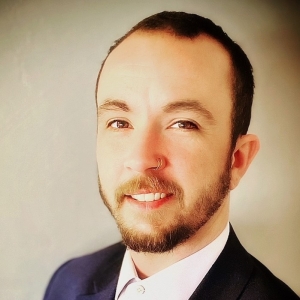 The experiences, accomplishments and goals of Tyler Titus, who received his Doctorate of Social Work (DSW) from the USC Suzanne Dworak-Peck School of Social Work in 2020, share a common theme: expansion. As the first openly transgender elected official in Pennsylvania, Titus (they/them) expanded the idea of who could be included in government. They also incorporated a social work lens into who government should serve and how. Following their tenure as president of the city's school board in Erie, Pennsylvania and an initial campaign for city council in 2021, Titus won the primary election for Erie City Council earlier this year and is currently running unopposed in the November general election.
"I think social workers should be elected at every level of office," Titus said. "We apply a human perspective to legislating people's lives and how they can or cannot thrive. I hope to bring a social worker's ability to analyze policy and budget programs, use data to inform systems, and take innovative approaches to addressing the 'wicked problems' of our community in order to create sustainable change for all of my constituents."
Titus' barrier-breaking accomplishments have been recognized with the prestigious David Bohnett Leaders Fellowship from the LGBTQ+ Victory Institute. The Fellowship brings together a cohort of up-and-coming LGBTQIA+ elected officials from across the country for a three-week executive education program in the Kennedy School of Government at Harvard University. Titus is excited for the opportunity to collaborate with other LGBTQIA+ leaders and continue to create meaningful change in the community they love.
Fostering a learning experience at home
Titus has a long history of working on behalf of underprivileged youth, first with child protective services and subsequently in private practice as a licensed professional counselor. This career choice was inspired by their parents' decision to widen the definition of family by fostering and adopting underprivileged children in rural Pennsylvania. The Titus family went from five children to 13 nearly overnight, and the experience changed their perspective from typical self-absorbed teenager to understanding the needs of those in the community who can be easy to overlook. By the time Titus left home, it was clear they wanted to work with youth who were in the foster care system and had suffered complex trauma.
"Your worst day is the best day that they could have thought of," Titus said. "Watching how the systems were failing these youth that were coming through our house, and the struggles that would play out because of trauma responses, changed me."
Titus credits the experience in the DSW program at USC with making many of their recent career accomplishments possible. The methodology of the DSW curriculum offers a rigorous, systematized and iterative approach to program design that challenges the status quo, which Titus found to be ideal as an elected official trying to identify and meet the needs of a varied constituency within established government structures. As part of their capstone project, Titus founded a nonprofit focused on transgender youth suicide prevention, applying the principles and processes they learned to create and implement more effective solutions.
"The design thinking approach was transformative," Titus said. "I was able to analyze systems and policies from a whole new perspective, to ask simple questions that we, as leaders, often forget to ask. The process demands you show up and view things differently because what you thought you knew, you knew through a very specific lens. It's both humbling and empowering."
Gender identity not the focal point
While Titus is proud to have blazed a path for the transgender community in government, their identity is rarely a topic in their present campaign for Erie City Council elections. In fact, Titus is no longer the only openly transgender elected official in Pennsylvania, which pleases them even more. Instead, Titus is focused on the myriad issues facing the nearly 100,000 residents of Erie, and how they can improve the quality of life in this Rust Belt community where Titus has lived, worked and raised a family for two decades. They are paying particular attention on the needs of children across the community. As a parent and small business owner, Titus' platform reflects the same concerns as many of Erie's residents — addressing the needs of children, creating more economic opportunities and building a strong community that is supportive and inclusive.   
Titus notes that while they do not often talk about transgender issues in the campaign, they appreciate the significance of gender identity not being the focal point for Erie voters either.
"More people see me just as 'Tyler' than as 'the trans person,'" Titus said. "And yes, who I am is part of the elections in the sense that people are forced to have conversations. But at the end of the day, in my 2021 campaign, we had the highest voter turnout that Erie has ever seen. That means 30,000 people showed up to vote for me as my full authentic self. I'm looking forward to expanding that support even further in November."
To reference the work of our faculty online, we ask that you directly quote their work where possible and attribute it to "FACULTY NAME, a professor in the USC Suzanne Dworak-Peck School of Social Work" (LINK: https://dworakpeck.usc.edu)