Social Work Alum and Priest Touched Lives and Educated Many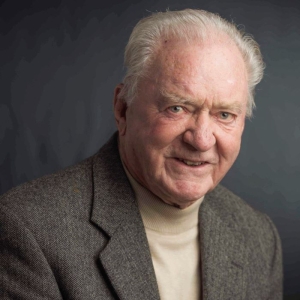 More than half a century has passed since they first met as Master of Social Work (MSW) students at USC in the late 1950s, and Juan Ramos, MSW '60, remembers the late Reverend Bernard Coughlin, MSW '59, as a passionate, energetic person who was dedicated to  helping the poor .  Coughlin passed away in January 2020 at Sacred Heart Jesuit Center in Los Gatos, California.
Ramos recalls his surprise at learning that a Jesuit priest was among his classmates, but the two fell into the habit of talking regularly about life and their studies. "Barney took me under his wing," Ramos said.
Both had grown up in Texas: Coughlin in Galveston and Ramos in Del Rio, a small town within six miles of the U.S.-Mexico border. After receiving his master's degree from the USC Suzanne Dworak-Peck School of Social Work, Coughlin went on to earn a PhD from Brandeis University. Ramos, who earned his MSW a year after Coughlin, eventually followed in his footsteps to Brandeis for his own PhD.
From there, the two men took different career paths. While Ramos built a career at the National Institute of Mental Health, Coughlin served as professor and dean of the School of Social Service at St. Louis University.  In 1974, Coughlin joined Gonzaga University in Spokane, Washington as its 23rd president. He would serve as the Gonzaga's longest tenured president and its first and only chancellor.
The unusual role of priest and social worker
The unique perspective Coughlin brought as a Jesuit priest and social worker to his role as president of Gonzaga also earned him some unusual roles. In 1988, Coughlin was elected chair of the Spokane Area Chamber of Commerce. He was the first Jesuit priest to serve as a chamber of commerce chair in the United States and certainly one of the few social workers to attain such a position. The local newspaper ran a headline announcing his appointment that amused him: "Chamber to get chief who's made a vow of poverty."
Coughlin was not afraid to tackle tough topics. In the 1990s, he and Spokane Mayor Jack Geraghty founded the Task Force on Race Relations, which spurred efforts to address racial tensions. His approach to challenging societal issues was a simple one grounded in his deep faith: people within communities need to work on loving one another. This open and faithful attitude served him well as chair of the Northwest Citizens Forum on Defense Wastes and as a representative on the International Moral Court, researching human atrocities in Iran and encouraging the government to create a set of humane laws and punishments. He also served as a social work consultant in Chile, Guatemala and Peru.
Social work pioneer
In his decades of compassionate service, Coughlin earned many accolades from the community he loved. In addition to developing the country's only doctoral program focusing on social development while at St. Louis University, he also oversaw Gonzaga's transformation from a financially troubled institution to a fiscally strong and highly rated university. He won various awards, including the Anti-Defamation League Distinguished Community Service Award and the Bishop's Award for Outstanding Service, presented by the Bishop of the Diocese of Spokane. In July 2020, he was posthumously recognized as a Social Work Pioneer by the National Association of Social Workers.
"He got along with everyone," Ramos said. He also infused people with purpose and possibility even when the going was tough. "He made people believe it can be done."
Learn more about Rev. Bernard on the Gonzaga University website.
To reference the work of our faculty online, we ask that you directly quote their work where possible and attribute it to "FACULTY NAME, a professor in the USC Suzanne Dworak-Peck School of Social Work" (LINK: https://dworakpeck.usc.edu)