Should I Pursue a PhD in Social Work?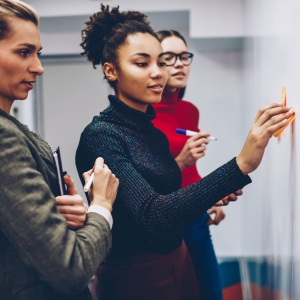 The decision to pursue a doctoral degree in social work should hinge upon a careful consideration of research opportunities and personal career ambitions.
When weighing options for their future, many undergraduate and master-level students inevitably ask themselves, should I pursue a PhD? In the field of social work, a doctorate level education provides the opportunity to develop a specialization in a particular area of interest and to be on the forefront of research surrounding urgent, real-world issues affecting our society.
Michael Hurlburt, associate professor and chair of the PhD program at the USC Suzanne Dworak-Peck School of Social Work, encourages all students interested in pursuing graduate level social work to consider the benefits, challenges and potential career paths associated with a PhD program.
Factors to Consider Before Applying
For many PhD programs, especially in nationally prominent schools like USC, PhD candidates seek to pursue careers in higher education or research-oriented organizations, where they will have opportunities to conduct research and scholarship and help to train others. While some social work PhDs go on to pursue policy, community organizing or nonprofit work, it's important for potential PhD applicants to have a clear picture of their desired career path. In general, social work PhD programs aim to admit individuals with a committed interest in pursuing full-time scholarship and training the next generation of social workers.
"There are aspects of every PhD program that are essentially universal, such as becoming good at breaking down complex problems into parts and using data and analysis to guide problem-solving," Hurlburt said. "However, your choice of discipline is not insignificant. If you are interested in a range of issues, from mental health care to incarceration practices, from homelessness to income and health disparities, where social justice is a core aspect, social work may be a very good choice. If you are interested in addressing the spread of communicable diseases or specific health care treatment practices, for example, it might make sense to consider a public health or a nursing degree rather than a social work PhD."
According to Hurlburt, the training that occurs in PhD programs in any field is often about faculty mentorship and scholarship opportunities as much as about the actual coursework. If you are evaluating various programs, you should carefully consider the specific kinds of research opportunities and relationships you could develop with faculty members in your area of interest. These relationships and opportunities are the primary training experiences that serve as a foundation for your own education and future work.
The Unique Advantages of a Social Work PhD
Social work programs are unique in their scope of focus—taking both micro- and macro-level approaches, most programs will cover everything from individual case management or service delivery practices to human service system reform. Both from a historical perspective, and with its orientation toward social justice, social work scholarship tends to be more applied and action-oriented, rather than purely theoretical.
"The approach of social work education is advantageous because it is not dictated by quantitative data alone, but urges students to assess—and often to marry—both quantitative and qualitative data in order to understand and communicate about human experience and to make more informed decisions," Hurlburt said. As such, social work PhD programs frequently utilize broader lenses and perspectives through which to understand the various factors that create societal inequity and injustice.
What a Strong Social Work PhD Candidate Looks Like
Competitive PhD applicants arrive with many different kinds of backgrounds. Strong academics, direct work and volunteer experience around social issues, strong letters of recommendation, and a sense of direction and purpose with respect to issues that are central to the social work discipline are all important parts of a PhD application. Competitive PhD program applicants often also have prior research or policy experience, both of which indicate a demonstrated interest in pursuing a scholarship-focused career path. If a candidate has spent time participating in research, they often have a clearer understanding of how a PhD will be of value to them in their careers.
To be considered for acceptance into the PhD program at the USC Suzanne Dworak-Peck School of Social Work, "what matters a clear dedication to solving complex social issues combined with a track record of experience that matches that dedication," Hurlburt said. While the majority of PhD candidates already hold an MSW degree, around 20 percent do not. The selection process for entry is competitive and emphasizes the candidate's background as well as the fit with mentors on the faculty. Preferential treatment is not granted to students from any specific schools or universities.
What Makes the USC Social Work PhD Program Unique
Established in 1953, the doctoral program at the USC Suzanne Dworak-Peck School of Social Work is the oldest of its kind in the western United States. Today, six to eight students are accepted into the program each year.
One thing that sets this program apart from others is that instead of receiving grant funding to study with a particular faculty member, doctoral students receive a stipend that allows them to establish mentorships or conduct research with a range of faculty members and other student colleagues.
"There are few places like USC when it comes to the number of research opportunities available to students both within the school of social work and across other departments," Hurlburt said. The USC Suzanne Dworak-Peck School of Social Work prides itself on employing faculty from a variety of backgrounds, including social work, psychology, sociology, public health and anthropology—all of whom serve as resources for students with varied research interests. 
"USC offers a highly flexible, student-centered approach to social work education. Our goal is to provide PhD students with as many opportunities as possible to enrich their knowledge and expand their experiences," Hurlburt said.
To reference the work of our faculty online, we ask that you directly quote their work where possible and attribute it to "FACULTY NAME, a professor in the USC Suzanne Dworak-Peck School of Social Work" (LINK: https://dworakpeck.usc.edu)