School Honors Outstanding Students and Faculty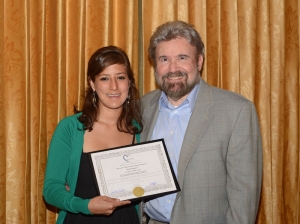 Each year, the USC School of Social Work honors those faculty and graduating students who have made significant achievements in their academic careers and contributions to the USC and at-large communities. This year's Dean's Recognition Ceremony recognized new and past student leadership, those on the Dean's List and Dean's Honorable Mentions. Below are those who received scholarships and awards.
Gabe Miller Scholarship
Awarded to social service students, professionals and organizations that show passion for improving the lives of the disabled, disadvantaged and dispirited. Established by the Gabe W. Miller Memorial Foundation in memory of aspiring social work graduate student Gabe Miller who attended the University of Denver at the time of his death in 2005.
Raji Shivshanker
Dean's Leadership Scholarship
Awarded to incoming full-time students with demonstrated leadership capacity and experience who plan to attend the University Park campus, Orange County Academic Center, Skirball Academic Center or San Diego Academic Center.
Kevin Anderson
Jacquelin Burg
David Curry
Shera Daroga
Anna Fenley
Ryan Jones
Julia Kamp
Whitney Lawrence
Christopher Lee
Adriana Mendez
Julia Palmquist
Travis Riley
John Thompson
Michael Vacha Jr.
Yvette Wade
Sarah Wolf
Phi Alpha Scholarship
Awarded to student members of the national social work honor society Phi Alpha in recognition of service, scholarship and leadership.
Corey Hirsch
Jamie Silvers
Laura Toomey
Order of Areté
Given by the USC Division of Student Affairs, as the highest honor accorded graduate students upon completion of their academic programs, in recognition of outstanding leadership, volunteerism and commitment to the campus and community.
Kevin Anderson
Enia Arevalo
Taj Artis
Angela Asatrian
John Bell
Christian Diaz
Eugene Durrah
Ronnie Fernandez
Quinesha Gatlin
Tyana Ingram
Maria Jeffery
Lener Jimenez
Julio Martinez Vera
Aarely Meza-Valarde
Maximiliano Molina
Lindsey Palmer
Tang Qian
Julie Row
Stephanie Ruiz
Nicole Sanchez
Casandra Sulfridge
Ernestvid Tamayo
John Thompson
Linda Venema
Manako Yabe
Dean's Award for Excellence and Innovation
Recognizes USC School of Social Work graduates who have led the way in academic excellence while blazing trails in service to the communities they work in, at the school and the USC community.
Taj Artis
Nora Etter
Nathan Graeser
John Jasper Kump
Lener Jimenez
Lindsey Palmer
Nicole Sanchez
Julie Schneider
Donnell Willcot
Manako Yabe
Gladys M. Salit Award
Recognizes academic excellence, outstanding field work performance, and exceptional leadership and creativity.
Kevin Anderson
Student Liaison Leadership Award
Recognizes students who take on a leadership role in planning the school's admissions events by providing an extraordinary USC experience.
Joel Gutierrez
Vanesia Patchin
Jesse Velazquez
Calysta Watson
USC Community Service Award for Advocacy and Activism
Honors those at USC who have devoted an immeasurable amount of their time to community service projects.
Eugene Durrah
Social Work Alumni Association Welcome to the Profession Award
Recognizes great potential to contribute to the social work profession and the USC alumni community.
Julia Palmquist
Sterling C. Franklin Award for Distinguished Faculty
Recognizes a faculty member who has achieved excellence in research and demonstrated outstanding service to the university, school and community. Established in 2000 by the Morris Smith Foundation.
Eric Rice
Hutto Patterson Foundation Award for Distinguished Faculty
Recognizes a faculty member for excellence in teaching who has demonstrated outstanding service to the university, the school and the community. Established in 2000 by the Hutto Patterson Foundation with a matching gift from the Morris Smith Foundation.
Eugenia Weiss
USC School of Social Work Award for Excellence in Leadership and Creativity
Recognizes excellence in leadership, creativity and contributions to curriculum.
William Vega
Jane Addams Faculty Award
Recognizes a faculty member whom the graduating students have nominated for their academic, administrative and moral support of students.
Rafael Angulo