Providing the Tools for DACA Students to Thrive at USC and Beyond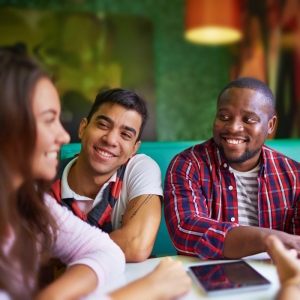 USC is committed to connecting students with programs that will help them succeed and reach their full potential—regardless of their immigration status.
Last month, U.S. District Judge John D. Bates ruled against the Trump administration's attempt to roll back protections provided by the Deferred Action for Childhood Arrivals (DACA) policy. Bates' ruling is just the latest in a long series of judicial attempts to reverse the president's decision to repeal parts of this Obama-era protection program for young, undocumented immigrants. Under Bates' ruling, the program will continue to operate and the federal government must accept new program applications.
Some 800,000 undocumented people, known as Dreamers, immigrated to the U.S. as minors. There is no official count of how many of these young people are enrolled at USC, but the university provides a number of resources to help them complete their degrees and find employment post-graduation.
Resources for Those in Need
The Latino Alumni Advisory Board (LAAB) for the USC Suzanne Dworak-Peck School of Social Work recently created a subcommittee dedicated to addressing the needs of Dreamers. Though still in its infancy, the committee is already making strides. "We have ties to a number of agencies that can help our DACA students succeed," says Lourdes Olivares, Chair of LAAB. "We're all committed to making Dreamers feel comfortable on campus as part of our Trojan Family by enabling them to succeed at USC as well as after they graduate."
LAAB seeks to support students from the start of their academic careers, kicking off the academic year with a Latino Student/Parent Orientation, which is completely conducted in Spanish. During this welcoming session, recent and soon-to-be USC MSW graduates as well as their family members who supported them throughout their graduate journey share their first-hand experiences using the resources available to Dreamers while making connections with other Latino incoming families. We use this opportunity to network and establish a safety net for our Dreamers.
Privacy issues prevent the school and the university from collecting information on Dreamers, making it hard to reach them directly. "They exist, but they're often silent. Dreamers are frequently afraid of losing academic funding, of potential discrimination or of being treated differently by peers," Olivares explains.
For this reason, LAAB offers students the option of contacting the Board privately by emailing them directly at laabusc@gmail.com with the subject line "Dreamers." Off-campus meetings are also available to students concerned about making their undocumented status public.
Immigration- and DACA-Related Events at USC
Through monthly meetings and a strong relationship with the Latino Student Caucus, LAAB is able to identify students who may need assistance with DACA applications or legal counsel related to their citizenship status.
Additionally, LAAB hosts panels in conjunction with the Latino Student Caucus that highlight new career opportunities throughout the year. The Caucus also organizes the annual No Más Conference, which focuses on immigration issues and meeting the needs of undocumented students. According to Olivares, participating organizations include Legal Aide, the Mexican Consul, The Center for Law and Justice and health care insurance enrollment agencies. The goal is to assemble community resources that can provide direct linkages, host workshops and even offer live complimentary consultation sessions.
In her volunteer work at USC and her full-time position as Chief Operations Officer at Via Care Community Health Centers, Olivares has observed heightened anxiety among undocumented populations under the Trump administration. But the work she has done with LAAB, with the support of Dean Marilyn Flynn, seems to have created a more welcoming and equitable environment for Dreamers at the USC Suzanne Dworak-Peck School of Social Work. "Despite the increased fear in the community, I'm really proud to say that at the USC Suzanne Dworak-Peck School of Social Work we've been able to foster a sense of safety for all immigrant students," says Olivares.
There are a number of other resources available to undocumented students at USC, including El Centro Chicano, the USC Counseling Center, the GSG Fund to Support Undocumented and International Students, and Perspectives, an organization that provides confidential assistance to students and their families. You can learn more about these resources here.
To reference the work of our faculty online, we ask that you directly quote their work where possible and attribute it to "FACULTY NAME, a professor in the USC Suzanne Dworak-Peck School of Social Work" (LINK: https://dworakpeck.usc.edu)