Providing Peace of Mind During a Pandemic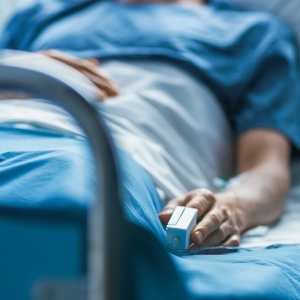 In ordinary times, hospice social worker Andrea Nava is what people would call a "hugger." The USC Suzanne Dworak-Peck School of Social Work alumna maintains a warm closeness with her clients and their families, and those familial displays of affection are part of the regular day.
But during the COVID-19 pandemic, which has hospice care agencies and nursing care facilities enforcing strict social distancing policies to minimize the risk of infection, Nava has had to adapt.
Instead of close embraces, she has switched to air hugs from six feet away, opening her arms and saying, "This is me hugging you." The smile on her face may be concealed by a mask, but she hopes her patients see it in her eyes and hear it in her voice.
Persevering through challenging times
Nava began her position as a social worker within hospice care about seven months before graduating with her Master of Social Work (MSW) from USC in May 2019. These days, her work in homes and at end-of-life facilities in south Orange County and San Bernardino County has changed dramatically.
The personal protective equipment—gloves, mask, booties—she now must wear alarmed some clients and their families at first. "I had to reassure them that I was wearing this for their protection and mine," she said.
But Nava is glad for the equipment, because it is what enables her to continue to be physically present for the 30 families she currently visits. It is also a conversation starter that helps her fulfill her newest job duty: educating clients and their loved ones on COVID-19 prevention.
"These patients know they are the most vulnerable to COVID-19," Nava said. She tries to care for them in the best ways she knows how. Lately, this has meant helping them address feelings of isolation and loneliness as family visits are curtailed or even stopped entirely to reduce risk of infection.
For those patients in hospice care at home, Nava checks with each family to see if they want her to enter the home. For her clients at hospice facilities, the decision on whether or not she can come in is up to that facility's management and judgment of the risk. For those she cannot see in person, Nava makes do with phone calls to make sure they are comfortable and coping well. For patients without cell phones, she checks in with the nursing staff on their behalf.
The work is challenging and emotionally draining at times, but Nava gains motivation from her belief that families know they can turn to her for emotional support anytime. "I see myself as part of their extended family. I want to be there for them in their most vulnerable time," she said.
The important role of social workers
COVID-19 has also changed funeral practices, limiting service attendance to 10 people at the most and prompting some funeral directors to innovate with virtual services. Those who wish to donate their bodies to science after death now face restrictions if they have the virus. Nava helps her clients through tough discussions about what happens after death and how to find innovative ways to meet their goals within the new restrictions.
Though local authorities have classified hospice social workers as "essential workers," not every health care facility allows Nava and her counterparts in as they would members of the medical team. 
Nava sees this as an opportunity to continue to educate people on the important role that social workers play for patients with life-limiting illnesses and their loved ones.
She sees social work's part as one of enhancing well-being and calm by helping patients plan to do what is important to them in their remaining time.
"Social workers can help bring peace of mind during this last stage of life," she said.
To reference the work of our faculty online, we ask that you directly quote their work where possible and attribute it to "FACULTY NAME, a professor in the USC Suzanne Dworak-Peck School of Social Work" (LINK: https://dworakpeck.usc.edu)