Private Donations Boost Innovative Research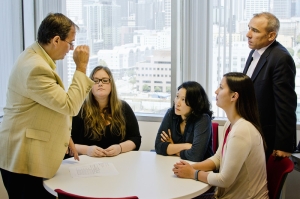 In the world of academic research, streams of funding from federal and state agencies are king.
A large grant from the National Institutes of Health can propel a young faculty member's career forward and sustain ongoing research for years.
But as public institutions tighten their purse strings and the federal funding environment grows increasingly competitive, researchers at the USC School of Social Work have begun exploring previously overlooked forms of support, particularly from private foundations, businesses and philanthropic donors.
These private sources of funding are not necessarily supplanting multimillion-dollar grants from public agencies, but often allow faculty members to focus on selective issues or explore new areas of inquiry, expand the scope of their research, or disseminate their findings in exciting and inventive ways.
"If you think of the function of private foundations in research, they are most effective in helping start up programs," said Marilyn Flynn, dean of the school. "They are most effective in assisting researchers in areas where for one reason or another there is no federal funding. They allow for innovation, for extension and for communication of research in ways that would not otherwise be possible."
Major initiatives at the school that have benefited from grants or gifts from foundations, corporations and individuals include the creation of a center focused on military service members, veterans and their families; a newly established data network that is linking information on child welfare and well-being across agencies; and ongoing efforts to help people experiencing chronic homelessness transition from life on the streets into supportive housing.
Branching out
Anthony Hassan, a retired Air Force officer who now directs the school's Center for Innovation and Research on Veterans & Military Families, said he has instituted a three-pronged approach to securing funding for research and other initiatives at the center. In addition to several major research grants from the U.S. Department of Defense, he relies heavily on assistance from private foundations and in-kind or corporate donations.
The center has drawn support from the Unihealth Foundation, Lincy Foundation, Deloitte, Prudential and Newman's Own Foundation, among other private-sector organizations, foundations and businesses. That funding allows staff members at the center to engage in community outreach, communication and dissemination, and continuing education.
"If I don't have those extra sources of funding allowing the center to extend our work, to disseminate our products and to explore innovations, then we are nothing more than a single research project," Hassan said. "Our center's global leadership and engagement is made possible because of the foundations, the corporations and the donors who believe in our mission and allow us to do our work without traditional project boundaries."
One shining example of how the center has been able to leverage this sort of funding is a recent effort to assess the needs of veterans in Los Angeles and Orange counties. A $125,000 award from the Newman's Own Foundation and pro bono support from Deloitte helped researchers at CIR collect information on service members, veterans and their family members throughout Los Angeles County, in addition to assessing the extent of available services to address their needs.
Although researchers are still analyzing the results of the comprehensive survey, they are confident the findings will significantly affect policies and programs related to the military community.
Building momentum
The success of the initiative in Los Angeles County inspired other philanthropic organizations and businesses to contribute to the project and a similar effort in Orange County.
"With that initial seed money, we have been able to partner with Deloitte, which has invested over half a million dollars in in-kind support, and we now have Unihealth to pick up where Newman's Own left off," Hassan said. "It's given us national attention regarding a very important community problem."
The Unihealth Foundation provided $150,000 to support CIR's efforts to analyze findings from the Los Angeles survey. The foundation also chipped in an additional $50,000 to help launch a survey in Orange County in collaboration with the Orange County Community Foundation (OCCF), which awarded a $94,000 grant to CIR.
Shelly Hoss, president of OCCF, said the center's record of successful research on military-related topics, including the previous survey in Los Angeles County, made it an ideal partner.
"As more and more servicemen and women will be leaving the military and reintegrating into civilian life, it is important to us that Orange County is a welcoming and supportive environment for them to come home to," she said. "This assessment will help us to identify what gaps there are and how we can provide effective support where it is needed."
CIR's reputation also played a major role in drawing funding from the Unihealth Foundation, which has been supporting veterans for more than a decade through partnerships with the U.S. Department of Veterans Affairs and other nonprofit organizations. Mary Odell, president of the foundation, said the benefit of support from private sources is that it tends to be more flexible.
"Public dollars are very restricted in terms of use," she said. "The gift of philanthropic dollars is they can be applied more broadly."
A selective approach
Hassan agreed, noting that federal funding, although essential to supporting innovation and discovery, often includes restrictions regarding how that money can be used. Coupled with the fact that many private organizations are increasingly interested in supporting research on military-related issues, particularly as more service members return home from the conflicts in Iraq and Afghanistan, the lure of seeking philanthropic support is strong.
However, Hassan noted that he has become increasingly cautious about accepting funding from the private sector that does not match the center's research needs or priorities.
Odell said ensuring that grants are responsive to the needs of the community has been a main focus of the Unihealth Foundation. In addition to supporting CIR's efforts in the military realm, the foundation has awarded funding to John Brekke, the Frances G. Larson Professor of Social Work Research, to examine issues among individuals with serious mental illness.
In particular, the foundation provided initial funding of approximately $150,000 to test an inventive method of helping people with serious mental disorders such as schizophrenia receive care and support. The model involves employing peer navigators, or people who have personal experience with severe mental illness, as guides to help clients navigate the often labyrinthine health care system. Initial findings indicated that the model was effective, and Brekke received a $1.2 million award from the federal Patient-Centered Outcomes Research Institute to continue his work.
"That's a great win in our mind because a very modest amount of philanthropic dollars seeded a project, enabled him to collect good data, and positioned him to drawn down a really nice pot of federal funding," Odell said.
Paying dividends
A similar stream of seed funding helped Suzanne Wenzel, a professor and chair of the school's Research Council, secure a $2.7 million grant from the National Institute on Drug Abuse. She relied in part on $100,000 from an individual donor, J. Scott Watt, to explore transitions to permanent supportive housing among people experiencing chronic homelessness.
Initial results from a pilot study led to the proposal for federal funding—an application that received a perfect score from reviewers.
"I am so pleased that Scott's initial investment in the school's research efforts on homelessness—in the form of a monetary gift to advance my research—has resulted in such a high rate of return in the science we can do and in the difference we can make," she said.
Watt, a homebuilder who graduated from USC and serves as a member of the school's Board of Councilors, said he has been a longtime advocate for strategies to end homelessness and is interested in finding new ways to improve communication and interaction among organizations that serve homeless individuals.
"You can't just throw money at it, it's a lot tougher problem than that," he said. "There are so many of these organizations that can't seem to see past what they are doing and the synergies that can come from putting their efforts together. Suzanne saw that and we are now seeing some of the benefits of bringing these people together."
Watt and his wife, Obaida, also funded a forum at the school several years ago that involved participants from Los Angeles city and county agencies, private service agencies, and academia interested in integrated care and supportive housing. Wenzel said such a diverse gathering of people engaged in the issue of homelessness is rare.
"Frontline case workers who meet and work with people on the streets every day, agency heads such as the director of the L.A. County Department of Mental Health, and leading researchers on services for people with mental illness and homelessness were all in the same room together," she said. "They were hearing one another's perspectives and concerns and problem solving with one another."
Wenzel and her research team have since built on some of the relationships they developed with organizations and public officials during the forum, including some agencies that are now involved in the recently funded project on transitioning to permanent supportive housing.
Watt said he is hopeful that Wenzel's continued efforts will lead to increased collaboration among service providers and a greater emphasis by politicians on addressing the needs of chronically homeless individuals.
"Her work is going a long way toward making them aware of what the real issues are," he said.
Personal belief
In addition to benefiting from the generosity of individuals such as Watt, the school is also drawing support from within its walls. Two professors have made personal donations to advance research initiatives in recent years.
Bruce Jansson, the Margaret W. Driscoll/Louise M. Clevenger Professor of Social Policy and Administration, has dedicated his career to research on the well-being of vulnerable populations, particularly in terms of patient and policy advocacy in the health care sector.
He donated $38,000 to support a postdoctoral scholar to help him obtain data on the extent to which certain medical personnel, including nurses and social workers, advocate on behalf of their patients. The gift is funded with royalties from two of Jansson's books and supplemented with support from the school's Management, Organizations and Policy Transformation research cluster.
Inspired by a Medal of Honor recipient who described his personal struggles with posttraumatic stress disorder, Kathleen Ell also made a personal contribution of $10,000 to research efforts at the school. Ell, the Ernest P. Larson Professor of Health, Ethnicity, and Poverty, said she was moved by Staff Sgt. Ty Michael Carter's presentation during a CIR event and wanted to help the center address problems that affect military-affiliated individuals, such as high rates of unemployment, behavioral health problems and issues reintegrating into society after deployment.
She recently donated an additional $20,000 to CIR to help the center bring together military researchers from across the United States and other countries for a two-day meeting to build academic partnerships and share strategies.
"It's kind of the way I grew up," Ell said of her decision to make a personal donation to the school. "We were pretty poor but my father's slogan was to do unto others as you would have them do unto you."
To reference the work of our faculty online, we ask that you directly quote their work where possible and attribute it to "FACULTY NAME, a professor in the USC Suzanne Dworak-Peck School of Social Work" (LINK: https://dworakpeck.usc.edu)