Norris Foundation Gift Supports Nursing Students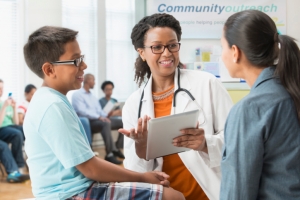 The USC Suzanne Dworak-Peck School of Social Work has received a $45,000 gift from the Kenneth T. and Eileen L. Norris Foundation to provide scholarships for nursing students to complete an eight-week "bridge" course that helps prepare them for the Master of Science in Nursing (MSN) program with a specialization as a Family Nurse Practitioner (FNP).
Nurses are now key health care providers as well as leaders in health care systems, and the need for an MSN is a prerequisite for becoming an advanced nursing practitioner.
While many registered nurses are interested in pursuing the next level in their profession. The bridge course will prepare MSN students to successfully complete the pathophysiology and pharmacology requirements that are fundamental elements of the graduate degree program.
"A core tenet of the school's MSN/FNP program is to recruit and educate culturally competent nursing leaders who reflect the diversity of the communities they will serve," said Ellen Olshansky, professor and chair of the Department of Nursing. "With support from philanthropic organizations like the Norris Foundation, we will help to develop a diverse nursing workforce that will lead to better health practices and outcomes in families and communities throughout the country."
The gift will enable approximately 12 nursing students with financial need to take the bridge course and place themselves on the path to successfully obtaining their MSN. The nursing program will matriculate three times per year, totaling approximately 300 students.
"The bridge course will play a critical role in providing access for registered nurses to advance within their profession," said Dean Marilyn Flynn. "We are grateful to the Norris Foundation for their support of our new Department of Nursing and our students, who will combine the science of nursing with the science of social work and be better equipped to identify the root causes of health outcomes."
The USC Suzanne Dworak-Peck School of Social Work is the first in the nation to develop a department of nursing as an equal partner in collaboration with social work, and believes that nurses hold a central position in the nation's complex health care system. The FNP specialization prepares students to provide quality patient care to members of an entire family, from the young to the elderly, and enhances students' capabilities and impact through a profound understanding of the social determinants of health.
The Kenneth T. and Eileen L. Norris Foundation supports programs that advance better health and intellectual enlightenment through education, cultivation of the arts, individual responsibility, freedom and dignity. Funding is concentrated on five areas: community, cultural, youth, medicine and education/science.