Night Celebrates Solomon and Her Road to Advancing Diversity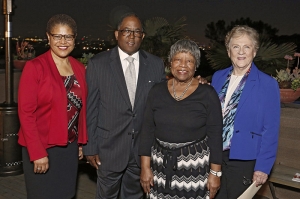 Professor Emerita Barbara Solomon, DSW '66, and her husband, Donald, recently welcomed distinguished guests to their home for an evening dedicated to the importance of diversity in social work.
Solomon, who served as the first African-American dean at USC, was joined by USC School of Social Work Dean Marilyn Flynn; Los Angeles County Supervisor Mark Ridley-Thomas; Congresswoman Karen Bass; and alumna Natasha Cole, the 2015 recipient of the Barbara Solomon Endowed Scholarship.
Ridley-Thomas expressed his admiration for Solomon and the ways in which her work has been a major influence in his political life.
"Barbara's book, Black Empowerment: Social Work in Oppressed Communities, has had considerable influence on the practice of social work, both in this country and around the world," Ridley-Thomas said. "As the founder of the Empowerment Congress, which celebrates its 25th year in 2017, I have, on many occasions, applied Barbara's wisdom and teachings. And as a county supervisor, I know that social workers affect multiple aspects of my constituents' lives.
"When social workers are empathic, compassionate, empowering and culturally competent, people can thrive in their care."
Flynn emphasized the importance of diversity in all aspects of education and in the social work profession, pointing to Solomon's previous position of USC vice provost for minority affairs as an example of the kind of focus required to ensure inclusion of people with various experiences and thoughts.
Solomon's many achievements over the last 50 years have earned her USC's highest honor, the Presidential Medallion, in addition to the USC Associates Award for Excellence in Teaching; "Faculty Who Make a Difference" Award from the American Association of Higher Education; Social Work Educator of the Year Award from the California Chapter of the National Association of Social Workers (NASW); and the Rosa Parks Award from the Los Angeles chapter of the Southern Christian Leadership Conference.
As a founding member of USC's Neighborhood Academic Initiative, Solomon saw the lack of diversity in higher education and helped create a widely praised program that readies local secondary school students for higher education. Established in 1989, the seven-year pre-college enrichment program has helped numerous low-income students achieve their goals of a college education, many who were accepted to USC with a full financial package. Thanks to a generous contribution from USC Trustee Joan Payden last year, NAI hopes to support 1,100 students by the year 2020.
To assist aspiring social workers, Solomon established the Barbara Solomon Endowed Scholarship with $25,000 of her own money funding the scholarship. The scholarship is awarded to African-American students pursuing a Master of Social Work at USC with an express interest in serving the African-American community.
Last year's scholarship recipient was single mother Natasha Cole. She dreamt of earning her MSW at USC but needed financial assistance to make it possible. Thanks to the Solomon scholarship, Cole graduated last May, having completed internships helping older African-American adults access necessary services and address others lacking in their communities.
"When you're 19 or 20, it's not the same as when you're a non-traditional student [like me]. You're stepping out on a lot of faith to pursue this degree," she said. "[With this scholarship,] I was able to successfully complete my last year at USC."
To reference the work of our faculty online, we ask that you directly quote their work where possible and attribute it to "FACULTY NAME, a professor in the USC Suzanne Dworak-Peck School of Social Work" (LINK: https://dworakpeck.usc.edu)