New Board Members Join School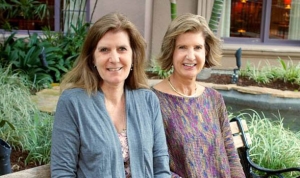 The USC School of Social Work has added three new members to its Board of Councilors, two of which are alumni.
Catherine Hutto Gordon, MSW '97, and Eileen Hutto, president and vice president, respectfully, of the Hutto Patterson Charitable Foundation, are the newest members to join the school's board.
The foundation, which Gordon's and Hutto's mother founded, focuses on providing access to education and recently endowed a scholarship at the school for students pursuing the growing field of military social work to help families cope with the stresses of military life.
"Joining the School of Social Work's Board of Councilors is a great way for me to play a larger role beyond what the foundation can contribute and to be a part of this exciting program," Hutto said. "Being a part of the board will keep me abreast of the role social work is playing in today's society, especially in the military area, which is very timely and necessary in regard to all the veterans coming home."
Gordon said the work she and Hutto do at the foundation – finding ways to help meet the needs of worthy organizations – is similar to the work she did as a social worker helping families navigate large hospital systems to ensure they received effective care for their loved ones.
Gordon started her career in social work, earning a degree in social welfare from the University of California, Berkeley, but then spent some time working in banking. She went back to school after learning that the social work profession had evolved to include more scientific approaches, including the use of psychotherapy, something in which she always had been interested.
"I felt at home at USC," Gordon said. "My original intent all along was to help people, and the School of Social Work gave me the tools to do that."
After graduating, Gordon worked at Cedars-Sinai Medical Center as a child and family social worker and later as a child development specialist in private practice.
Gordon is now retired and spends her time focusing on volunteer projects with disabled children and philanthropic interests. In addition to her work with the school and her family's foundation, she serves on the board of trustees of the UC Berkeley Foundation and the California Science Center, as well as on the board of directors of the Library Foundation of Los Angeles.
"I wanted to join the school's board because I feel my experience in philanthropy and as a social worker will help the school accomplish its mission of service to our community," Gordon said. "One person can only do so much. But as a diverse and cohesive team, the Board of Councilors, in partnership with the dean, can concentrate on our efforts to guide and focus the school forward."
The school's third new board member, Mark Spratt, MSW/MPA '03, joined earlier this year. He also established a scholarship for School of Social Work students called the Matthew Holland Scholarship in Social Work, in honor of his partner, for those who have demonstrated a commitment to lesbian, gay, bisexual and transgender issues through academic work, community involvement or other personal contributions.
Spratt's path as a social worker has been a nontraditional one. While he was a Master of Social Work student, Spratt interned at the Department of Mental Health Center on Crisis and Disaster Relief, where he learned first-hand how the United States responds to national disasters, including the events on September 11, 2001. Spratt found the systems in place lacking in terms of technological advancement, so he elicited the support of fellow USC students to streamline the deployment of mental health counselors during a man-made or natural disaster.
Since graduating, Spratt has worked as a senior manager in Deloitte Consulting's Human Capital practice, where he supports Fortune 100 companies with their global business transformations and process improvements.
Spratt is also a member of the USC Alumni Association's Board of Governors and sits on the board of directors of the USC Lambda LGBT Alumni Association.
"These philanthropic individuals, who have joined the school's Board of Councilors, will increase the breadth of the board's scope by bringing a new diversity to the group," said Marilyn Flynn, dean of the School of Social Work. "Catherine, Eileen and Mark all have unique backgrounds that will help the school achieve its goal of leading social work education in new, exciting directions while maintaining its focus on improving the status of vulnerable and underserved populations everywhere."