National Center for School Crisis and Bereavement Moves to School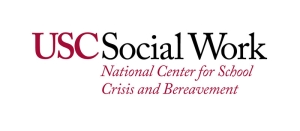 The University of Southern California School of Social Work announced today the National Center for School Crisis and Bereavement (NCSCB) will now be housed at the school. The renowned center is one of the leading organizations in the U.S. providing comprehensive crisis and bereavement resources and training to educators, school systems, governmental agencies and community organizations.
"A key part of the USC School of Social Work's mission is to help vulnerable populations, including children," said Marilyn Flynn, dean of the USC School of Social Work. "We believe the addition of the National Center for School Crisis and Bereavement will help us make even more important and far-reaching contributions to better prepare schools to provide grieving students the support and care they need."
Because schools can serve as critical support systems to students, staff and families at times of crisis and loss, the center's goal is to promote an appreciation of the role schools can serve when such situations arise; to collaborate with organizations and agencies to further this goal; and to serve as a resource for information, training materials, consultation and technical assistance.
Such support has become particularly critical, considering that by the time children complete high school, almost all will experience the death of a family member or friend, and by 16 years of age, one in 20 will experience the death of a parent.
Given the School of Social Work's expertise in the field of school-based social work, children and families, the center's move to USC will allow it to benefit from the school's strong reputation, extensive research and faculty involvement in these issues.
Established in 2005 with initial support from the September 11th Children's Fund and the National Philanthropic Trust, the NCSCB now receives generous support from the New York Life Foundation. The center was most recently affiliated with the Drexel University College of Medicine.
The NCSCB was founded by David J. Schonfeld, a developmental-behavioral pediatrician and school crisis and bereavement expert, who will continue to serve as the organization's director, as well as a member of the USC School of Social Work faculty.  Schonfeld is also a member of the American Academy of Pediatrics Disaster Preparedness Advisory Council, and has served as a commissioner for the Sandy Hook Advisory Commission and the National Commission on Children and Disasters.
Schonfeld also oversees the Coalition to Support Grieving Students, a collaboration of 10 professional organizations representing educators, principals, administrators and other school professionals, whose goal is to create and share a set of industry-endorsed resources to empower school communities across America in the ongoing support of their grieving students.
"By joining the USC School of Social Work, our center will be able to benefit from the school's outstanding faculty and programs," said Schonfeld. "The school is already one of the leading institutions in the country known for developing, evaluating and promoting interventions in schools impacted by crisis events. Together, this partnership will allow to us to collectively build on efforts to help schools meet the needs of children and staff at times of crisis and loss." 
"Having partnered with the Center for the past several years, we are thrilled to see it transition to a new home that will support its growth and help expand its reach," said New York Life Foundation president Heather Nesle. "Now more than ever, there is a tremendous need in our nation's schools for the resources that the Center can provide—both in times of school crisis as well as in the everyday challenges that grieving students face."
The center's advisory board includes nationally recognized experts in child-related trauma, school crisis, mental health, psychiatry and school-based social work. Among its members is Marleen Wong, associate dean and clinical professor at the USC School of Social Work.
To reference the work of our faculty online, we ask that you directly quote their work where possible and attribute it to "FACULTY NAME, a professor in the USC Suzanne Dworak-Peck School of Social Work" (LINK: https://dworakpeck.usc.edu)