A Message from Dean Sarah Gehlert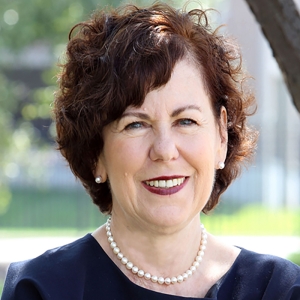 I am very pleased to join the USC Suzanne Dworak-Peck School of Social Work as dean, and begin to expand the mission in a school known for its innovation, to achieve even greater impact.
I find myself beginning this journey in the midst of a global pandemic that could not have been predicted a few months ago. This is a difficult time for us all, both professionally and personally, as the world experiences a health crisis unlike any we have seen in over a century. I congratulate everyone connected with the school for their resilience and willingness to adapt to ensure continuity of education and the wellbeing of our students. We will continue to follow the university's lead in safeguarding the wellbeing of our students, faculty and staff.
The school in many ways is at a developmental crossroads. This can be a time of positive change. The prospect of working together with faculty, staff, students, alumni and community stakeholders toward a renewed, shared vision for the school fits well with my background and personal philosophy. We will emerge a stronger and sustainable institution if we work together. 
Spring is normally the time when the school is gearing up to celebrate commencement, and I understand how disappointing the postponement of this event must be for so many. I assure you that we will celebrate our 2020 graduates once it is safe to do so. I very much look forward to attending my inaugural graduation ceremony.
My approach to leadership has always been collaborative, not only because it minimizes discord, but also because it allows an organization to bring forth ideas and knowledge that might otherwise be missed had the approach not been collaborative. I have found, through many years of academic and administrative experience, that evaluating how a school functions and finding new opportunities and efficiencies is much easier when viewed with new eyes. I am particularly passionate about this type of work, and I can see that the collective communities of the school are poised and ready to develop a common mission and shared goals.
To me, people work together best when they develop a "shared mental model" forged from a deep understanding of purpose. I aim to create the environment for us to accomplish this. The first two years of my deanship at the University of South Carolina were devoted to evaluating the structure and functioning of the College of Social Work, in concert with alumni, students, community members, staff members, faculty council members, fellow deans and the provost.
Hallmarks of my career have included success in recruiting and developing faculty, and encouraging transdisciplinary and community-based participatory research. The school has a remarkable profile within the social work community, and many areas of research that complement each other. We are in a unique position to leverage consolidation of our research efforts across interests, disciplines and teams. I have had the privilege of serving as the principal investigator on large center grants that involved leading teams of investigators, trainees and students from diverse disciplines, community partners and research staff. I know from this experience that transdisciplinary approaches to scholarship and research position an institution at the forefront of best practices and education.
I am highly committed to nurturing student success and working with faculty to identify new methods of instruction and ideas innovation. It is my belief that students should have a voice with regard to their educational experience, and access to the dean for this purpose, and I intent to implement a meeting series with students at USC.
Community partnerships and ties with other disciplines and professions is another hallmark of my work. I have many existing ties in California, such as my 12-year relationship with the California Breast Cancer Research Program, helping train researchers, practitioners and advocates in community-based participatory research and serving on their Steering Committee.
As president of the American Academy of Social Work and Social Welfare (AASWSW), the home for this prestigious organization is now USC. Social work at USC has one of the largest contingents of AASWSW Fellows, many of whom I have had the honor of collaborating with on committees and publications. The AASWSW is a tremendous resource for promotion of research and mentorship that can be utilized by the school at many levels.
The school has many shared aspirations within its various initiatives―advancing social good through research and teaching, diversity and inclusion, relevance of research to education, and creating a fair and equitable community that supports all of its members. I look forward to a collaboration that advances our academic excellence and our standing within the social work community and beyond.
It is my privilege to join this exceptional school and the Trojan Family, and to be in the position to make the USC Suzanne Dworak-Peck School of Social Work even stronger.
Sincerely,


Sarah Gehlert, PhD
Dean
To reference the work of our faculty online, we ask that you directly quote their work where possible and attribute it to "FACULTY NAME, a professor in the USC Suzanne Dworak-Peck School of Social Work" (LINK: https://dworakpeck.usc.edu)