In Memoriam: Alumnus Moses Chadwick, 75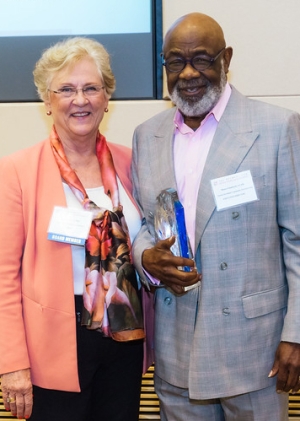 Moses Chadwick, MSW '78, founder and executive/clinical director of the Tessie Cleveland Community Services Corp. (TCCSC), which provides mental health and related services to children, adolescents and families in South Los Angeles, died June 24, 2017. He was 75.
Chadwick founded the organization with his wife, Carolyn, in 2005, but began providing services to the community many years before. He was recognized as a leader in developing and expanding mental health counseling, case management and other services for unserved and underserved populations in Los Angeles' African-American community.
"He dedicated his career to improving treatment options, resources and outcomes for the African-American community and its youth," said Marilyn Flynn, dean of the USC Suzanne Dworak-Peck School of Social Work. "He also was a strong advocate for advancing the management of social work organizations, and an inspiration to all who knew him."
Chadwick was born May 17, 1942, in Scranton, North Carolina, and grew up in the small town of Millville, New Jersey. The middle of three children, he often felt like an outsider, according to Carolyn.
At 17, he joined the Air Force, where he served for nine years. Afterward, he moved to California and received a bachelor's degree in political science with a minor in sociology from California State University, Dominguez Hills. He then became a research assistant for Stan Sharma, a UCLA associate professor who conducted research in psychopharmacology.
Acting upon Sharma's recommendation, Chadwick applied to the USC social work school. To attend, he received a full grant from the Department of Mental Health, where he later went to work. Chadwick also helped Sharma establish the Eldorado Community Service Centers in 1983.
Chadwick took a professional detour for 10 years, opening a couple of hamburger stands called "Holy Moses," but then returned to social work once again.
He worked at Los Angeles County Martin Luther King Drew Medical Center for 16 years, serving as an assistant director to the renowned Tessie Cleveland, whom he considered a mentor. Cleveland was widely recognized for prompting county and state officials to focus on medical conditions that disproportionately affect African Americans, and she expanded how social services were designed for and delivered to the portion of that community who lived in the Watts-Willowbrook-Compton area.
Opening his own service center was a dream come true, according to Carolyn, chief operating officer of TCCSC.
"He was committed to the community and felt they deserved better than they were receiving," she said. "He also felt that some social workers didn't understand the mores of the community, causing their decision-making to not necessarily be in the best interests of families there. He challenged social workers to think about and have a rationale for what they were doing."
In 2016, Chadwick received the Exemplar Award from the Network for Social Work Management. The award nomination letter said Chadwick's impact with TCCSC was evident by how he helped it grow: increasing the number of staff from 30 to 130, helping more than 30 social workers get licensed, expanding the service delivery area from 50 square miles within Los Angeles County to more than 2,500 square miles, and increasing the number of offices from one to four.
Equally significant, the letter said, was his dedication to creating a training program for social workers that boasts a 99 percent pass rate for the California licensed clinical social worker exam.
"He was most proud of his work in mentoring young social workers," Carolyn said, "and quite a few of our social workers have come from the USC social work school. He was also proud of the out-of-the-box services, which took kids out of their usual environment to give them services in a new one, and he believed in social workers going into the kids' environment to see their homes and community and what's going on there."
Recently, in conjunction with the school, Chadwick was planning new programs of outreach to African-American young men in South Los Angeles.
In addition to Carolyn, Chadwick is survived by his daughter Lorie and grandson, Jaden.