Meet Amanda Pertusati, Co-Chair of the LAVC's Legal and Re-entry Working Group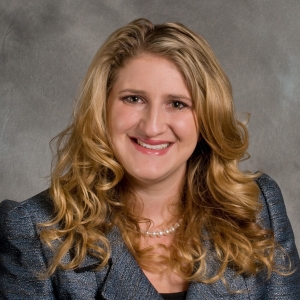 LAVC co-chair and attorney Amanda Pertusati is dedicated to connecting veterans with critical services, from legal representation to housing benefits.
When a military service member transitions from active duty to civilian life, he or she faces a number of new challenges—from navigating their place in the workforce to selecting an adequate health care plan. Today, California has the highest concentration of veterans of any state, many of whom struggle with low income levels, homelessness, and a lack of access to vital resources and support networks.
To centralize services and increase access to resources for veterans, the USC Suzanne Dworak-Peck School of Social Work's Military and Veterans Programs developed the Los Angeles Veterans Collaborative (LAVC). Co-chaired by attorney Amanda Pertusati, the Legal and Re-entry working group of the LAVC is a subcommittee providing veterans with legal services. Pertusati spoke with us about how effective legal counsel can position veterans for long-term financial and career success.
USC Suzanne Dworak-Peck School of Social Work: What inspired you to become involved in the LAVC?
Amanda Pertusati: My stepfather served in the Air Force and unfortunately received a late diagnosis of bipolar disorder, which led to his immediate discharge. When he was discharged, the military had very few services available to aid in his transition—and as a result, he struggled to secure a civilian job, health care and stable housing.
Years later, I attended law school at the University of Detroit Mercy School of Law, where I became involved in Project Salute, whose mission is to "educate veterans on available benefits and assist them with obtaining these benefits." In conjunction with the American Bar Association, Project Salute provides training to young attorneys across the country on how to legally process military benefits and represent veterans in court.
I went on to clerk as a judicial intern in a Veterans Treatment Court in Santa Maria, California, and eventually received an Equal Justice Works AmeriCorps Fellowship at the Public Law Center in Santa Ana, California, where I focused on eradicating barriers to employment, housing, health care and benefits to homeless and at-risk veterans. Today, I serve as a staff attorney in the Los Angeles Public Counsel's Center for Veterans' Advancement, working on impact litigation and policy to assist veterans across the country. I have been an active member of the LAVC for a few years now.
Through all of these experiences, I encountered veterans who reminded me of my stepfather. Many needed help obtaining housing benefits, undergoing discharge upgrade processes, being represented in court and more. Through all of these experiences, it has been encouraging to see how life-changing effective legal help can be for veterans. Sometimes, it helps get their lives back on track.
USC: Tell us about your role as co-chair of the LAVC's Legal and Re-entry working group.
AP: I began attending LAVC meetings after I learned about the collaborative from colleagues at Public Counsel. Eventually, I was asked to become the co-chair of the Legal and Re-entry working group.
In every meeting, we invite a subject matter expert to deliver a law-related talk. The thrust of my work at the LAVC involves recruiting a diverse group of speakers who will provide applicable legal knowledge for audience members, many of whom work in law. Discussions range from facilitating a discharge upgrade process (which can increase access to a range of benefits for veterans who may have received a disqualifying discharge) to expunging legal records.
USC: What role do social workers play in the LAVC?
AP: From the legal side, I recognize social workers as a critical component of completing the work that must be done to aid veterans. Attorneys can do a lot of good—for example, I can connect veterans to the resources they need to fill out a housing benefits voucher—but I can't actually go with them to find affordable housing and walk them through the forms necessary to secure an apartment. That's where social workers come in. In essence, the LAVC's social workers are responsible for on-the-ground client management, helping veterans with everything from health care and housing to career planning and voter registration.
USC: What part of your work with the LAVC has been the most rewarding thus far?
AP: A number of specific moments stand out as meaningful to me, but I'm most excited when I get to see the direct results of our work. One combat veteran who struggles with severe physical disabilities began attending our meetings in the hopes of learning more about law—it's been his dream to attend law school. Through these meetings, he was able to learn about different types of legal practice and connect with other veterans who are lawyers. It was so moving to see that the LAVC had given him not only applicable resources and working knowledge but also a sense of hope.
On the larger scale, I find it rewarding to see the ways in which members' collective efforts to help veterans genuinely make a difference. Other LAVC member organizations refer their clients to us for legal services, and we can refer veterans back to them for their other needs, such as social work, career placement and mental health care services. The LAVC provides a comprehensive network of services to help veterans thrive in all areas of their lives.
To reference the work of our faculty online, we ask that you directly quote their work where possible and attribute it to "FACULTY NAME, a professor in the USC Suzanne Dworak-Peck School of Social Work" (LINK: https://dworakpeck.usc.edu)