Introducing VECTA: A New Platform Connecting Veterans to Meaningful  Employment Opportunities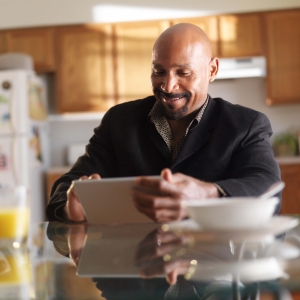 A new interagency initiative at the Los Angeles Veterans Collaborative aims to place more veterans in meaningful, long-lasting careers.
The Los Angeles Veterans Collaborative (LAVC) has launched the Veterans Employment Career & Transition Alliance (VECTA), a digital platform created by members of the LAVC Career Advancement Working Group. Part of a pilot program aimed at creating interagency veteran support systems, VECTA seeks to increase access to meaningful employment opportunities for veterans by centralizing career development services in their area.
Despite their good faith efforts, many veterans' employment services lack a set of structured protocols for formalized interagency referrals, which can make it difficult for veterans to access the full breadth of career development resources available to them. 
"In the current system, interagency referrals and data sharing often take the form of hallway conversations or one-off email exchanges," said Gisele Corletto, MSW '14, and project specialist at the Military and Veterans Programs (MVP)of the USC Suzanne Dworak-Peck School of Social Work. "We wanted to create a tool that would serve as a direct response to—and decided movement away from—the current ad-hoc approach."
The Los Angeles Veterans Collaborative (LAVC) is a network of more than 300 public and private agencies spanning multiple sectors. Organized into 11 working groups, LAVC agencies work together to provide veterans, service members and their families with critical resources, including those in career development, behavioral health and affordable housing.
"The LAVC Career Advancement Working Group was able to develop VECTA thanks to the USC Military and Veterans Programs, which provides backbone support to the initiative and secured critical funding for the project," Corletto said.
The Origins of VECTA
Funded by the Carl and Roberta Deutsch Foundation and a grant from the Nonprofit Sustainability Initiative of the California Community Foundation, the team began brainstorming a way to build an integrated model of veteran employment services in 2016. 
The working group set out to develop a software solution that would be able to support collaborative intake processes, referral mechanisms and data collection protocols, ultimately streamlining the process of connecting veterans to potential career opportunities.
The overarching goal of the pilot has been to ensure what the team calls a "no wrong door" approach. "No matter where veterans enter the pipeline, they should be able to take advantage of high-quality supports that align with their personal needs and career aspirations," Corletto said.
Collaborative Professional Development Systems for Veterans
Open to use by all veterans currently residing in or planning to move to Los Angeles County, VECTA leverages collaborations between a number of veteran employment agencies, including Goodwill Industries International, U.S. Vets, People Assisting the Homeless (PATH), The Salvation Army, JVS SoCaland Community Career Development, Inc.
Through the collective efforts of these organizations, the digital platform generates a list of promising local career development services curated to meet each user's unique needs and professional goals. In this way, VECTA can increase both the quantity and quality of opportunities to which veterans in Los Angeles have access.
"As a customized care coordination platform, VECTA facilitates service referrals, captures and reports on multiple touchpoints and enables the joint, centralized review and monitoring of service needs, resource utilization and outcomes," Corletto said. "VECTA has the potential to be used as an effective tool within a greater collaborative interagency process."
The working group has set a goal of serving 100 veterans in VECTA's first calendar year of operations, and is aiming to achieve a 90 percent user satisfaction rate. To ensure the achievement of these goals, the working group will hold monthly meetings with members of participating agencies.
This forum will provide regular opportunities for participants to share updates on any changes in agency-level core services and capacity, as well as discuss implementation considerations and new program opportunities. Representatives from the organizations will also promote the increased use of veteran-specific professional development services through the creation of joint outreach initiatives.
Increasing Community-Wide Veteran Support Systems
According to Corletto, the VECTA platform is just the beginning of a larger movement toward more comprehensive support for veterans. In fact, the mission of the pilot program is informed by the principles of "collective impact," a theoretical framework that suggests "large-scale social change requires broad cross-sector coordination," as summarized by the Stanford Social Innovation Review.
Moving forward, Corletto hopes VECTA and other similar initiatives will help reduce the cross-sector siloing that hampers the development of holistic support systems for American veterans.
"Streamlining the path to meaningful employment for all veterans will require a coordinated, community-based approach that more effectively leverages existing resources and expertise at every stage in the workforce development pipeline," she said.
To reference the work of our faculty online, we ask that you directly quote their work where possible and attribute it to "FACULTY NAME, a professor in the USC Suzanne Dworak-Peck School of Social Work" (LINK: https://dworakpeck.usc.edu)