International Student Bridges Cultural Gaps in Military Social Work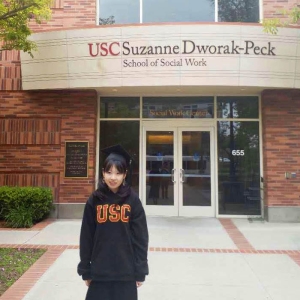 Military social work student Irene Zheng shares her unique experience as an international student at the USC Suzanne Dworak-Peck School of Social Work.
Many students studying on the military social work track at the USC Suzanne Dworak-Peck School of Social Work come from military-connected families. MSW candidate Irene Zheng is one of those students. Arriving in Los Angeles at age 14 from China, Zheng was inspired to pursue military social work by her grandfather, a Chinese military veteran.
Zheng recently revealed how her international background has shaped her experiences at USC and how she has grappled with the unique advantages and challenges of broaching military social work as a civilian:
USC Suzanne Dworak-Peck School of Social Work: How has your experience as an international student shaped your academic experience and interests?
Irene Zheng: From the time I came to the United States as a freshman in high school, I have had to deal with the unique cultural challenges of being an international student. I was the only Chinese student at my international school, and I struggled to fit in due to both language and cultural barriers.
Then, within two years, there was an influx of Chinese students at my school, and I found myself in a greater position of understanding. I suddenly had the ability to help others like me acclimate to the cultural changes they faced in a meaningful way. That experience laid the groundwork for my interest in helping others.
I completed my bachelor's degree in sociology with a minor in anthropology at Oregon State University. This experience provided me with theoretical frameworks by which to understand society and people. To me, social work seemed like the practical application of those frameworks. The social work program at the USC Suzanne Dworak-Peck School of Social Work is not only one of the most prestigious in the country but is also situated in the heart of LA, where I first discovered a love of helping others. It seemed like the best fit for me.
USC: What factors influenced your decision to enroll in the military social work track?
IZ: My grandfather, who I have always been close to, is a veteran of the Chinese military. He cared for me as a child and has played a wonderful role in my life. Because of his influence, I've always had an interest in service members and veterans.
Aside from this connection, I became interested in military social work because I wanted to understand why many people don't associate social work with applications in the military.
In my studies, I've observed a number of disjunctures between civilians and veterans. Often, civilians have a limited understanding of military culture and lifestyle, so they are unable to understand the many logistical and psychological challenges of transitioning out of the military both for service members and their families. It's a tremendously difficult process that goes mostly unseen by the civilian population.
Easing the transitional process for service members is a major crux of military social work. I wanted to learn how to do this while simultaneously creating greater mutual understanding between military and civilian populations.
USC: What have been some of the major highlights from your time at USC thus far?
IZ: One of my favorite classes at USC has been a military family class, which explores the psychological experiences of military-connected civilians. As a civilian myself with a connection to military service, it was a particularly rewarding course.
My current internship with the Social and Emotional Wellness Initiative has also been a highly enriching experience. Although the program isn't directly related to military social work, many of the organizing and macro-level skills I've learned in the MSW program are applicable in this placement, as I help to coordinate fundraising and needs assessments.
On a more personal level, studying military social work has enabled me to better understand my grandfather and how my family's experiences were impacted by their connections to the military.
USC: What are some of the challenges and advantages of bringing an international perspective to military social work?
IZ: I've found that it can be difficult to establish a critical sense of sensitivity when working with service members or veterans as a civilian—especially as an international civilian. There is a general sense that no matter what, you are an "outsider," making it challenging to establish trust from the veteran's or service member's side.
It can also be difficult to address sensitive subjects when considering cultural differences that may color individuals' perceptions of historical events, politics or military action.
At the same time, I believe that having an experience outside of the military can provide social workers with a fresh perspective and a valuable opportunity to forge deeper connections between civilians and military-connected populations. In a similar vein, coming from an international background can offer unique perspectives and serve as an asset when it comes to bridging cultural differences.
Despite the dual cultural challenges of being both a civilian and an international social work student, I don't believe any person on the "outside" should be discouraged from pursuing military social work. In fact, I think it's critical to create greater understanding and respect between people of disparate backgrounds while meeting the unique needs of military and military-connected populations.
USC: What do you hope to accomplish after completing your MSW?
IZ: I would eventually like to pursue my doctorate. However, I want to take a gap year or two in which I can gain some experience applying what I've learned at USC in the larger community and to consider what kind of focus I would like to pursue in my future studies.
A major goal of mine is to raise greater awareness of the positive impacts of social work in general. As such, I plan to seek out career opportunities in macro-level organizing and leadership as opposed to pursuing the micro-level clinical route.
A more long-term dream of mine is to bring the knowledge and skill set I've gained back to my home country. In China, the government only recently established a federal veterans affairs program. It's exciting to know that I may be able to apply what I've learned at USC to a growing movement in China to protect and support veteran and military family welfare.
To reference the work of our faculty online, we ask that you directly quote their work where possible and attribute it to "FACULTY NAME, a professor in the USC Suzanne Dworak-Peck School of Social Work" (LINK: https://dworakpeck.usc.edu)