How smart technology can be used to prevent dangerous drinking habits among college-aged youth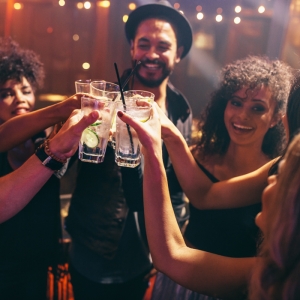 A leader in the prevention of alcohol-related issues among college students, USC professor John Clapp is finding new ways to combat heavy drinking on campus.
Binge drinking on college campuses is nothing new. Despite decades of research into the cause and possible solutions for this behavior, the problem has only grown more dire.
In an attempt to address the risk factors at play, one USC Suzanne Dworak-Peck School of Social Work professor is taking a new, high-tech approach: John Clapp, professor and executive vice dean of academic and student affairs, works with a team of engineers and computer scientists to study the system dynamics of drinking events. Their research will be used to develop "smart" real-world applications to prevent alcohol and drug abuse as well as sexual violence on college campuses and beyond.
USC Suzanne Dworak-Peck School of Social Work: Tell us about your path to USC. When did you first become interested in alcohol-related issues?
John Clapp: I started my career at San Diego State University, where I worked as a faculty member for 16 years and oversaw the Center for Alcohol and Drug Studies and Services. Towards the end of my tenure, I was appointed to run a federally funded center that dealt with college alcohol and drug prevention, as well as sexual violence.
After San Diego State, I moved to Ohio State University as a professor and the associate dean for research in the College of Social Work. The school's prevention center had been shut down, so I worked with the Conrad Hilton Foundation to re-establish it. When I left Ohio for USC, I handed over the directorship, and the prevention center is still up and running at Ohio State.
In addition to those two centers, I've conducted research for a number of years that examines alcohol prevention at a more micro event level. We're working with engineers and computer scientists to determine how alcohol-related problems — like drunk driving, violence and sexual assault — unfold in real time. We want to understand, quite simply, why and how people get drunk, and develop preventative measures that address these root causes.
USC: What compelled you to focus your studies on college students in particular?
JC: College students are historically one of the heaviest-drinking populations in the U.S., and we're starting to see this phenomenon at international universities as well. In the past, young white men have been the heaviest drinkers, but over the last 30 or 40 years, women and minority groups have developed heavy drinking patterns as well.
We may be fighting an uphill battle, but we've found our intervention methods at this stage to be remarkably successful. If you can prevent heavy drinking in this age group, you can usually find success in other populations.
USC: Can you talk more about the connection between drug and alcohol abuse and sexual violence?
JC: In 85 to 90 percent of all sexual assault cases, the victim, the perpetrator or both are impaired by alcohol. In the past, these cases fell by the wayside because one or both parties was intoxicated, as were many witnesses.
But in the last few years, there's been a movement to disentangle sexual assault from alcohol prevention. Being drunk doesn't justify sexual violence, but it is a significant factor in how this thorny issue plays out on college campuses. Therefore, we need to pay attention.
USC: How have your findings informed the development of solutions to address this epidemic?
JC: For years, the Department of Education and the National Institute of Alcohol and Alcohol Abuse have seen binge drinking as a serious problem, and have spent millions of dollars trying to come up with ways to prevent it. We've gained a much better understanding of the science behind prevention, but we fall short when it comes to implementing our strategies in the real world.
What we're hoping to do now is leverage smart technology to make implementation a little easier. Data collected in an app might be used to predict when someone is drunk or is on a trajectory to get drunk. As our predictive analytics become more sophisticated, we might even be able to ascertain when someone will drive drunk, or whether they're at risk for health complications.
USC: Could you share a bit more about those real-world prevention applications? Who do you see as the ideal user of the app?
JC: The most obvious users who could benefit from this app are students who have struggled with binge drinking in the past and are in recovery. The app will have a geofencing feature, so if a student is headed into an alcohol-heavy environment like a local bar, they would receive a notification encouraging them to abstain from drinking alcohol. If they don't respond to the prompt, a text would be sent to their sponsor letting them know where they are.
There are, of course, many other applications for this technology. These apps could automatically order Ubers to prevent drunk driving, or identify the designated driver in a group. The app could use specific characteristics like weight, height and eating habits to determine how much the user could safely drink without becoming inebriated.
One of the best uses for the technology is bystander intervention to prevent sexual assault. When college-aged women are out with friends, they tend to watch out for each other. But with an app that networks phones, you can add another layer of protection. If someone in your group wanders off or becomes separated, the app could alert the group that this person is drunk and is leaving alone.
With all of our research, we're able to develop theories about what preventative methods are most effective based on our mathematical understanding of the event. The next step is testing some of these scenarios to determine if the mathematical models hold up in the real world. That's the work we're really hoping to start here at USC.
To reference the work of our faculty online, we ask that you directly quote their work where possible and attribute it to "FACULTY NAME, a professor in the USC Suzanne Dworak-Peck School of Social Work" (LINK: https://dworakpeck.usc.edu)