How Alumnus Glen Peña is Serving His Fellow Veterans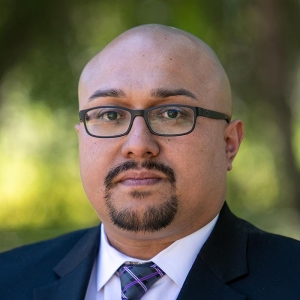 Marine Corps veteran Glen Peña, MSW '18, reflects on how studying social change and innovation at USC helped him secure his dream job as a university veteran coordinator.
Glen Peña has dedicated his life to helping others. After serving 9 1/2 years in the U.S. Marine Corps, Peña continued pursuing his passion for service by enrolling in the military track of the MSW program at the USC Suzanne Dworak-Peck School of Social Work.
He reflected on how the military has formed his identity, what military social work means to him and how he is leveraging the skills he gained at USC to help others today.
USC Suzanne Dworak-Peck School of Social Work: Tell us about your experience in the military and how it influenced your decision to attend USC.
Glen Peña: I grew up in a rough neighborhood in Los Angeles, and I struggled to perform well in school. College wasn't in my immediate future, so in 2002, I seized the opportunity to enlist in the U.S. Marine Corps. From 2005 to 2006, I was deployed to the Al Anbar Province in Iraq as a radio operator attached to Air Navel Gunfire Liaison Company (ANGLICO). In 2011, after nine years of service, I exited the military.
I decided to enroll at Cerritos College, where I felt lost in many ways until I got a job at the Veterans Resource Center on campus as a part-time veterans resource specialist. In that role, I worked with many veterans who were struggling to find a sense of direction, much like I had felt when I separated from the military. The center became a community of understanding and support for all veteran students.
As a strong sense of trust was established among those who frequented the center, we began more actively holding one another accountable for taking care of ourselves—by urging one another to attend our VA appointments or seeking out the health care we needed. My experience at the Cerritos College Veterans Resource Center laid the groundwork for pursuing military social work and has informed every step of my career since.
Eventually, I transferred to California State University, Dominguez Hills, where I completed a bachelor's degree in human services. After a counselor at a vocational rehabilitation and employment services program told me about the MSW program at the USC Suzanne Dworak-Peck School of Social Work, I decided to apply.
I knew that completing a degree in military social work would better position me to achieve my goal of giving back to other veterans in the same way I had received support from others at Cerritos College.
USC: What were some of the experiences you had as a student that you were able to learn from?
GP: During my first-year clinical placement, I served as a mental health specialist at La Mirada High School and Southeast Academy High School. Southeast is a Marine military academy, so I found it easy to connect with the students despite my initial hesitation to work with a younger age group. It was a rewarding experience helping them navigate the challenges of high school while looking toward a future in service. I was surprised to realize how much they taught me, too.
My second-year placement was served at the Veterans Legal Institute, where I helped veterans with financial management, gaining access to disability benefits, receiving discharge status upgrades and more.
During this placement I also worked on the Community Veterans Justice Project, which assists veterans in receiving alternative sentencing for minor crimes, with a special focus on those with service-related mental health disabilities. Through divergent courts, we helped veterans receive alternative sentencing in the form of VA-funded treatment programs.
USC: What was the most valuable part of your MSW program?
GP: The passion of the professors in the USC Military and Veterans Programs (MVP) is what made the experience so special.
Since I transitioned directly from the military to purely academic environments, I didn't come to USC with many "real-world" skills. The guidance and advice that I received from USC faculty helped me develop the tools needed to find success outside of those limited settings. A common sentiment in the military is that you'll always remember your drill instructors because they are the ones who make you a Marine. I think I'd say that I'll always remember my instructors at USC because they helped make me a military social worker.
USC: Tell us about your career ambitions.
GP: I'm already working my dream job as a veterans coordinator at a private college, for which I'm extremely grateful.
However, moving forward, I'd like to do more work with minorities within the veteran community. There are many opportunities to do that in college settings—especially at the community college level, where there are often more targeted intervention strategies. I also feel drawn to community colleges because it was at Cerritos College where I first felt that I belonged to a broader community of veterans. As such, an eventual goal of mine is to return to the community college system, where I can create communities and resource centers for other veteran students within that setting.
As a longer term goal, I would like to complete a doctorate and become a dean within a higher education setting.
I've also considered one day working outside of academia and focusing on macro-level veterans-focused work, such as policymaking. Specifically, I want to help establish a more robust financial safety net program for veterans.
As effective and committed as the VA is, it's a complex and imperfect system—sometimes financial coverage falls short, even when a veteran is entitled to certain benefits. When those mistakes happen, veterans may lose a critical source of income, which in some cases can even lead to homelessness. Essentially, I want to spend my career connecting veterans to the crucial support systems they need—and ensuring those systems work in their favor.
To reference the work of our faculty online, we ask that you directly quote their work where possible and attribute it to "FACULTY NAME, a professor in the USC Suzanne Dworak-Peck School of Social Work" (LINK: https://dworakpeck.usc.edu)