Honoring the African-American Women Who Have Changed Social Work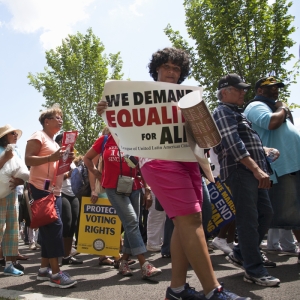 From women's suffrage and the civil rights movement to contemporary issues of race, class and beyond, these seven women have dedicated their lives to changing their communities — and the world.
Black History Month celebrates the contributions of African-American pioneers and visionaries across every field. Explore the lives of these extraordinary women whose work has changed, and continues to change, the field of social work.
1. Mary Church Terrell (1863 – 1954)
Mary Church Terrell accomplished many firsts in her lifetime. After graduating from Oberlin in 1884, she became the first African-American woman to earn a college degree. She and her husband then moved to Washington, D.C., where Terrell worked tirelessly toward women's suffrage. Terrell was particularly dedicated to combating the exclusion of African-American women from the women's rights movement.
In 1896, Terrell co-founded and served as president of the National Association of Colored Women, and then went on to become a charter member of the NAACP. Terrell fought for civil rights all the way to the end of her life. Her 1950 lawsuit against a restaurant that refused to serve her ultimately brought about the desegregation of restaurants in Washington, D.C.
2. Thyra J. Edwards (1897 – 1953)
Thyra J. Edwards began her career as a school teacher in her hometown of Houston, Texas. After moving to Chicago, Illinois she shifted her focus to social work. Edwards held travel seminars around the world, focusing on at-risk populations and women in many cultural contexts. In 1953, she organized the first Jewish child care program to help Holocaust survivors. Edwards was also a skilled journalist, orator and union organizer, and served as the executive director of the Congress of American Women.
3. Dorothy Height (1912 – 2010)
Dorothy Height, called "the godmother of the Civil Rights Movement" by Barack Obama, was a key figure in some of the most groundbreaking developments of the 20th century. She joined the Harlem YWCA in 1937, where she would direct integration of its centers and establish its Center for Racial Justice in 1965. During her time at the YWCA, she began volunteering for the National Council of Negro Women, and became president of the organization in 1957.
Height played an instrumental role in organizing the 1963 March on Washington, and would go on to help found the National Women's Political Caucus in 1971. Height was awarded the Presidential Medal of Freedom in 1994 and the Congressional Gold Medal in 2004.
4. Darlyne Bailey
Darlyne Bailey is a professor, dean emeritus, and director of the social justice initiative at Bryn Mawr College. She was one of the first women to attend Lafayette College, and went on to receive her master's degree at Columbia University. Bailey helped start a community mental health center at Case Western Reserve University, where she later earned her doctorate. In 1994, she was appointed Dean of the Mandel School for Applied Social Sciences at Case Western.
Bailey was recently honored by the National Association of Social Workers (NASW) as a Social Work Pioneer. Her work emphasizes a multidisciplinary, multicultural approach to health and human services, as well as leadership development and organizational behavior.
5. Ruby Gourdine
Now a professor at Howard University, Ruby Gourdine began her career as a probation officer in the Juvenile and Domestic Relations Court of Richmond, Virginia, where she became interested in issues of race and child welfare. After receiving her master's degree at the University of Atlanta, she became the first professional social worker hired by the Roxbury Children's Center, where she would develop their adoption program.
Gourdine was then recruited by the Spaulding Group to develop special needs adoption programs in Washington, D.C. Her work on behalf of children with disabilities led her to become the State Supervisor for Social Work Services in the D.C. public school system.
6. Mildred Joyner
Mildred Joyner has been a community activist and a pioneer in teaching, writing and researching gerontology and multicultural issues for 30 years. She began her career as a child welfare worker in the Chester County Children, Youth and Families Agency in Pennsylvania. She went on to establish the first Master of Social Work program in the Pennsylvania state system of higher education.
Joyner has served as a leading member of nearly every social work professional organization, and was named a Social Work Pioneer by the NASW. In 2005, the Mit Joyner Gerontology Leadership Award was created in her honor.
7. Ruth McRoy
Following 25 years of teaching at the University of Texas at Austin, Ruth McRoy now directs the RISE (Research and Innovations in Social, Economic, & Environmental Equity) Program at Boston College. Her research focuses on the history and philosophy of American social welfare, as well as issues surrounding adoption and foster care. McRoy also contributes to the AdoptUSKids project, studying barriers to special needs adoptions.
McRoy has published over 100 articles and 12 books, and has received many honors in her lifetime, including being selected as a fellow of the American Academy of Social Work and Social Welfare in 2010.
To reference the work of our faculty online, we ask that you directly quote their work where possible and attribute it to "FACULTY NAME, a professor in the USC Suzanne Dworak-Peck School of Social Work" (LINK: https://dworakpeck.usc.edu)