Honoring Alumna Carla J. Thornton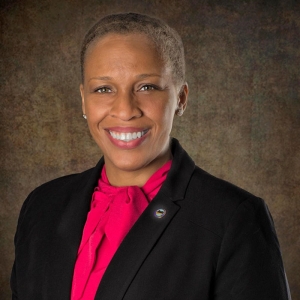 Carla J. Thornton, MSW '12, DSW '18, mother, veteran, social worker, advocate, passionate friend and the first Black woman elected District 2 City Councilwoman for the City of Moreno Valley, passed away on January 21 at the age of 42. A triple Trojan, she is mourned and celebrated by her USC Suzanne Dworak-Peck School of Social Work family.
Thornton, who grew up in Moreno Valley, spoke of her city as "the perfect place to raise a family and build a successful life." Before becoming Councilwoman, she served on the city's Environmental and Historical Preservation Board and as chairperson of the Traffic Commission. She was also a governor appointee on the California Department of Veteran Affairs Board (CalVet), which focuses on the needs of more than 2.1 million veterans in the state.
In the summer of 2020, Thornton co-founded the Riverside County Alliance of Black Elected Officials, which seeks to coordinate policy across the region. The alliance advocated for the Riverside County Board of Supervisors to declare racism a public health hazard, which it did in August 2020.
"Councilwoman Thornton was a dedicated public servant who cared deeply for the residents of her district and the city as a whole," Moreno Valley Mayor Dr. Yxstian Gutierrez said. "Carla brought an incredible amount of enthusiasm, energy and real joy to her council work, and she had so much more to contribute. This is a tremendous loss for Moreno Valley, and I will miss her as a colleague and as a friend."
Service and honor
Thornton served 20 years in the United States Air Force, deployed twice in support of Operation Enduring Freedom, and retired at the rank of Master Sergeant.
Isaac Ford, Jr., MSW '12, recruited her into the Master of Social Work (MSW) program at USC through the school's former San Diego Academic Center. "Carla was brilliant, driven, selfless, and had an infectious smile," Ford said. "She personified what successful military transition means."
Receiving an MSW from USC changed her life, and she later focused her doctoral work on the well-being of female veterans.
"Being in the military exposed me to the issues that women face by serving — their struggles, whether it was not trusting leadership to report sexual assault or the number of assaults that were occurring each year," Thornton said in a 2016 interview after being appointed to CalVet. "I would like to work with CalVet to enhance the education, employment and housing benefits that will directly increase the lifetime earning potential for veterans and their families,"
It was important to Thornton that service members were honored through the benefits they receive after discharge. She wanted to ensure that California remained "the best state for veterans to live."
In 2020, The Congressional Research Institute for Social Work and Policy (CRISP) awarded Thornton the CRISP Social Day on the Hill Award as the Outstanding Individual in Government. CRISP describes itself as a bridge between social workers and the federal government, ensuring their research is known to federal policy makers.
Tina Atherall, DSW '18, a close friend and fellow alumna of Thornton, serves on the board of CRISP. The mission of CRISP is focused on advocacy for social policies, social work research, and also cultivating social work leaders into political office.
"Carla did that on her own, but we wanted her at a national level," Atherall said. "We were doing as much as we could to keep her intersected with what was going on in Washington D.C. But Carla was always very, very clear — she was about local and she was about community."
Her Trojan family
In 2016, Thornton was accepted into the new Doctorate of Social Work (DSW) program at the USC Suzanne Dworak-Peck School of Social Work, and became a member of the inaugural cohort of 16 students. Marvin Southard, then director of the DSW program, dubbed the group "The Sweet 16." Her classmates corroborate that Thornton was the immediate, and unofficial, president of the group.
"That became our family and she was the glue," Atherall, CEO of PsychArmor, said. "Without a doubt, she's the one who made sure we stayed together. When it came time for residency she made sure we had a plan. Master Sergeant to the full."
Thornton bonded with three of her fellow students in particular – Atherall, Noel Lipana, DSW '18, and Nathan Graeser, DSW '18. This group of four shared a connection to military service, and a deep commitment to advocacy around veterans and their families.
"Carla was a force," said Lipana, Lieutenant Colonel U.S. Air Force (retired). "It was clear the first time you met her that she was deeply engaged in people. I don't mean that in a general way. She was almost studying you to try to understand how to serve you within this bigger context of her work. She was a doer. She would run headlong into whatever the task was."
Lipana, Atherall and Graeser cannot think or talk about Thornton without laughing or smiling. She was worthy of all the big emotions. "The ongoing light is that her spirit, her energy made you a better person and she had an incredibly powerful, yet at the same time subtle, way to guide you on whatever the issues were," Lipana said.
Graeser, Chaplain (Major) in the 79th Infantry Brigade Combat Team of the California Army National Guard, described his relationship with Thornton as "clean." There was never anything she left unsaid, even the most difficult topics. He recalled being in one of their DSW classes and a discussion began around race. Thornton interrupted the discussion to point out that Nathan was quiet. According to Graeser, Thornton proceeded to unabashedly point out that whenever there is a discussion around race it ends up being angry Black women talking about the issue and white guys just sitting and listening. With this gesture, she instantly broke down a barrier.
"I said, 'I love you Carla,'" Graeser said. "You are a social worker. You're wonderful."
"There was something beautiful in her ability to make you laugh, but also let you know if something wasn't right," Atherall said.
The future is Coral
Thornton and her daughter, Coral, now 12, were a package deal. According to Lipana, Thornton was very intentional about raising her; making her conscious of being female, being a Black female and standing in the knowledge of her strengths and power in society.
"Everything that Carla did was obviously with her daughter in mind," Graeser said. "I think she wanted her daughter to have these values and know about advocacy, and would deliberately demonstrate advocacy in front of her… I think she was showing her daughter that this world, you can mold it, you can take it on. I think she was giving her one of the best gifts you can give, that this world will be a better place if you're all the way in it. Don't move away from it."
Lipana credits Thornton's City Council election win to the "ground pounding" and knocking on doors in Marino Valley that she did with Coral. When her mother won, Coral was appointed as a deputy city clerk to administer Thornton's oath of office.
"She was the complete package," Atherall said. "She was a woman, she was a Black woman, she was a single mother, she served in the Air Force, she was a Master Sergeant and her daughter was her best friend. She did all that effortlessly. In all the places where the odds should have been against Carla, they were actually the most powerful things about her. And her daughter was the evidence. You look at that little girl — that's success. That little girl is going to be her mother tenfold."
To honor Thornton and the investment she made in Coral's future, Atherall, Lipana and Graeser have committed to being Coral's benefactors.
"That's how this is going to work," Graeser said. "She will know that she has people in the world who are going to make a space for her." Graeser said. "My prayer for Coral is that she lives in a way that not just honors her mother, but fully engages in the world in the way that her mom showed her."
To reference the work of our faculty online, we ask that you directly quote their work where possible and attribute it to "FACULTY NAME, a professor in the USC Suzanne Dworak-Peck School of Social Work" (LINK: https://dworakpeck.usc.edu)