Fuentes Wins Outstanding Service Award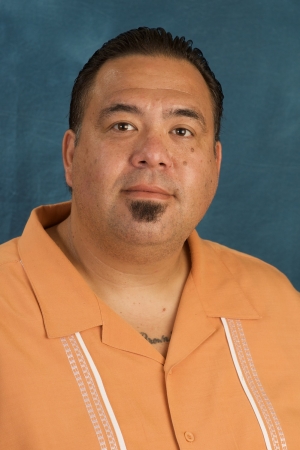 Conrad Fuentes, a clinical assistant professor in field education at the USC School of Social Work, has been honored with the 2012 Outstanding Service and Community Inspiration Award at the Third Annual Community Gang Intervention Conference, which was held at the Orange County Academic Center.
The conference, jointly hosted by the Orange County Department of Education and the school's field department at the academic center, brought together advocates from across the county. Fuentes' award recognized his work and collaboration with the Department of Education, providing training opportunities for local community members who work with gang-involved youth, many of whom are Latino.
"It felt wonderful to be recognized for my past and present work with gang intervention and to bring awareness to the issue," Fuentes said. "I felt a great sense of pride to represent the Latino community through acknowledgement of the long hours and many sessions over the years."
Fuentes, whose father and stepfather were previously gang members in Los Angeles, has been working with gang-involved youth since 1993 when he served in the Volunteers in Probation program at Orange County Juvenile Hall and the Boys and Girls Club of Brea. It was at juvenile hall that he became intrigued with the disproportionate amount of Latinos in local gangs.
"After spending time as a mentor for gang-involved youth, I realized that beyond the gang involvement, they were just kids as well," he said. "Some of them had dreams and aspirations but with no direction in attaining those goals."
While earning his master's degree at the USC School of Social Work, Fuentes, MSW '00, continued to work with gang-involved youth as a clinical intern, which made him realize the importance of clinical and community interventions when working with this group.
In addition to his current role as field faculty, Fuentes works with the Santa Ana, Calif.-based Lives Worth Saving Gang Intervention, where he helps train grassroots gang intervention teams. He also regularly works with the county's Department of Education to coordinate the production of gang-intervention conferences.
"Conrad Fuentes is a man of true intentions and true meaning," said former Orange County judge Maureen Aplin, who worked with Fuentes in the Juvenile Drug Court program of the Orange County Superior Court.
"Having 'walked the walk,' his clientele looked up to him, trusted him, responded to him and did not want to disappoint him. His willingness to share the lessons he's learned in life allowed him to be transparently honest with the kids he served, while still managing to preserve the strength, authority and dignity of serving as a counselor."
To reference the work of our faculty online, we ask that you directly quote their work where possible and attribute it to "FACULTY NAME, a professor in the USC Suzanne Dworak-Peck School of Social Work" (LINK: https://dworakpeck.usc.edu)