Focusing Attention on Older Adults and Intimate Partner Violence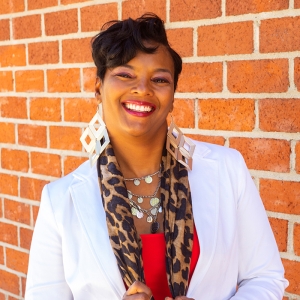 Wendy Talley, LCSW, MSW '01, is the youngest of 11 children. The baby of the family. One evening, when she was seven, her father came home with a look of fear on his face. Fear, and coldness. Her mother quickly instructed Talley's older sister to take her into the bedroom. She and her sister retreated and locked the door.
The girls sat on the bed, listening to banging, their mother screaming and their father yelling expletives. When it was all over, the girls came out of the room. Talley did not know what was happening, she was scared and her mother's face and eye were swollen. She and her sister were told not to talk about it. They left it alone.
Years later, this early experience with domestic violence drew her toward learning more.
Talley received her BA in psychology from San Diego State University, her MSW from the USC Suzanne Dworak-Peck School of Social Work and became a licensed clinician in California in 2009. For 19 years she has worked in mental health. In 2018, now with her own private practice, Thelese Consulting Group, LLC, she decided to take her education a step further and is currently a candidate for a Doctorate in Social Work (DSW) degree at USC.
Drawing on her own life experiences, Talley is focusing her required capstone project for her DSW degree on Intimate Partner Violence (IPV) in elderly couples. IPV is abuse or aggression by a current or former spouse or partner in an intimate relationship. It can be physical, verbal, emotional, economic and sexual abuse.
Understanding her history
In 2006, Talley started working with the Department of Veterans Affairs (VA) in Los Angeles. She wanted to learn more about veterans and post-traumatic stress disorder (PTSD) because of the violence she had witnessed in her own home. However, she had also been conditioned not to talk about it. It was not until she was studying psychology and was asked to explore her own family history that she started to discover and understand what she had experienced as a child.
Talley's father was a pilot in the Korean War, only 15-years-old when he began his service, and one of very few African-American pilots. He experienced PTSD following the war, and continued to relive the trauma when he returned, eventually redirecting his pain in the form of violence against her mother.
After her father passed away, Talley's mother told her what had transpired the night of the violent episode she experienced when she was seven. An attempted robbery at the family's business, a taco stand near USC at Jefferson and Western, was the trigger. A shot was fired during the robbery, setting off a "fight or flight response" in her father. By the time he reached home, his only thought was to protect himself.
"My mother was the closest and most vulnerable there for him to take that out on," Talley said.
That night, she had seen her father crouched down against the wall in the living room, seemingly trying to hide. Once she learned the truth from her mother, Talley was able to understand that he was reliving an experience of war.
Through her work at the VA, Talley finally began to understand more about her father's behavior and mental illness. She realized that if there had been some preventive measures in place for him, he may not have been violent with her mother, forcing her mother to make unhealthy decisions for the sake of her children.
"It began to help me understand why my mother did what she did. How she would act, and why she would say certain things," Talley said. Her mother believed once you marry your spouse, you belong to him and you do not complain. And that is what she did.
"My mother felt her babies needed a daddy. And she dealt with it," Talley said.
Honoring her mother through innovation
Two years ago, on Talley's first day of DSW classes, her mother began to experience health complications, ultimately resulting in a leg amputation. Talley and her siblings knew their mother would probably not make it through the year, and only three months later she passed away.
"That's when I changed my capstone. This is the dedication to her," Talley said. "If she would have had these types of services, things could have been different for her as an older woman."
She hopes her capstone will help someone else in the same situation.
Talley's project is focused on elderly couples over 55 who have experienced or are experiencing IPV, and looking at potential victims who may be experiencing cognitive decline. What she has found through her research is that when one spouse becomes the caretaker, their frustration with their own aging can cause them to become angry, frustrated and make poor decisions, such as accidentally or intentionally harming their spouse.
The foothold in all of this for Talley is that her mother was never asked if she was experiencing any type of violence at home by her healthcare provider. Presently, healthcare providers are still not equipped, nor are there resources, to help the elderly in this situation. "You can't put them in a shelter. You can't take them from their home of 40 or 50 years. You're going to speed up the death process," Talley said.
Her answer to this problem, and the focus of her innovation, is creating a program to help more medical providers address this issue at medical visits. She is working with various domestic violence organizations, including the Los Angeles District Attorney's Office and their Victims of Crime Program.
Talley wants to require health care providers to take a 40-hour domestic violence training course, including administering a screening system―Save a Life from IPV in elderly couples (S.A.L. IPV)―a screening tool she has created. Her pilot study includes SAL IPV screening cards she has designed that allow individuals with cognitive impairment to identify pictures that look like themselves, close to their same image, that are culturally diverse, including LGBTQS-2. Each picture is a representation of a different type of abuse that they could be experiencing but are not able to articulate.
"One card is an older Caucasian woman with a black eye and she's crying," Talley said. "I have another picture of a Caucasian male with a broken arm. I have an African-American woman who is sitting by the window and she looks depressed and sad, so isolated."
The ultimate goal with this innovative pilot study is to increase the reporting. According to Talley, the data on IPV in elderly couples is low and more than 20 years old.
"Normally people over 55 are not asked about these issues because they are seen as too old to harm each other. Too old and too fragile. And that's not necessarily the case," Talley said.
Talley wants physicians, social workers, discharge planners and nurses to do this screening at every medical visit, and provide a safe space for it. She believes if these resources are provided, data will go up, reporting will increase and they will be able to provide wraparound services in the home, like therapy and counseling. She also wants to provide services for the perpetrators who may not know about home health services or respite care.
"If we are able to address their frustration, the violence could ultimately end in the home. So then they can live out their golden years successfully and not harm each other," Talley said.
From theory to application
Talley is working with Dr. Jack Barbour of Barbour and Floyd Medical Associates in Lynwood, California to pilot her capstone project. They have psychiatrists, nurses, social workers and discharge planners who work with the elderly population.
"That's what I really love about the DSW program," Talley said. "It's actual application, not just academic research." She will also incorporate this pilot study into her own private practice.
More conversation and more education about the older population and IPV will help the elderly understand that there are resources, they do not need to be quiet, they will be helped and they will be safe.
"I really want to stress that this population is invisible and not heard," Talley said. "We need to have the conversation because we will all be there."
To reference the work of our faculty online, we ask that you directly quote their work where possible and attribute it to "FACULTY NAME, a professor in the USC Suzanne Dworak-Peck School of Social Work" (LINK: https://dworakpeck.usc.edu)