Clinical Associate Professor Kristen Zaleski Participates in Groundbreaking Panel on Sexual Assault and Online Harassment at Facebook HQ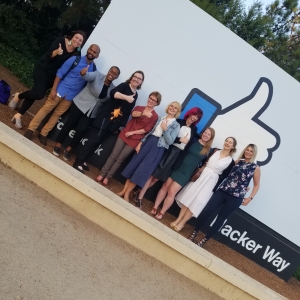 Clinical Associate Professor Kristen Zaleski sheds light on the harmful psychological effects of non-consensual image sharing—and what can be done to alleviate the phenomenon of online sexual harassment.
Today, the relative anonymity and accessibility of social platforms like Facebook, Twitter and Instagram has led to a troubling rise in the non-consensual sharing of explicit images and videos. Celebrities are no longer the only victims of leaked nudes and so-called "revenge porn"—today, one in 25 Americans report that they have had a nude or nearly nude image or video of themselves posted online without their permission, or have received threats from a potential perpetrator. To compound the issue, regulation and censorship of shared content have become Goliath undertakings due to the massive scale of usership of these platforms.
In August, Facebook's global safety team hosted a 10-country, invitation-only roundtable discussion about combating the non-consensual sharing of intimate or sexually explicit images. In attendance was Kristen Zaleski, clinical associate professor in the Department of Adult Mental Health and Wellness at the USC Suzanne Dworak-Peck School of Social Work, whose research explores PTSD and sexual trauma. In this Q&A, Zaleski reflects on the important conversations that the event facilitated and her emerging research on online sexual harassment.
USC: Could you tell us a bit about the structure and the overall goals of the panel?
Kristen Zaleski: The 12-hour event was broken into sections, including breakout sessions, workshops and lectures from researchers across fields who offered cutting-edge insights into online subcultures, perpetrator motives, and the social and psychological effects of non-consensual image sharing in different cultures around the globe.
The breakout sessions, led by members of Facebook's safety team, offered opportunities to discuss our understanding of the problem and brainstorm what actions could be taken to curb this phenomenon.
USC: What was your focus during the breakout sessions, and how has your research contributed to a deeper understanding of this topic?
KZ: I was one of the U.S. representatives, and I delivered a lecture on the mental health effects of image-based harassment and non-consensual image sharing. The crux of my lecture rested on the neurobiology of post-traumatic stress disorder (PTSD), because research increasingly suggests that when an intimate or sexually explicit image of someone is shared without their consent, the victim often experiences symptoms similar to those of PTSD victims.
While we don't often refer to this kind of abuse as sexual assault, I think we should, because it fits the definition. In fact, the lasting effects of trauma that result from non-consensual image sharing can in some cases be more detrimental than other kinds of sexual trauma, because there is no clear end to the assault. If an image is removed from one site, it is still likely to emerge on another site or be posted by another user. The ability for trauma recovery is minimized if the content is recirculated.
My research moving forward will address the potential link between image-based abuse and trauma. If my theory is correct, I will be able to prove that the trauma symptoms exhibited by survivors of non-consensual image sharing are not just similar to PTSD—they qualify survivors for a diagnosis of PTSD. If this is true, survivors should be able to receive clinical PTSD treatment.
USC: What other potential solutions to the problem of non-consensual image sharing emerged during this event?
KZ: First of all, I want to recognize Facebook for recently implementing a new policy as a result of meetings held with survivors of non-consensual intimate image sharing. The Facebook safety team learned that even after images were removed, survivors were still being bullied for their participation in online groups dedicated to victim and survivor advocacy. As such, Facebook has made it impossible for users to see members of private groups.
However, in one of the breakout sessions that I participated in, we brainstormed the idea of using Facebook's facial identification software to create new algorithms that could scan private groups for explicit images and notify users whose faces appeared in the images. This approach is centered on the philosophy of returning ownership to survivors. Ultimately, we recognize that there is a lot of progress still to be made to combat online sexual assault.
USC: Were there any surprising takeaways from the discussion?
KZ: There were a number of valuable insights shared by both U.S. experts and those who joined us from abroad. One researcher found that one in 10 youth report being victims of non-consensual image sharing. Additionally, Asia Eaton from Florida International University suggested we consider how this kind of assault can occur within partnerships as a form of domestic or interpartner violence.
Some of the most interesting revelations to me concerned how this issue is perceived internationally. Sarai Chisala Tempelhoff, co-founder and director of the Gender and Justice Unit in Malawi, offered her perspective on the social repercussions faced by sub-Saharan Muslim women who are victims of non-consensual image sharing. In particularly conservative Muslim countries, if an image depicts a woman without her hijab—even if she is clothed—she may suffer severe social consequences and experience trauma comparable to or worse than that experienced by victims of "revenge porn" in Western cultures. Understanding the intersections of culture and religion ensures that we are inclusive of all potential victims as we seek solutions to this pervasive issue.
To reference the work of our faculty online, we ask that you directly quote their work where possible and attribute it to "FACULTY NAME, a professor in the USC Suzanne Dworak-Peck School of Social Work" (LINK: https://dworakpeck.usc.edu)