California Social Work Hall of Distinction Welcomes Class of 2013, Including Two Alumni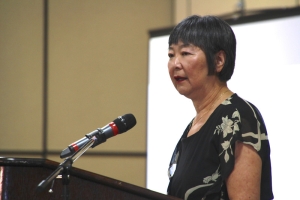 The California Social Work Hall of Distinction honored six social work leaders on Saturday for their distinguished career achievements and exceptional contributions to social welfare in California, including USC School of Social Work alumni Ismael Dieppa, DSW '73, and Mariko Yamada, MSW '74. The 2013 class also included Congresswoman Barbara Lee, chair of the Congressional Social Work Caucus, who recently earned President Barack Obama's nomination for United States representative to the United Nations.
Additionally, the Hall of Distinction inducted Sai-Ling Chu Chan-Sew, an advocate for care for children with behavioral health issues; Joe Solis (posthumous), a field work pioneer who mentored hundreds of Latino social work students; and Judith Wallerstein (posthumous), a researcher, author and teacher who studied how divorce affects children and families.
"This year's inductees represent the very best in the profession of social work and the wide breadth of social work practice, including clinical work, higher education and public policy and service," said Janlee Wong, executive director of the California chapter of National Association of Social Workers.
Ismael Dieppa
Dieppa, a respected social work educator and community organizer, has held deanships for the social work programs at San Jose State University, Arizona State University and Denver University. Among his accomplishments are building a trans-cultural social work curriculum, actively recruiting a larger number of Chicano and Native American students to MSW and PhD programs, and promoting the adoption of the California Social Work Education Center (CalSWEC), the nation's largest state coalition of social work educators and practitioners to improve the education and training of social workers for publicly supported social services. NASW credits Dieppa with boundless energy for his vision of bringing people together, into the mainstream, and expanding opportunities to them.
The Puerto Rico native began his career as a community organizer for the United South End Settlements, following a stint in the Air Force. He later moved to California, where he worked in the Department of Mental Hygiene, Bureau of Social Work, in Fresno and became politically active with the Mexican-American community. He credits the War on Poverty for his interest in organizing and advocacy, which led to the creation of the Economic Opportunity Commission in Santa Clara County. While at USC, he became the executive director of the East Los Angeles Chicano Mental Health Training Center, a joint project between USC's and UCLA's schools of social work to train Chicano social workers to work in their own community.
Mariko Yamada
As a child, Yamada remembers standing up for underrepresented students who would get picked on at her public elementary school. Now, 50 years later, she is still fighting for vulnerable populations as the assemblywoman representing California's 4th Assembly District.
Yamada grew up in a modest home, one block from public housing in the "Five Points" neighborhood in Denver. She was the youngest of four children born to parents who spent four years in the Manzanar War Relocation camp following the attack on Pearl Harbor in 1941, one of 10 such Japanese-American internment camps established during World War II.
Yamada was the first in her family to graduate from college, earning her bachelor's degree in psychology from the University of Colorado, Boulder, with an emphasis on the special mental health needs of Asian Americans. After a brief stint counseling families, she decided to come to USC to broaden her influence through social work, where she focused on community organizing, planning and administration – areas that allowed her to increase her social impact on communities.
"I studied psychology to try to save my family but realized that it would not work, so I pursued social work to try to save the world instead," she once said.
But Yamada wanted to continue her quest for global salvation, and soon discovered politics as an effective tool to influence widely impactful change. She began her career in political social work with a Los Angeles-based United Way agency and then joined the staff of Los Angeles County Supervisor Edmund D. Edelman, her first job in politics.
The California Social Work Hall of Distinction was founded in 2002 in connection with the California Social Welfare Archives to honor the contributions of social work pioneers and ensure their efforts to better society would be recognized and preserved for the future.
To reference the work of our faculty online, we ask that you directly quote their work where possible and attribute it to "FACULTY NAME, a professor in the USC Suzanne Dworak-Peck School of Social Work" (LINK: https://dworakpeck.usc.edu)