California Social Work Hall of Distinction to Induct Dean Emeritus Patti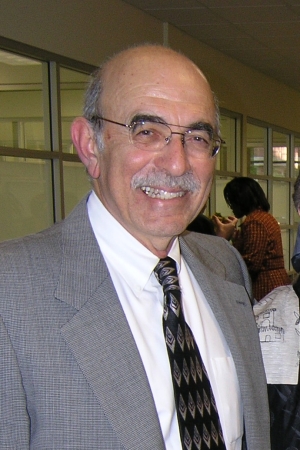 The California Social Work Hall of Distinction has announced USC School of Social Work Dean and Professor Emeritus Rino Patti, DSW '67, will be among its 2012 inductees—along with three other alumni—to be honored for their distinguished career achievements and exceptional contributions to social welfare in California.
"This type of representation for the USC School of Social Work, along with the induction of former dean Patti, is not only a testimony to the impact USC graduates are making in the field of social work across the state, but it also highlights the quality of scholarship, administration and commitment that has been shown in the deans of our school," said Esther Gillies, president of the California Social Welfare Archives, which oversees the Hall of Distinction.
A nationally renowned scholar, Patti has long supported and contributed to the expansion of scholarship in social work. His research in social policy and social work administration has helped human service agencies become better providers and better advocates for disenfranchised people.
"Dean Patti helped move the school forward during a time of transition within the university and has been a real change agent for the USC School of Social Work, and has supported growth in the field as a whole," Gillies said. "CSWA is proud to honor him with this award."
As its dean from 1988 to 1997, Patti boosted the prestige of the USC School of Social Work and the opportunities available to its graduates by redesigning the PhD program to better prepare students for academic careers and by increasing faculty research and support. The author or editor of six books, he held the Margaret W. Driscoll and Louise M. Clevenger Professorship in Social Policy and Administration from 1999 until his 2001 retirement.
On the national level, he served as chair of the National Institute for Mental Health Implementation Committee, founding board president of the Institute for the Advancement of Social Work Research and president of the National Association of Deans and Directors of Schools of Social Work. He also co-founded the journal Administration in Social Work, which he guided as associate editor and then editor.
Patti, who earned his master's and doctoral degrees from USC, helped create the USC Family of Five Schools and was also instrumental in forming a seminal collaboration between the USC School of Social Work and the Los Angeles County Department of Children's Services. This collaboration, which established in-service training and degree-granting programs for department employees, earned him a commendation from the Los Angeles County Board of Supervisors and served as a basis for the statewide California Social Work Education Center that Patti helped found.
In 2010, Patti was named a fellow of the American Academy of Social Work and Social Welfare, the first national society honoring excellence in the research and practice of social work. He has also received the Presidential Award for Excellence in Social Work Research from the National Association of Social Workers and a Career Achievement Award from the Association for Community Organization and Social Administration, as well as a USC Faculty Lifetime Achievement Award, one of the university's most prestigious faculty honors.
Patti joins a list of 73 Hall of Distinction members, all of whom have made course-altering decisions that have uniquely affected the direction of social welfare in California.

The other 2012 Hall of Distinction inductees include:
Helen Boardman, social work pioneer advocating protection and treatment of abused children
Teresa DeCrescenzo, MSW '78, pioneer for the LGBT community advocating for youth services
Celeste Strack Kaplan, founder of El Nido Youth Services devoted to service delivery to families and children
Consuelo Gomez Lopez, MSW '66, DSW '76, founder of the Latino Social Work Network and Trabajadores de La Raza and advocate for educational opportunities for Latino social workers
Ann Shaw, MSW '68, leader at YWCA of Greater Los Angeles, California Community Foundation, United Way and state commissions; community activist advocating for women and African Americans; and USC School of Social Work Board of Councilors member
This year's induction ceremony will be held in conjunction with the National Association of Social Workers - California annual conference in Irvine, Calif., on Oct. 27. Faculty, staff and students are invited to attend. For event and registration information, please click here. 
Established in 1979, CSWA maintains one of the most extensive collections of California social welfare history. The organization conducts oral history interviews and acquires and preserves materials of historical significance, documenting the development of social welfare in California and making it accessible for future generations. In 2002, the Hall of Distinction was added to CSWA's mission to honor individuals for their significant contributions to the profession.
To reference the work of our faculty online, we ask that you directly quote their work where possible and attribute it to "FACULTY NAME, a professor in the USC Suzanne Dworak-Peck School of Social Work" (LINK: https://dworakpeck.usc.edu)