Bringing Humanity to Data Science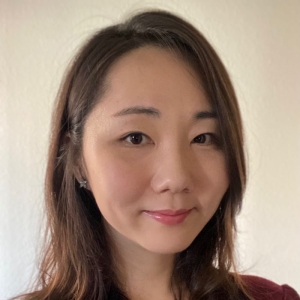 Eunhye Ahn has a passion for improving the lives of children and families. Her journey to social work, however, was not a straight line. With an undergraduate degree in business, she began her professional career in the private sector and it was there that she became interested in the potential for data collection and analysis to be used for social good. Initially, she debated whether a graduate degree in data science or social work was the best way to create change in this arena, but eventually was convinced that approaching a domain-specific problem is more important than simply having skills.
Now, as a PhD candidate at the USC Suzanne Dworak-Peck School of Social Work and research assistant at the Children's Data Network (CDN), Ahn is developing her dissertation research which aims to examine algorithmic fairness proposed by computer scientists for practical relevance and implications to child welfare. She is focusing on whether a model is 'fair' in terms of the individual traits that should not be related to outcome, like gender, race, ethnicity, sexual orientation and disability.
"While there are so many ways to evaluate fairness, little is known about their relevance to child welfare," Ahn said. "I hope to examine the practical relevance, implications and limitations of these algorithmic fairness definitions to child welfare."
Ahn's research emerged within the context of the CDN, which is a data and research collaborative focused on the linkage and analysis of administrative records. In partnership with public agencies, philanthropic funders and community stakeholders, the CDN seeks to generate knowledge and advance evidence-rich policies that will improve the health, safety and well-being of children.
"The CDN also has a very powerful computing infrastructure" Ahn said. "Without the data that we have access to, without the partnerships, the guidance and support from my colleagues, or the infrastructure that CDN has, I don't think I could do any of this work. I am very grateful."
Helping families with newborns
According to Ahn, First 5 Orange County is one of the most data-driven and innovative organizations in California. They are passionate about connecting families in need with home visitation services – and about making sure that that the outreach, engagement, and provision of services are equitable. They have strategically invested in the implementation and continuous quality improvement of the Bridges Maternal Child Health Network (MCHN).
Within MCHN, Orange County hospitals and community agencies work together to offer support to parents, providing resources they may need so their children have a healthy start at birth, and then continue to be healthy and ready to start school. After delivery in the hospital, mothers assessed as at-risk are screened and provided appropriate referrals to a MCHN provider for home visitation services.
"My dissertation involves an analysis of the MCHN data to provide First 5 OC with a better understanding of children and families assessed through Bridges, as well as insights about promoting equity when using an algorithmic approach to identify families with newborns who may benefit from home visiting services in Orange County" Ahn said.
Ahn hopes that her research can enhance understanding of ethical considerations when assessing the needs of families, so that First 5 Orange County can connect services more appropriately and accurately. She believes it will enrich their ability to evaluate the fairness of their current screening tool, and support their decision-making processes.
"It's very important to anchor to what social work or frontline workers are thinking about this," Ahn said. "We have to think more about fairness, equity and different subgroups who are most vulnerable."
The power of partnerships
Jacquelyn McCroskey, the John Milner Professor of Child Welfare at the USC Suzanne Dworak-Peck School of Social Work and co-director of the CDN, says Ahn was very aware from the beginning that she had more experience in data science, and was committed to expanding her practical knowledge.
"I just really admire that, although she has lots of opportunities, and obviously a big future ahead of her, she has felt from the beginning, very, very strongly that she needed to understand it from the ground level," said McCroskey, who serves as Ahn's dissertation chair. "She made a very big effort throughout her PhD program to try to really understand and interact with social workers so she could feel, if you will, fluent on both sides."
McCroskey explained that with data science there is no perceivable limit to the kinds of questions to be asked, but what social workers want to do is focus their attention on the questions that are most important to those who are working directly with the families and the children. "I always think that the most excitement, the greatest sense of new energy comes when you're at a point of intersection, crossing boundaries, whether it's a cross-disciplinary boundary, cross system or cross institution," McCroskey said. "And that's really where Eunhye is."
At the core of the CDN is its partnerships. First 5 Orange County was established more than 20 years ago, which is also a significant advantage for data collection. "Their policies are set up, their programs are set up, their data are set up, so it's a wonderful opportunity for a partnership that focuses on, 'what are your questions, how can we help you focus on what you're learning?' Working with social work practitioners to see what is reflected in the data is really a wonderful sweet spot for Eunhye," McCroskey said.
The human factor
Human beings use experience to assess the risk of something all the time, Ahn explained. "Practical insights, experience and expertise are crucial, crucial parts of the analytics and programing in child welfare, and also at all stages of using algorithmic models, from building, evaluating and deploying," Ahn said. "We must be guided by social work domain knowledge. Without understanding social work practice or clients or policy, we can't really build any model that would give us meaningful insights or accurate predictions."
There are over 400,000 children reported annually to the child welfare system in California. "Think about not only those children, but all the families involved in these reports," Ahn said. "They're going through all the triage of services and intervention or assessment based on human decisions. We may be able to support those human decision-making processes that we want improved. We want to find ways that data can help us to better serve people."
To reference the work of our faculty online, we ask that you directly quote their work where possible and attribute it to "FACULTY NAME, a professor in the USC Suzanne Dworak-Peck School of Social Work" (LINK: https://dworakpeck.usc.edu)