Betting on Artificial Intelligence to Help Humanity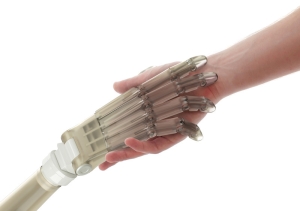 At first blush, it seems like an odd combination.
The clean, technical, mathematical precision of computer science and the messy, complex, unwieldy world of social work and behavioral sciences don't appear conducive to crossover. But blending these two ostensibly discordant domains is at the heart of a new initiative, the USC Center for Artificial Intelligence in Society (CAIS).
"Our motivation was to create a new intellectual space for computer scientists with all these tools we didn't have access to and people in social work science who have this deep understanding of human problems to develop new solutions to vexing, seemingly intractable issues," said Eric Rice, cofounder of the new center.
One of the first university-based institutes of its kind, the center is a joint venture between the USC Suzanne Dworak-Peck School of Social Work, where Rice serves as associate professor, and its engineering counterpart, the USC Viterbi School of Engineering, home to center cofounder Milind Tambe, the school's Helen N. and Emmett H. Jones Professor in Engineering.
At a recent kickoff event for the new center, USC Provost Michael Quick said this unusual marriage of two fields is reflective of the university's emphasis on creating something greater than the sum of its parts.
"Our ability to have great impact by getting outside our campus walls and changing the world for the better is something I think this university does better than most," he said. "This center converges two amazing disciplines, engineering and social work, aimed at the greater good of changing Los Angeles, our communities and the world. It gets no better than that."
Rather than reflecting the typical dystopian imagery affiliated with artificial intelligence (AI) as captured in films like "Terminator" and "The Matrix," the center aims to capitalize on the field's powerful methods and analytic techniques like machine learning and advanced predictive modeling.
"AI is not just about sentient robots or avatars," Rice said. "It's not just about beating chess grandmasters either. Computer science, and especially AI, has a host of methods that are above and beyond trying to create artificial humans."
Early success
Some of those tools are already showing promise in the social work research world thanks to a joint project led by Rice and Tambe that served as inspiration for the CAIS. The duo met several years ago during a networking event involving social work and engineering faculty members at USC designed to promote interdisciplinary partnerships.
After realizing they shared a common intellectual interest in the complexities of social connections and networks, Rice and Tambe began toying with conceptual models of how to improve HIV prevention among homeless adolescents and young adults.
Their efforts led to the creation of an algorithm that identifies the most influential individuals in a given social network of homeless young people; these peer leaders are then trained to encourage their friends to take HIV tests and learn more about avoiding risky behaviors.
"One of the challenges in social work is we have a lot of interventions, but bringing things to scale is difficult," Rice said. "Computer science can forecast what will happen with many different approaches. It can look at trillions of actions we could take in the context of these homeless networks and come up with three concrete things we can do to have the biggest impact."
Initial studies of the algorithm have indicated that this approach of identifying individuals best situated to spread a prevention message results in 60 percent more health information being passed around in these social networks.
Heather Carmichael, executive director of a drop-in center for homeless young people in Hollywood called My Friend's Place, worked with the researchers to develop and implement the algorithm. During the CAIS kickoff event, she expressed optimism about the innovative approach of using AI to enhance homelessness research and services.
"The potential impact of this intersection between two different disciplines could really advance what we are doing with homeless young people here in Los Angeles," Carmichael said. "There are so many people in pain living on the streets, and there are not enough resources, so it's our obligation as organizational leaders, as university leaders, as students to think about how to move the needle in even one young person's life."
Broad applications
Although Rice and Tambe just recently launched the CAIS, they are already envisioning how efforts to address other complex social problems beyond homelessness might benefit from the analytic approaches of computer science and AI.
Grant proposals are being formed around issues such as suicide prevention for active-duty members of the military returning from deployment and reducing displacement following environmental disasters associated with climate change.
For example, Rice said predictive modeling, a machine learning technique that examines data collected over time to identify patterns and predict future outcomes, could be used to forecast risk of suicide based on changes in people's social networks, such as how they communicate with others and access or ignore sources of support.
"Can we use that information to create early warning systems instead of waiting on people to present as suicidal or clinically depressed and hoping we can get to them in time?" he said.
In addition to giving social work scholars new tools for analysis, the CAIS will challenge computer scientists and engineers to tackle more complicated problems they had not previously considered.
Eric Horvitz, technical fellow and managing director of Microsoft Research, said trying to understand and predict the complexity of the real world is a motivating factor for AI experts to develop new models and simulations.
New challenges
"It's pretty clear that the complexity of the problems we are talking about here goes way beyond the kinds of problems even computer scientists think about as complex—solving chess, doing automatic poker games, translating languages, winning at Go," he said. "Those are very small, well-defined problems compared to the open-world, ill-defined problems we grapple with to make progress in this space of social science and social work, these wicked problems like homelessness, addiction, and so on."
He encouraged CAIS scholars to avoid simply serving as consultants to one another, but instead dive headlong into the intricacies of the other profession. Computer scientists should go to places like Venice Beach to understand how young people are experiencing homelessness, he said, or visit gang-plagued neighborhoods to see how families struggle with violence.
"The best computer science I've seen applied to the real world involved very detailed, passionate engagement at the level of expertise in the domain itself, not as someone looking in from the outside," Horvitz said.
Inspiring researchers to break out of their academic silos and cede control of their intellectual territory can be difficult, Rice acknowledged, but he is confident that as the CAIS expands and draws more interest from both engineering and social work scholars, those boundaries will begin to fade.
He envisions the center growing into a hub of transdisciplinary research that will help train a new generation of students and researchers who are accustomed to crossing academic lines.
"We are not trying to corrupt AI nor water down the science of social work," Rice said, "but to bring to the table the best of both of those spaces."
To reference the work of our faculty online, we ask that you directly quote their work where possible and attribute it to "FACULTY NAME, a professor in the USC Suzanne Dworak-Peck School of Social Work" (LINK: https://dworakpeck.usc.edu)