Alumnus Leads Political Change in Virginia Community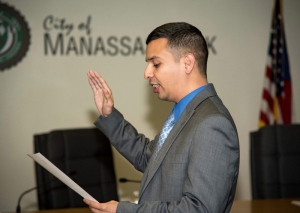 Hector Cendejas may wear a size 10, but he spends every day imagining himself in other people's shoes.
A full-time social worker with the Catholic Charities of the Diocese of Arlington, Virginia, Cendejas understands the importance of empathy.
And now, as an elected representative, he is advocating for even more people in need. In the most recent election for three vacant spots on the Manassas Park City Council in Virginia, Cendejas, MSW '14, earned more than 1,300 write-in votes and a spot on the council for the next three years.
"I understand what people go through. A lot of politicians just see numbers," Cendejas said. "Even in our affluent region [of Northern Virginia], we have a lot of people that live in the shadows, people that don't have a voice, people that struggle a lot. That's motivation for me to get involved in local politics."
Humble beginnings
For Cendejas, the road to his prestigious position started out in Los Angeles and traversed all the way to Manassas Park, Virginia.
Raised in East Los Angeles until age 13, Cendejas and his single mother endured an environment with domestic violence, gang activity and economic struggles. They were even evicted from their home for a time.
His mother, Maria Mauri Vigil, served as an inspiration for him and East L.A. As a community leader, Vigil would help families in need of food by organizing them and gathering enough food so that no family would have to go hungry.
Despite even the harshest of living conditions, Vigil's indomitable spirit persisted.
"My mom is my role model because she herself struggled a lot. Dealing with domestic violence, being a single mom, working minimum wage jobs, moving from house to house...Regardless of all the obstacles, my mom has faith that things are going to be all right," Cendejas said. "We didn't have government assistance, but my mom fought for us to have food on the table. I feel like my mom is a social worker, too. She doesn't have a degree, but she does a lot of service for others."
After leaving Los Angeles, Cendejas moved seven times between the ages of 13 and 15, making stops in Oklahoma City before finally settling down in the small town of Manassas Park.
"It's where we had wealth and family stability. I feel so blessed because I had the opportunity to get a quality education," he said.
For his outstanding academics at Manassas Park High school, Cendejas received a full-ride scholarship worth over $200,000 to study sociology at Georgetown University.
Hometown scholar
Along with working at his old high school as a substitute teacher and mentor to prospective college students, Cendejas led Georgetown's community outreach efforts.
"One of the biggest things I did at Georgetown was to inspire our university to bridge the gap between the university and the inner cities and people of color," Cendejas said. "Being at Georgetown gave me those opportunities to understand the purpose of helping others and being able to define what I consider success -- for me, success equals seeing other people improve their quality of life."
And while his experience at Georgetown fueled his fire for social work, it was Cendejas' time at USC that laid the foundation for his career as a politician.
Cendejas' internship with U.S. Congresswoman Karen Bass, combined with lessons learned from USC Suzanne Dworak-Peck School of Social Work Dean Marilyn Flynn and then-Vice Dean Paul Maiden, imparted to Cendejas valuable lessons of civics and social work.
"They empowered us [students] as agents of change," said Cendejas, who served as president of the school's Student Organization. "They made me work hard, to prove myself as a good leader."
Paying it forward
After graduating from USC in 2014, Cendejas moved back to Manassas Park to pursue a life in social work but never forgot his political experience with Bass.
Well into his work with the Catholic diocese, Cendejas' interest in local politics was sparked by an article published in The Washington Post stating there was vast political apathy in the city of Manassas Park.
"There are three city council seats up for grabs this fall in Manassas Park, an exurb of the nation's capital facing huge demographic shifts and crushing debt. But only one candidate will be on the ballot," according to the article. "It is a stark example of the civic apathy that experts say is growing more common in some of America's smaller cities and towns, even as 24-hour news channels and websites proliferate and one of the most divisive presidential campaigns in history has drawn record crowds to political rallies and primary polling stations."
Considering his deep love and knowledge of Manassas Park, Cendejas decided to run as a write-in candidate for a position on the city council not just to prove to the article's writer that Manassas Park residents cared about their city, but also to advance the city and people that raised him.
"The author of that article also inferred that Latinos are not involved with what's going on in the community. That put me on guard: the fact that they were describing our city in a negative perspective," Cendejas said. "So I wanted to do something for my city -- to do my city well by representing it."
The campaign trail was long and arduous for Cendejas and his campaign team, which was led by his brother and sister-in-law, embarking on a door-to-door campaign that focused on listening to residents' concerns.
In a city of about 17,000, the cards were stacked against the Los Angeles native, as former mayor Frank Jones endorsed three other candidates -- including another former mayor, Bill Treuting -- to the open city council positions.
"It felt like a David and Goliath story. The mayor has a lot of support and connections, and it was unnerving to feel like an outsider in your own city," he said. "But at the same time, my campaign team was always optimistic and brought me support. I felt like overall, the way that I presented myself showed that people were attracted by my views and were able to respect what I bring to the table."
Victory
In spite of Treuting's endorsement and expansive campaigning, Cendejas won 1,349 votes, while Treuting won just 415 for the seat he was running for. With 17.7 percent of Manassas Park's votes, Cendejas earned a place on the 2017 city council, along with fellow independent Donald Shuemaker and Democrat Miriam Paula Machado.
"A person can struggle from a young age, but obstacles make you stronger. You can grow up in the hood, grow up around gangs, but that doesn't have to be your outcome in life," Cendejas said. "If you're determined to make your life better, you can make it happen. I am blessed to be where I'm at right now, and I feel I need to do that for others so that they can be empowered, too."