Alumni Thrive in Non-Traditional Social Work Jobs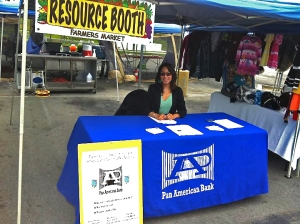 If you're a bank that serves a community that may not be the most savvy when it comes to finances and tends to be wary of banking in general, what do you do to encourage people to use your services?
You enlist the help of social workers, who are well-versed in community outreach and education.
That's the tactic East Los Angeles' Pan American Bank took when it hired two USC School of Social Work alumni to develop and lead its financial literacy program.
Mirna Beltran, MSW '12, and Norma Bravo, MSW '12, started working at Pan American Bank last year as students as part of their field placements. While interns, they built the bank's financial literacy program, which consists of workshops tailored for different age groups, starting as young as kindergarten and extending through high school. There's even an adult curriculum for parents.
Once Beltran and Bravo graduated, they joined Pan American Bank as part-time community outreach coordinators. By partnering with the nonprofit Junior Achievement, which brings hands-on training in real-world skills to students, at Roosevelt and Garfield high schools in Los Angeles, Beltran and Bravo have been teaching young people best practices for budgeting and saving money. They discuss the difference between needs and wants, as well as the long-term benefits of saving at a young age. This way, buying a car or attending college doesn't seem so out of reach.
Pan American Bank wanted a financial literacy program because much of East Los Angeles, where the bank is based, is underbanked or unbanked. Beltran said there is a significant portion of the East L.A. Latino community that either isn't aware of the resources available to them or is distrustful of banks in general.
"We want [these young people] to become financial savvy adults," Beltran said. "A lot of people in the community don't make the best financial choices. People think banks just take their money because they're often charged [to maintain] some accounts at large banks. But at Pan American Bank, savings accounts are free. People don't always know what's out there for them."
Beltran's and Bravo's positions at Pan American Bank are part of an initiative at the School of Social Work to develop non-traditional social work field internships that hopefully lead to more permanent positions.
"Non-traditional social work careers are viable options for Master of Social Work students because they expand job possibilities to industries that do not typically hire MSW professionals," said Carrie Lew, director of professional development and alumni relations at the School of Social Work. "These jobs are important to the social work profession because they help educate key stakeholders about social workers' expansive skill set. Social workers in non-traditional settings can have organization-wide impact."
Some of the skills that MSW students bring to these jobs include community outreach, program evaluation, cultural competence and knowledge of human behavior, which are valuable to employers and transferable to a variety of professional settings.
Non-traditional social work positions also allow students to learn skills they might not have necessarily learned in a more traditional clinical setting. Bravo said she has learned about public relations, marketing, branding, social media and networking while working at Pan American Bank. Chief Executive Jesse Torres has made it a point to take Bravo and Beltran with him to community events, where they promote the bank's financial literacy program.
"It was refreshing to have room to be innovative and creative, and to have a supportive supervisor like Jesse," Bravo said.
She and Beltran credit the career development and field education teams at the School of Social Work for making this innovative job a reality. Bravo said that having this experience helped her land a clinical position at Didi Hirsch Mental Health Services, where she is helping to develop a financial literacy program for its clients.
And Beltran, who also has a clinical job with Tessie Cleveland Community Services Corp. as a therapist working with youth in East Los Angeles, said that even though working for a financial institution wasn't on her radar when she first started studying social work, the result of such a position lines up with her original goals.
"I didn't imagine I would have a job at a bank after graduation," Beltran said. "I've always wanted to work with high school-age youth promoting secondary education, pushing them to go to college. Even though I'm working in a different capacity, I'm still informing students of their options. In a very interesting way I'm still doing what I've always wanted to do."
To reference the work of our faculty online, we ask that you directly quote their work where possible and attribute it to "FACULTY NAME, a professor in the USC Suzanne Dworak-Peck School of Social Work" (LINK: https://dworakpeck.usc.edu)