Alumna Bernice Harper turns 100, blazed a trail as USC Social Work's first African American female and out-of-state student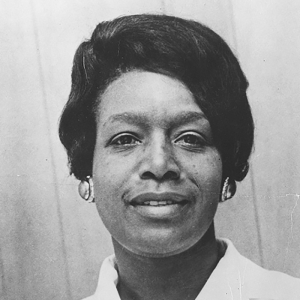 On the occasion of her centennial birthday in February, social work leaders from around the world gathered to honor Bernice Catherine Harper, MSW '48, and reflect on her life and impact at a celebration hosted by the National Association of Social Workers (NASW). Her milestone achievements include creating one of the nation's first oncology social work programs, working with the federal government to institute hospice care coverage under Medicare and Medicaid, becoming one of the first women of color to receive a Master of Public Health from Harvard University, serving as president of the American Society of Hospital Social Work Directors, writing a book to help hospice health care workers cope with their own anxieties about terminal illness, meeting luminaries from Eleanor Roosevelt to Bishop Desmond Tutu, and launching a foundation to bring hospice and palliative care to sub-Saharan Africa.
But before she was able to begin a groundbreaking career that would span many decades, she was a young student in the segregated south of the 1940s searching for a graduate school that would accept her. USC extended an invitation, welcoming her as the first out-of-state student, and first African American woman, to attend its school of social work. She uprooted herself from family and friends in her home state of Virginia and moved to the other side of the country with no idea how she would be received in a new place. While Harper is not the only person of color to make this kind of courageous choice in order to pursue higher education, there were very few. In doing so, she assumed a role of leadership in the name of equality, opening the door for more students of color to follow her.
Her very first day on the USC campus was an experience of both the highs and lows of being different. At university registration, when there was some jostling in the line, a white female student turned to Harper and said, "Go back to Africa!" Not missing a beat, the Virginia native retorted, "Where? Africa, Virginia?"  She felt she had left segregated society behind and was not expecting to encounter it in California, but despite this unfriendly welcome, Harper says this was the only overt racism she experienced during her entire time at USC.
Later that same day, as she sat on a bench on campus, two other Black students walked by. "We looked at each other, and we all three just jumped up and started hugging each other. We became friends and I got through," Harper said.
She lived with an African American family, the Johnsons, in the community not far from campus, where she immediately felt at home. The Johnson family owned a restaurant and were active members of their local church, which Harper joined, becoming friends with the minister's children, who were close to her age, and establishing a Bible class. On campus, she worked in the President's office assisting with administrative work. She felt comfortable in this environment, having worked on campus at her alma mater Virginia State College and also worked for academic families at Princeton and Cornell Universities before coming to USC.
"I loved Los Angeles, it was wonderful," Harper recalled. "But I think if I hadn't had all those other exposures, it would have been very difficult. I had learned to take it in stride."
Global vision at a young age
Harper's determination to make an impact in the world, and her adventurous spirit, were always clear. Born in Virginia in 1922, she was one of twelve children of a father who was a farmer and a mother who was a domestic worker. At the age of eight she announced to her parents that she wanted to be a missionary to Africa. Her sisters said, "Well, Bernice, where is Africa?" She replied, "I don't know, but it doesn't matter!" laughing as she recalled this exchange. Even at that young age, she advocated for her own value, quitting a housecleaning job because the woman who hired her paid just ten cents after a full day's work. When her mother asked why she quit, she said, "I'm worth more than that." Her work ethic and inherent sense of self-worth and purpose led employers and acquaintances alike to become advocates for her future, directly leading to her career as a social worker.
After receiving her bachelor's degree in psychology and education from Virginia State College, Harper, then Bernice Wright, was working as a caretaker for the elderly mother of a family in Princeton, N.J. when she had a providential experience that opened the door to a new path. The sister of the woman she was caring for, who had been a social worker, died and bequeathed her money to create a scholarship for an aspiring social worker in need. Among the late sister's possessions inherited by the family was a piece of luggage inscribed with the initials: "BW." Harper's employers saw it as a sign that the scholarship was meant for Bernice Wright, who had so impressed them in the short time she had been with the family. They awarded the scholarship to Harper to pursue a Master in Social Work. "I didn't even know anything about social work, it was something I had to learn about, but it seemed to fit what I was about. That was people, no matter what," she said.
Due to segregation, no social work graduate school in her home state of Virginia would accept her. "They said go anywhere you want, but you can't go in Virginia," Harper said.
When she learned about the social work program at the University of Southern California, she felt immediately drawn to it. She applied and was accepted. "I was always one for exploring. It was my nature to explore. To try to do my best and to get the best. So, when the scholarship money came through, I decided I had the money to go anywhere I wanted to go and I decided to go to California," Harper said. "The neighbors told my mother, 'You don't want Bernice to go way out yonder, she don't know nobody.' But my mother said, 'She's over 18 and she can go where she wants to go. I can't hold her back.'"
A USC mentor who changed her life
Harper credits one of her USC Social Work professors, Elizabeth Payne, as being responsible for directing the focus of her career to social work in health care. Impressed by a paper Harper wrote on health insurance, Payne became her mentor, overseeing her dissertation and staying in close contact for more than a decade after Harper graduated. When Harper's great aspiration to be a social worker at a leading East Coast hospital was thwarted because they would "only take one colored person at a time," Payne helped Harper obtain her first social work position at Children's Hospital of Los Angeles, where she provided services to nine clinics and two wards. Harper immediately challenged the status quo by advocating for change to the medical protocol for treating children with asthma. She noticed there were children who had not had an asthma attack in four or five years who were still coming in for weekly treatments, often travelling by public transportation and missing time from school at significant expense to their parents. She went in front of a medical panel to present her recommendation to create a new treatment policy that eased the burden on her young patients and their parents. "There was a big meeting called because I was talking about the practice of medicine," Harper recalls. "I presented my proposal, and it was approved. The Allergy Follow-Up Clinic was formed, which I believe is still operating today."
Harper was promoted to supervisor of admitting, where the hospital administrator challenged her with solving the long lines for the admitting office that wrapped around the hospital each day. She spoke with the mothers in line and discovered that many of them were coming back on successive days to have their various children seen. Harper suggested implementing a family clinic card that would enable mothers to register all of their children at once and go straight to the doctor's office on successive visits. "I found out what the problem was and the line disappeared," Harper said.
Harper went on to join City of Hope at its main campus in Duarte, California, rising to become chief social worker and creating one of the first social work oncology programs in the country. Ironically, the same East Coast institution that had previously rejected her sent its social workers out to Los Angeles to learn about and emulate her groundbreaking work in this area.
Encouraged by her mentor, Harper harnessed her resilient spirit to become one of the first women of color to earn a Master in Public Health from Harvard. "I would not have gone to Harvard without Mrs. Payne's intervention. Her interest in me, promoting me and helping me, made all the difference in terms of a mentor."  In 1970, she became the president of the USC Social Work Alumni Association, giving back to the school that had welcomed and supported her by helping to raise tens of thousands of dollars.
A Career Comes Full Circle
Arlien Johnson, dean of the school of social work at USC from 1939 to 1959, encouraged Harper to return to her native Virginia after graduation to be part of the fight against segregation, but Harper knew that was not her path. "I was not the best person to be put on the streets for fighting civil rights because I would have gotten killed," Harper said. "If I had seen a policeman come up and take a baseball bat and hit somebody in the head or a dog or something, I would have gotten into the mix. My calling had to do with worldwide rather than just Virginia."
Harper's career came full circle in the 1990s to make the kind of global impact she had dreamed of as the child once called "the little missionary" by family and neighbors. In 1996, she achieved her lifelong goal of traveling to Africa when she was invited to address the Southern Africa AIDS Care Training Council in Zimbabwe and tour hospices in South Africa and Zimbabwe. "I didn't get to Africa until 1996. It took a long time, but I got there," Harper said.
Although she was representing the United States government in her role as Department of Health and Human Services consultant, she was given no government support for her travel expenses and had to use her personal credit card and vacation time for the trip. It was a time when HIV/AIDS was devastating Africa, health care systems were overwhelmed and hospice programs were nearly nonexistent. She shared her vast expertise in hospice and palliative care in numerous presentations and workshops. Her greatest triumph came in 1999 when she became the founding president of the Foundation for Hospices in Sub-Saharan Africa (FHSSA) to partner with and expand hospice and palliative care services across Africa. Harper recalled that the night of the fundraiser to launch the foundation, she asked God how she would find the money to bring this dream to life.
"He said you have that money from your award. I said that money is supposed to be for my retirement. He said, never mind retirement, all the money in the world belongs to me. Write the check," she said. "I wrote the biggest check...I thought I was going to go to the poorhouse."  Now known as Global Partners in Care, the foundation continues its work today and held its annual meeting last week, continuing its mission in Africa and across the world.
"I put in what I could and it's still going," Harper said. An apt summary of her career journey that began that first day at USC nearly 75 years ago. Bernice Harper helped blaze the trail for generations of social work students who came after her, no matter their race, ethnicity or where they grew up.
To reference the work of our faculty online, we ask that you directly quote their work where possible and attribute it to "FACULTY NAME, a professor in the USC Suzanne Dworak-Peck School of Social Work" (LINK: https://dworakpeck.usc.edu)