Air Force Security Forces Specialist Aimee Bravo MSW '18 Shares Her Unique Path to Military Social Work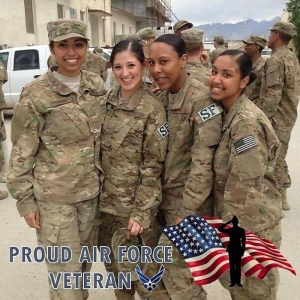 Aimee Bravo, Air Force Security Forces Specialist and graduate of the USC Suzanne Dworak-Peck School of Social Work, reflects on her hopes for breaking the stigma surrounding mental health in the military.
After obtaining its first aircraft in 1909, the United States founded the Aeronautical Section of the Signal Corps. The section evolved throughout the years, but it wasn't until September 18, 1947, that the Air Force became a distinct branch of the U.S. military under the Department of Defense (DoD).
In honor of the Air Force's birthday and the critical role it plays in air, space and cybersecurity, we're highlighting Aimee Bravo, MSW '18, an outstanding Air Force Security Forces Specialist. This first generation U.S. citizen and recent social work graduate opened up to us about her experience in the military, and her vision for curbing substance use among service members by increasing access to mental health resources on military bases across the globe.
USC Suzanne Dworak-Peck School of Social Work: What inspired you to enlist in the Air Force, and what has your service involved thus far?
Aimee Bravo: My brother served in the Marine Corps, and I was inspired to follow in his footsteps by joining the military. I enrolled in the Air Force as a Security Forces Specialist in July of 2011 while I was completing my associate's degree. I then served four years on active duty, during which I worked on a U.S. base and completed a deployment to Afghanistan. After that, I completed my bachelor's degree at Saint Leo University in Florida.
Today, I'm a non-commissioned officer, but I have an internship here at the USC Center for Innovation and Research on Veterans & Military Families (CIR). This experience has helped me to develop new community outreach skills that I hope to apply in the field as an active duty officer in the near future. I plan to re-enter the Air Force as a social work officer, rather than a security officer, because I believe I'll be able to create more positive change by using my social work training to serve others.
USC: What drew you to the Air Force as opposed to other branches of the military?
AB: Both the role and the structure of the Air Force make it unique from other branches of the military. First of all, the mission of the Air Force is security-focused: our duties involve air, space and network security. Ultimately, this involves a lot of law enforcement and security operations. When I was working on-base in the U.S., my job involved policing, community relations and manning access points to monitor all vehicles and pedestrians entering the premises.
Another distinguishing trait of the Air Force is that, unlike other branches of the military, we maintain special operations and security forces but no infantry. For this reason, the Air Force never has the first troops on the ground in combat zones. Rather, the Army and the Marine Corps enter first, and the Air Force follows to maintain security in the area. 
In addition, there are no gender divisions in the Air Force—men and women undergo training together and hold the same roles. This strong sense of egalitarianism is another reason I love serving in the Air Force.
USC: Why did you decide to pursue an MSW at USC?
AB: My interest in pursuing social work is closely tied to my experience in the military, as well as my experiences with veterans like my brother. Before I enlisted, I saw my brother transition out of the military. It was a turbulent, painful time for him—he struggled with mental health issues and substance abuse. I think a major reason that my brother faced these challenges was that he didn't have access to the resources he needed to make a healthy and desensitized transition into civilian life. I wanted to change that—I wanted to make mental health a topline priority for all leaders in the military, not just the chaplains on-base.
One of the people who helped my brother overcome these hurdles was a social worker with an MSW from the USC Suzanne Dworak-Peck School of Social Work, which inspired me to pursue my MSW here. I hoped that my education would equip me with the skills needed to effect large-scale policy changes surrounding mental health for service members transitioning out of the military.
USC: How do you think the military can better support the mental health of service members?
AB: Overall, I think change within the military needs to be structural, and that's why my focus is on shaping policy to better support the mental health of service members and veterans. 
An effective first step may simply involve increasing access to these services. As an MSW student, I participated in a military immersion program in Washington, D.C., where I met a number of social workers and learned about a pilot program whose mission is to hire one social worker for each unit on every U.S. military base. Currently, while each unit has its own chaplain, there are usually only one or two social workers per base—this initiative could provide more immediate access to mental health services for every member of the military. 
On a more fundamental level, I hope to see a shift in attitudes toward mental health in the military. Stigma surrounding mental health persists, even as service members face heightened risk for substance abuse, suicidality and other mental health issues. If we can bring a new level of awareness, service members and veterans will feel less afraid to reach out and ask for help.