Activism and Effecting Policy Change: A Master Class with Rep. Karen Bass, MSW '15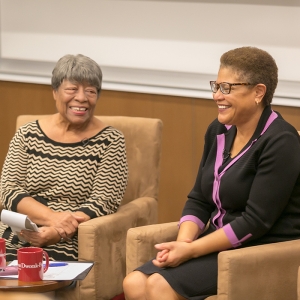 What advice would Dr. Martin Luther King Jr. give to us facing the social justice and policy landscape of our society today? How does his vision still apply, and how can social workers use it to help effect policy change?
These were a few of the topics discussed at a professional development master class co-hosted last month by the USC Suzanne Dworak-Peck School of Social Work Alumni Association and NASW-USC Unit. Coinciding with USC's Martin Luther King Jr. weekend of events celebrating King's legacy, the class featured USC Professor Emerita Barbara Solomon, DSW '66, the first African-American to hold a deanship at USC, who led a conversation with Rep. Karen Bass, MSW '15.
King's Legacy of Service
Clinical Associate Professor Renee Smith-Maddox, vice chair of the school's Department of Social Change and Innovation and chair of the USC Diversity and Inclusion Council, introduced Solomon and Bass. Smith-Maddox opened the class by sharing thoughts about the meaning of Martin Luther King Jr. Day that were inspiring and relevant to the audience of social work students, practitioners, advocates and scholars.
"The King holiday honors the life and contribution of America's greatest champion for racial justice, social justice and equality," Smith-Maddox said. "[A] leader who did not only dream of a color blind society, but also led a movement that achieved historic reforms to help make it a reality; and that reality was for all people, including immigrants … The holiday provides a unique opportunity to teach us all to fight evil, not people; to get in the habit of asking ourselves, 'what is the most loving way I can resolve this conflict?'"
Smith-Maddox also emphasized the importance of service and volunteerism as a component of commemorating King, and asked the audience a question that he once asked his supporters: "what are you doing for others?"
A Career Committed to Service
Rep. Bass is someone who has devoted her career to serving others. She is in her fourth term representing the residents of the 37th Congressional District of California in the United States House of Representatives. Prior to serving in Congress, she served in the California Assembly and was elected to be its speaker, becoming the first African-American woman in U.S. history to serve in this state legislative role.
During the class, Bass spoke of her lifelong involvement in community activism and the path that led her to a career in politics. She cited the civil rights movement of the 1960s and the presence of adults who helped nurture her activism as inspiration. She also explained how the onset of the crack cocaine epidemic in Los Angeles in the 1980s and her subsequent realization that her community was falling apart were catalysts for her increased commitment to activism.
Solomon invited congresswoman Bass to share with the audience what led her to pursue a Master of Social Work at USC when she was already well-established in politics.
"When I went to D.C., I knew that I wanted to work on child welfare, as that's what I had been working on in the community and in the California state legislature," Bass said. "So I convened the local advocates around child welfare, and I realized that I really needed to understand the child welfare system … I didn't really know what social workers did as a profession overall, and how social workers interacted with child welfare."
She went on to point out that while policy makers make decisions about what professionals do in their respective fields, policy makers don't always know what those professionals actually do. She chose to earn an MSW through the school's Virtual Academic Center to better understand the jobs of people working in the child welfare system she advocates for in government.
Social Workers Informing Policy
Solomon added that because social workers are at work in virtually every field and arena in our society, they are well-qualified to help inform policy makers.
"When you talk about social reform," Solomon said, "social workers have a unique position, because we are in all of the relevant institutions, whether it is the criminal justice system, the educational system or the military—we are everywhere. This means that we have some potential power that I do not think we have exercised. There are many decisions being made in our political system at all levels that could use information that social workers have."
The class concluded with an interactive discussion with audience members, during which Bass answered several questions about social justice, social welfare and her experiences and activities in our current government and political landscape.
The class was streamed live, and licensed social workers who attended in person were able to earn continuing education units as part of our Alumni Career and Professional Development program.
To watch a full video of the master class, visit our YouTube channel.
To reference the work of our faculty online, we ask that you directly quote their work where possible and attribute it to "FACULTY NAME, a professor in the USC Suzanne Dworak-Peck School of Social Work" (LINK: https://dworakpeck.usc.edu)