Wellness Program
The goal of the school's wellness program is to provide free wellness-related activities and information to the faculty and staff of the USC Suzanne Dworak-Peck School of Social Work. Some current projects include walking groups, yoga and pilates group classes, a Wellness Newsletter, a participation incentive program, healthy snack baskets and potlucks, USC Lyon Recreation Center discounts and much more.
Wellness Initiatives
Once a Day Wellness Thoughts, Practices and Activities -May 2019
Download the Daily Activities PDF for May

Every Day Thoughts and Practices:
Begin every day with a smile, an 8 oz glass of water, stretching and dressing comfortably for a 10 minute walk-to start and add 5 minutes until you reach at least 20 minutes before breakfast.
Have a light nutritious breakfast every day
Be conscious of your posture sitting at your desk
Stand, stretch and take a short walk every hour
Watch your posture, stretch you shoulders back, touch your R ear to your R shoulder, then switch to L ear to L shoulder
Drink several 8 oz glasses of water a day
Avoid sugar drinks
Avoid fast foods
Read food labels
Consider an investment in an Instant Pot or Crock Pot for make ahead healthy meals
Map the parks within a mile of home or work. Schedule a walk into your week from home to the park or work to the park. Rotate your parks. Observe the changes in nature, foliage, animals, etc
Virtual Book Club
Won't you join us?
The Virtual Book Club meets in the VAC Faculty Lounge roughly every six weeks, to informally discuss the selected novel. We focus on women authors and stories of cultural interest, and generally limit the page count to about 300 pages. We're all about coming together for fun, to build our community, and to share the joy of reading!

Join the Virtual Book Club Listserve!
Email June Wiley and she'll add your name to the Virtual Book Club listserve. You'll receive all the current information on what we're reading and when we will be meeting. All are welcome!
Tour de Cure, Los Angeles
For the past six years, faculty, staff, students, alumni, family members and friends have participated in the American Diabetes Association's Tour de Cure charity bike ride. This year the group of 20 raised more than $6,000 for research, education and advocacy for individuals with diabetes.
Our team of runners and riders raised over $6000 on this years ride.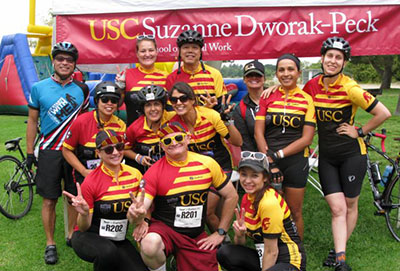 See more photos from this event on Facebook
Participation Incentive Program
For each school-sponsored or self-directed wellness activity you participate in, you can submit one entry to the wellness raffle. One winner is randomly selected on 1st and 16th. To participate in the raffle enter your name, email and wellness activity using our online Wellness Raffle form.
View photos from some of our recent wellness activities.
Wellness email list
Join our wellness email list to receive program announcements and wellness events. Read about wellness tips, stories and wellness events, programs and wellness-related information both on and off campus.
Yoga Group Classes
Classes are currently held at City Center. Please subscribe to the Wellness email list for dates and times.
Healthy Snack Baskets
Healthy snack options are available at UPC and City Center. There are baskets in MRF 201, SWC 217 and T300 and 14th floor reception area at City Center. The baskets provide a variety of fresh whole fruit. These baskets are replenished the first Monday of each month. Learn more about why fruit is vital to a healthy diet.
Wellness you can Touch
Some of our outreach includes wellness related promotional items such as squeezable stress balls, computer cleaning pads, writing pens, and pedometers.
USC Lyon Recreation Center Discounts
Discount only valid for annual membership packages purchased for the fall semester between July 15th and September 30th.
Please email to receive the current USC Suzanne Dworak-Peck School of Social Work Wellness discount code.
The School has negotiated a 20% discount for annual memberships that include Lyon Center and Village Fitness Center as well as HSC Fitness Center (HSC Campus) for all USC Suzanne Dworak-Peck School of Social Work staff and faculty. This discount is in addition to the already great discounts that all USC faculty and staff already receive, which are over 30% off depending on which package is purchased.
Wellness Resources
General Wellness
USC Healthy Trojans
Programs and resources related to physical wellness, emotional and social well-being, spirituality.
USC Center for Work and Family Life
Helping faculty, staff and their families find a healthy balance between work and personal life.
Wellness at Work Infographic
Informative facts and tips on wellness in the workplace created by the Public Health Institute and the American Public Health Association.
Music and Events
Wellness around the Web
Why Fostering a Culture of Companionate Love in the Workplace Matters