The Brain and Music Through the Lifespan
Date:
Feb. 13, 2018
11 a.m. to 12:30 p.m.
Location:
Montgomery Ross Fisher Building, Hamovitch Research Center, 669 W. 34th St, Los Angeles, CA 90089
University Park Campus
655 West 34th Street
Los Angeles, CA 90089
Sponsor:

USC Social Work and the Arts Incubator, USC Edward R. Roybal Institute on Aging
Contact:
akatz@usc.edu
Reservations:
RSVP Email:
Cost: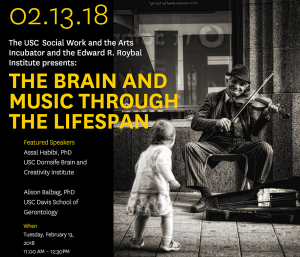 Details:
Featured Speakers:
Assal Habibi, PhD
USC Dornsife Brain and Creativity Institute
Alison Balbag, PhD
USC Davis School of Gerontology
Lunch will be served.
Space is limited. Please RSVP.