Intersect LA Summit
Date:
Wednesday, January 9, 2019
8:30am - 4:30pm PST (Lunch included)
Location:
USC Galen Center
3400 S Figueroa St
Los Angeles, CA 90089
Or
Livestream
Sponsor:

iEmpathize, USC Suzanne Dworak-Peck School of Social Work in partnership with United States Attorney's Office Central District of California & the Los Angeles Regional Human Trafficking Task Force
Reservations:
Cost:

$20 General Admission, $5 Students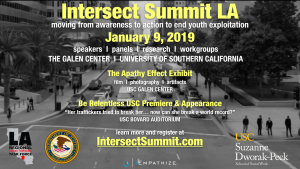 Details:
In every community, children and teens are targeted for exploitation. Awareness has increased and multiple groups are now working to identify and treat victims. However, in an effort to reduce the number of children and teens that are being victimized, a local prevention strategy with a broad collective action is needed.

As we recognize National Slavery and Human Trafficking Prevention Month in January, join us to be a part of creating these solutions at theIntersect LA Summit, a socially innovative gathering of public and private sector leaders in education, government, law enforcement, emergency response, legal, healthcare, social work and nonprofit sectors whose work in Southern California intersects with the issues of child exploitation. This ground-breaking summit will seek to:
Explore existing efforts and challenges to multi-sector and cross-agency collaboration in the prevention and intervention of child exploitation in Southern California
Develop an action plan to bridge gaps and build a more cohesive, coordinated and effective deterrence and response system to combat child exploitation; and,
Expand access to resources that educate communities, service providers and young people to equip them with the ability to recognize and navigate exploitative situations.
The summit will be comprised of expert-led panels, discussions and interactive working sessions to introduce, activate and enhance best practices in prevention, intervention and postvention. Learn how to access legislative priorities and offer measures to ensure compliance, identify ways in which government agencies and community-based organizations intersect with and respond to youth, and be a part of establishing an implementation strategy for ongoing, effective collaboration among participants. Professors Annalisa Enrile, Holly Priebe-Sotelo and Marleen Wong will be presenting.

LCSWs, LMFTs and LPCCs attending in-person from 9:00 a.m. – 4:30 p.m. can receive 6 CEUs.
In addition, the summit will unveil The Apathy Effect Exhibit, an immersive display of original film, photography and artifacts of human trafficking survivors from around the world, and Be Relentless, a documentary film highlighting the inspiring journey of human trafficking survivor and adventure athlete Norma Bastidas as she broke the Guinness World Record for longest Triathlon to raise awareness and showcase the incredible resiliency of survivors.
The Apathy Effect Exhibit
USC Galen Center
8:30am-4:30pm

Be Relentless USC Premiere with Norma Bastidas
USC Bovard Auditorium
6:30pm-8:30pm
Complimentary admission is provided to The Apathy Effect Exhibit and the Be Relentless film screening and presentation. An RSVP is requested for the Be Relentless presentation.