International Students: How to Improve Your Chances of Getting Hired
Sponsor:

USC School of Social Work
Cost: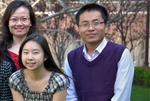 Details:
Attend this workshop to learn how to navigate the American job marketplace as an international student.
Because of today's economic times, the job market can be challenging for all social work students. International social work students may find additional obstacles since some companies may not be open to hiring international graduates.
Attend this workshop to:
Learn more about the state of the job market for international students
Increase understanding of American working culture
Discover job resources, including possible hiring organizations and job search strategie
Learn how the USC Career Center can assist you.
The workshop will be presented by the School of Social Work and USC Career Center.