Alumni Social Work Sessions: Jennifer Blewett, DSW '20, LCSW, Clinical Social Worker, Massachusetts General Hospital
Date:
January 27, 2021 | 6:00 pm PT
Contact:
Reservations:
Cost: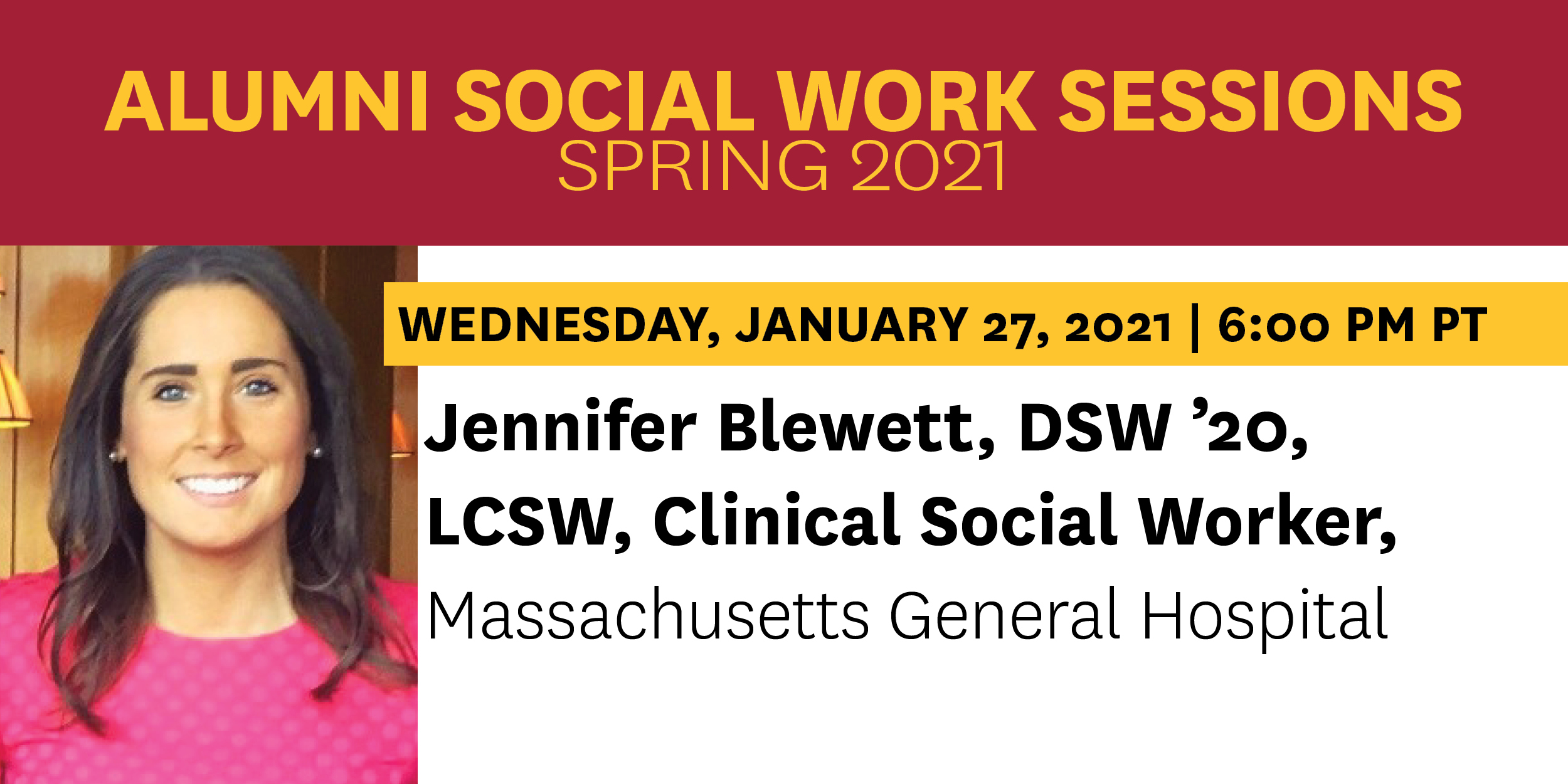 Details:
Harness and leverage the power of the Trojan Family by networking with Trojan Social Work alumni who share their various social work experiences. Open to current and prospective students as well as alumni signed up for Dworak-Peck Connect as a benefit for joining. To join, visit: https://usc.peoplegrove.com/hub/socialwork
Dr. Jennifer Blewett is a licensed clinical social worker with over 15 years of experience in the provision of mental health and addiction treatment services. She currently serves as a clinician in outpatient addiction psychiatry at Massachusetts General Hospital in Boston, Massachusetts.

Dr. Blewett holds a Doctorate in Social Work from the Suzanne Dworak-Peck School of Social Work at the University of Southern California and earned her master's degree in clinical social work from Boston College. Additionally, she earned a Bachelor's of Science degree from Northeastern University. She has extensive experience treating individuals, couples, and families with psychological problems in various inpatient and outpatient settings. Her areas of interest include the treatment of addictive behaviors, co-occurring psychiatric disorders, problematic gambling, and related health and co-morbid psychiatric disorders. She has had training in Cognitive Behavior Therapy (CBT), Motivational Interviewing, Dialectical Behavioral Therapy (DBT), Compulsive Gambling Disorders, and Group Psychotherapy. Currently, she is a member of the National Association of Social Workers (NASW), American Association of Group Psychotherapy (AGPA) and the Northeastern Society for Group Psychotherapy.