2019 California Social Work Hall of Distinction Induction Ceremony
Date:
November 3, 2019
3:30 - 6:30 p.m.
Location:
San Mateo Marriott San Francisco Airport
1770 South Amphlett Blvd
San Mateo, CA 94402
Sponsor:

California Social Welfare Archives, USC Suzanne Dworak-Peck School of Social Work
Cost:
Tickets: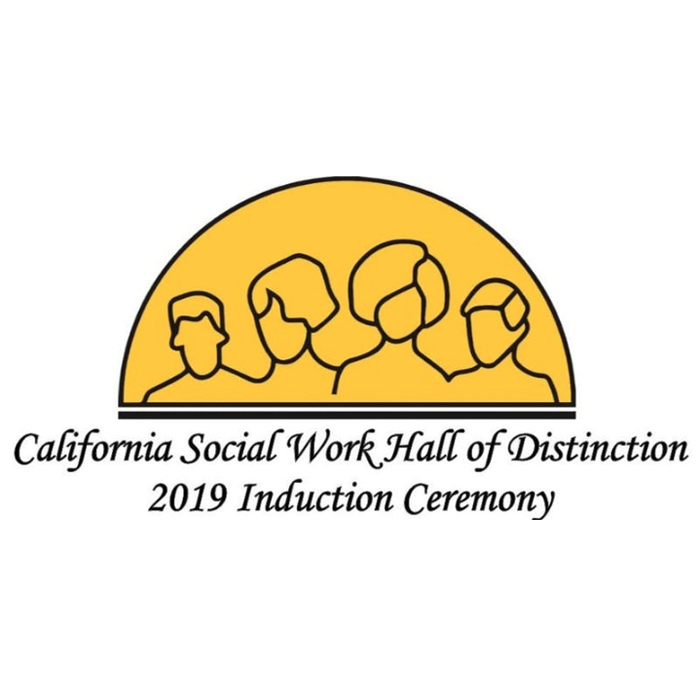 Details:
Please join us on Sunday, November 3, 2019 to honor the induction of six Social Work Champions each representing an incredible life and career dedicated to serving others. A light buffet reception will begin at 3:30pm followed by the induction ceremony at 4:30pm.
The 2019 induction class honorees are:
Salvador E. Alvarez, MSW (UC Berkeley '67) - lifelong social justice advocate and pioneer and faith leader empowering farmworkers, immigrants and marginalized communities across California
Peter Breen, MSW (USC '67) - former Director of Marin County Child Welfare Services and promoter of innovative child welfare services and programs in California
Benjamin Cuellar, MSW (UCB '72), DSW (Columbia '81) - former Dean of the School of Social Work at California State University, Fresno, and a leader in the development of collaborative efforts by service organizations to address social issues in the Central Valley
Jewelle Taylor Gibbs, MSW (UC Berkeley '70), PhD (UC Berkeley '80) - Zellerbach Family Fund Professor in Social Policy, Community Change, and Practice Emerita, School of Social Welfare, University of California, Berkeley and researcher on issues related to young African Americans
James Midgely, MSocSc (U. Cape Town '67), MSc (London School of Economics '70), PhD (U. Cape Town '71) - Dean of the School of Social Welfare at University of California, Berkeley and strong supporter of social work education and research
Linda Wang, MSW (U. of Chicago '68) - social work administrator within the San Francisco Department of Public Health, Community Mental Health Services, devoted to addressing the needs of underserved and immigrant communities
Tickets for this fundraiser are $45 per person ($40 for current NASW members). Opportunities to place a tribute message in the commemorative program, be an event sponsor, and sponsor students to attend are also offered during registration.
All are welcome. Please share this invitation with your colleagues. A limited quantity of sponsored tickets will be made available to current MSW candidates. Encourage students to contact us at cswa@usc.edu or 213-821-3604 to check availability. 
Contact us at cswa@usc.edu with any other questions or to make your contribution via check or credit card over the phone.

Thank you for joining us in celebrating the 2019 Inductees and supporting the Hall of Distinction!
The California Social Work Hall of Distinction was created to honor those involved in bringing about the betterment of society and ensure that the contributions of social work leaders, innovators and pioneers would be recognized and preserved for the future.
Since 2002, the Hall of Distinction has recognized over 100 individuals who have made outstanding contributions to social work and social welfare in California, with a particular emphasis on practitioners, advocates and educators.Inductees distinguished themselves by identifying a vision of how things could be better in our communities and pursuing that vision with consistent and concerted action for change.
The California Social Work Hall of Distinction operates under the auspices of the California Social Welfare Archives (CSWA). Formed in 1979, the CSWA obtains and preserves materials reflecting the development of social welfare programs in California and conducts and publishes oral history interviews with social work leaders. This unique collection of California social welfare history, supported by the USC Suzanne Dworak-Peck School of Social Work and USC Special Collections, is housed in the Doheny Memorial Library at the University of Southern California and has been visited by scholars from throughout the country. The digital library of recorded interviews and presentations is online and available to all at www.usc.edu/cswadigital.