The Unique Challenges of Family Caregiving for Alzheimer's Patients
October 06, 2017
Alzheimer's disease can be devastating, but families don't have to go it alone.
More than 10,000 people turn 65 every day, and by 2030, people over 65 will make up 18% of the population (as opposed to only 13% today).
As our population rapidly ages, the incidence of age-related diseases will inevitably rise. Alzheimer's disease, or AD, is the sixth most common cause of death among the elderly, and presents uniquely complex challenges for patients and their loved ones. Since the disease is degenerative and ultimately fatal, families not only have to cope with the emotional toll of their loved one's decline, but also with high medical costs for day care or memory care facilities. Adult day care runs around $1,500 a month, while live-in facilities can cost as much as $6,000.
In the face of these prohibitive costs, many families opt to care for their older relatives themselves. According to William Vega, Provost Professor and Executive Director at the USC Edward R. Roybal Institute on Aging, this can present unique benefits for the AD patient — but can also place a heavy burden on family caregivers.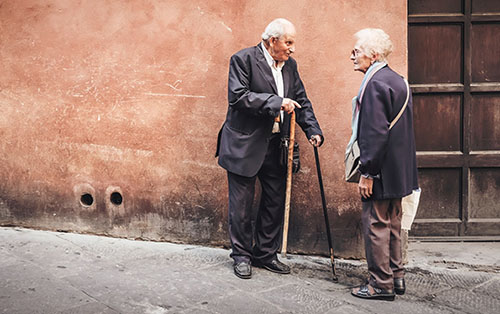 The Benefits of In-Home Care
Family caregiving can be beneficial for patients and families alike in the early and middle stages of AD. In-home care allows the patient to live in familiar surroundings with the comforts they're used to, which may mitigate the fear and uncertainty of an AD diagnosis. It will also minimize the feelings of isolation that many AD patients experience, and allow them to receive care that aligns with their personal preferences and values.
A combination of family and in-home professional caregiving is a good option for middle-stage AD, which requires full-time care. With this arrangement, patients are able to live with their families and in their homes, while family caregivers have the support necessary to take time away for self-care.
The Burden on Caregivers
AD impacts people from all walks of life, but low-income families more often choose to take care of ailing relatives themselves. 51% of caregivers for family members with AD consider themselves in a high-burden arrangement in which they are responsible for most or all of the care. Women tend to bear the brunt of this burden, and frequently experience exhaustion, anxiety and a need for social support.
The stress of caregiving doesn't just come from the pressure of being responsible for someone else's well-being. Watching someone you love slowly deteriorate, and in some cases become angry or violent, can be heartbreaking for family members. A benefit to hired care is that these caregivers are a step removed from the person they're caring for, and are also trained to handle the particular difficulties that AD patients can present. For situations in which a patient becomes verbally or physically aggressive — or family caregivers may easily become overwhelmed —  professional care may be the better option. Families of late-stage AD patients, including those who can no longer walk, swallow or communicate without assistance, should strongly consider the benefits of residential care or hospice.
Special Challenges for Latino Families
Latino families experience unique struggles when it comes to caring for relatives with AD. The disease is 50% more prevalent in Latinos than in non-Latino whites, but culturally tailored education and resources remain scarce. A lower average level of education and more limited access to health care services and insurance means that Latinos often delay seeking treatment and receive inadequate care once diagnosed. Language barriers between Latino families and their doctors and care facilities can result in confusion and further reluctance to seek help.
All of these factors contribute to a stark divide between Latino caregivers and their counterparts: 63% of Latino family caregivers are in a high-burden care situation (compared with 51% of non-Latino caregivers).
Latinos with AD face financial challenges as well, as they often have limited retirement resources and may not be prepared to pay for resource-intensive AD care. 88% of older Latino adults rely on Medicare, Medicaid or both as their sole health insurance — if they have any at all — and nearly a quarter of Latino households reported food insecurity in 2013.
A Need for Community-Based Services
Community-based AD services can close the gap between family and professional caregiving, especially for low-income families. Organizations like CaringKind and UsAgainstAlzheimers are helping to educate caregiving families and advocate for better services for those who can't afford residential care. Medical social workers can also play a role in helping to meet the health care needs of the U.S.'s growing population of older adults.