In the Aftermath of Hurricane Harvey, Two USC Social Workers Share Their Experiences on the Ground in Texas
September 15, 2017
Kristie Holmes and Laura Cardinal recently traveled to Beaumont, Texas, to provide social work services to those affected by the storm. This is their day-by-day account of their week on the ground.
In the wake of Hurricane Harvey, the media's attention has been focused on the devastation: the physical damage, the lives disrupted and the long road ahead to rebuild the affected areas. And indeed, firefighters, first responders and everyday heroes have played a crucial role in the immediate aftermath of the storm.
But in the weeks and months to come, Harvey survivors will need not just basic amenities like food, shelter and electricity, but also emotional and mental health support to grapple with the losses they've endured. Two of our faculty members, Adjunct Associate Professor Kristie Holmes and Clinical Assistant Professor of Field Education Laura Cardinal, recently spent a week in Beaumont, Texas, with other mental health professionals to provide relief services to the area's residents. This is their firsthand account of the experience.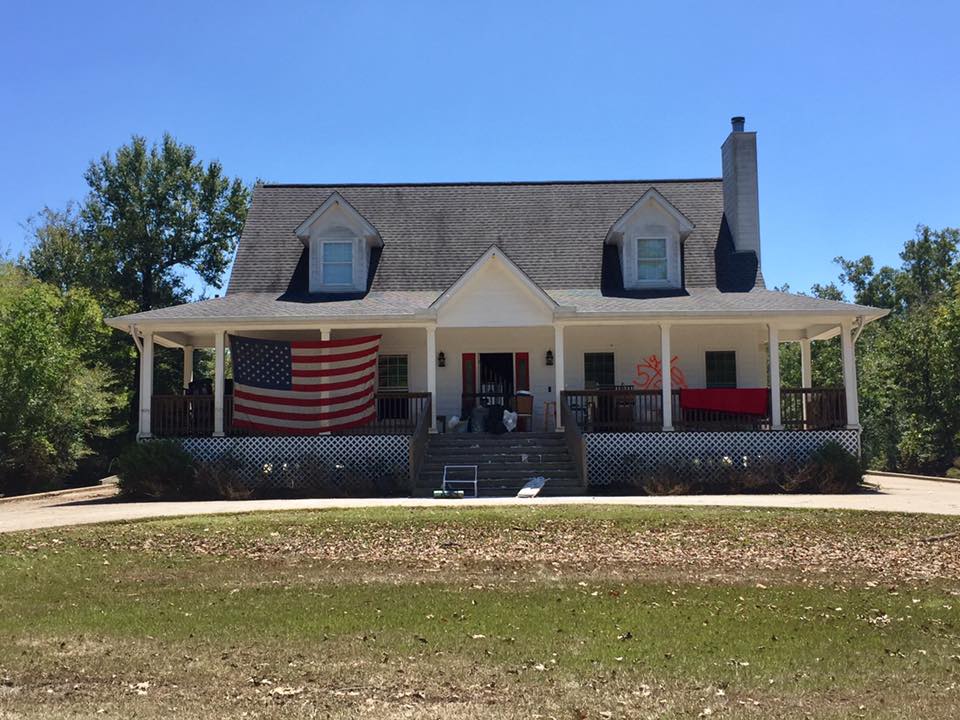 September 5, 2017
Laura:
Five of us are headed to Beaumont today. There are approximately 15 mental health providers here already. For the entire state of Texas, there are only about 200 mental health professionals currently working. With Irma expected to make landfall in Florida next week, many people have been deployed there to provide services, so there is an urgent need for us in Texas.
September 6, 2017
Laura:
We arrived in Houston last night and stayed in a nice staff shelter — a huge Methodist church — and reported to the state headquarters this morning for processing and assignment. We were given a tour of the state command center and were welcomed with open arms, especially because we have a rental car. Now, Kristie and I are safe and sound in Beaumont. We are sleeping in the civic center; picture a convention center with a concourse like a stadium. There are two main client shelters, and there is still an 8 p.m. curfew.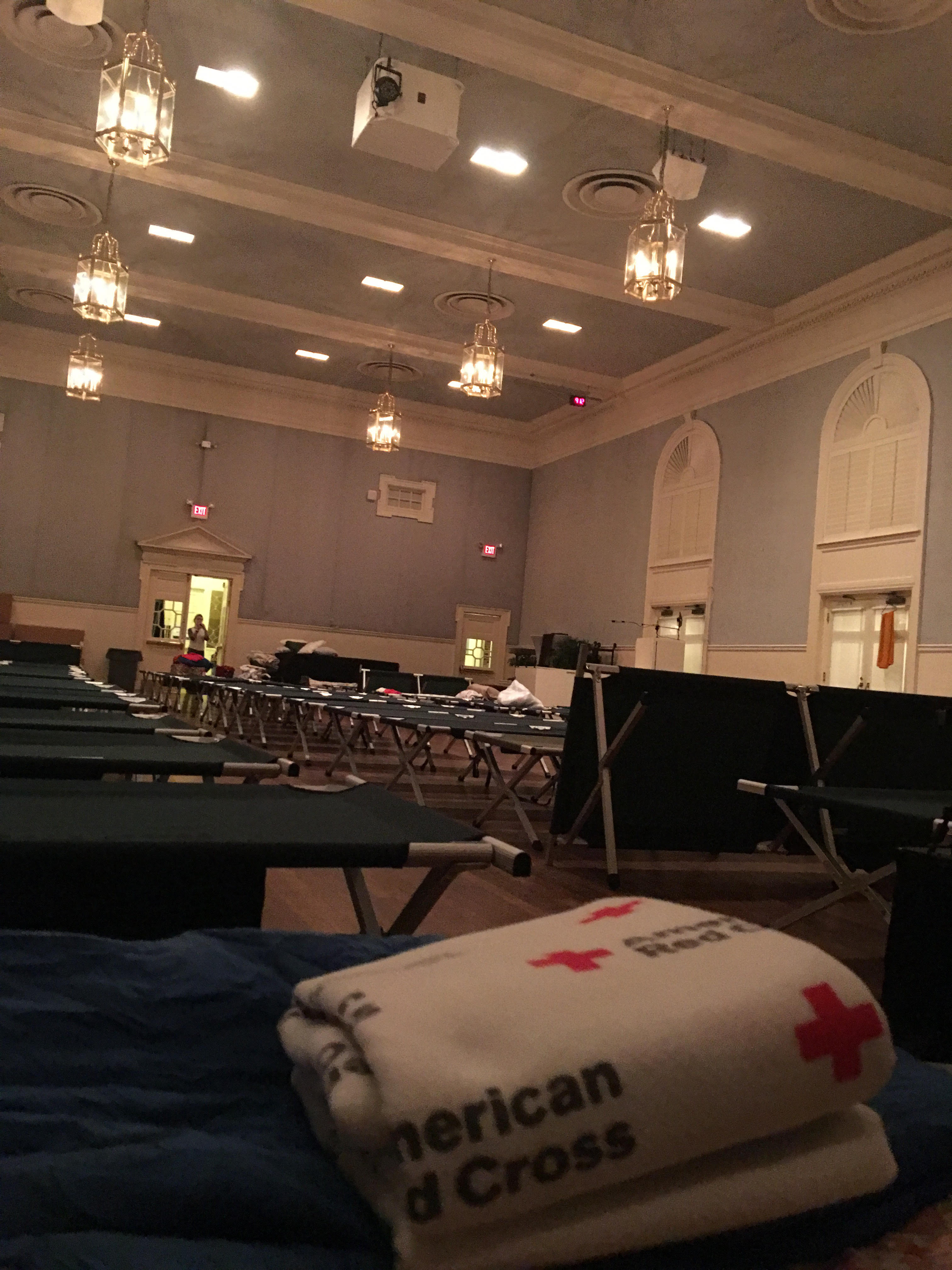 We have a cold shower, but some are reluctant to use it as the water here is not potable. We've already learned from others how many bottles of water are needed to successfully wash one's hair in a sink. But we have electricity, thankfully.
The American Red Cross (ARC) family is very welcoming, and we hear that people are happy to see mental health workers out in the neighborhoods. Many are just getting to go back home for the first time to assess the damage and salvage what they can. FEMA aid has just come through in Houston to cover hotels and other basic needs, but this community is still waiting.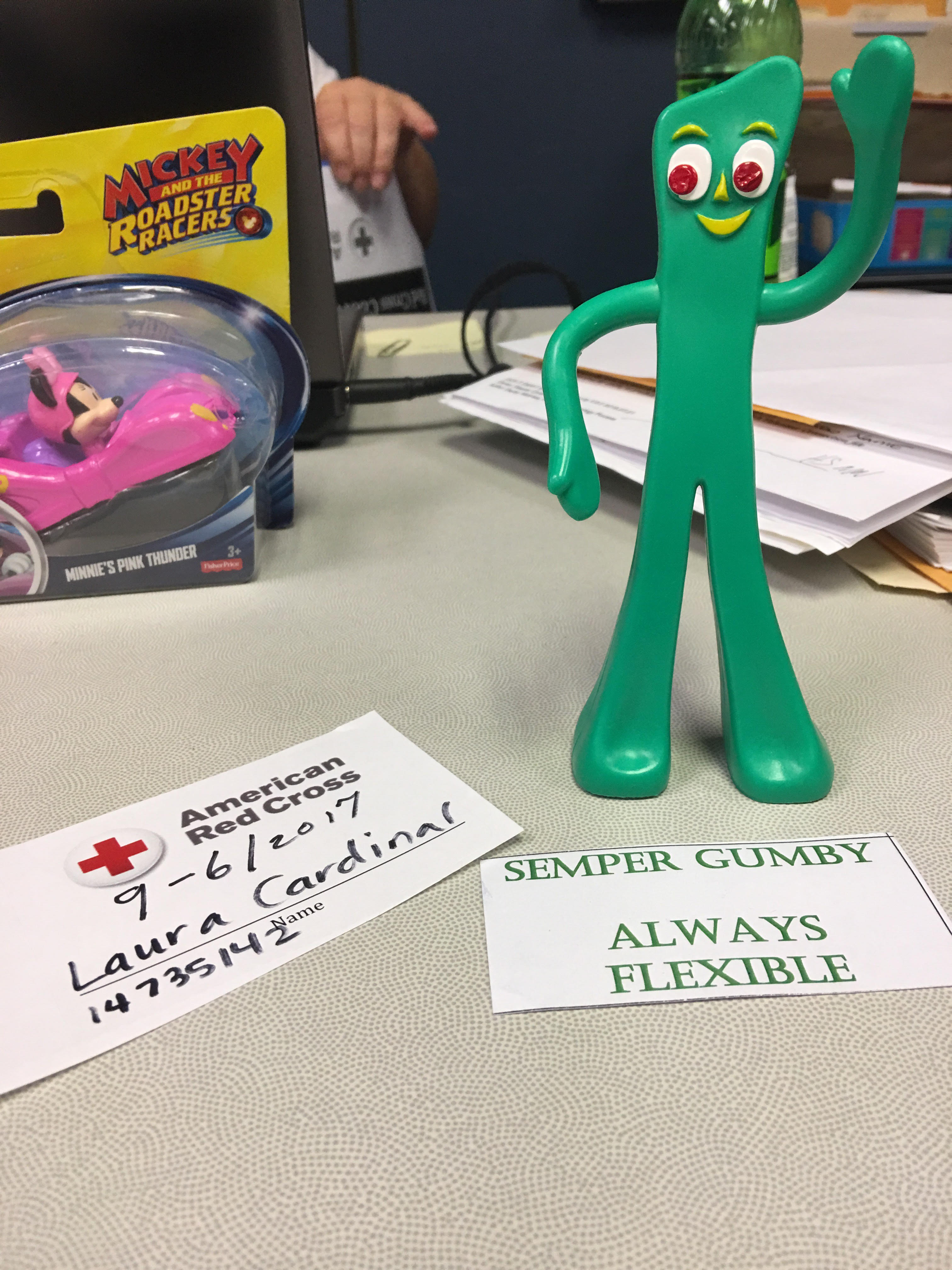 It's anticipated that ARC mental health workers will be here until at least Thanksgiving. Everyone is conscious of Hurricane Irma and the impending demand for ARC folks there, so the people here are nervous about being forgotten.
September 7, 2017
Kristie:
We learned that those with the most debris outside of their home often had more money, more resources, and more family and friends to help. Many homes that looked "not too bad" were full of mud, destroyed furniture, mold, sewage and water.
There was shock across the board as we entered these homes, and we started receiving far more severe cases as the day went on. Most were referrals from community leaders.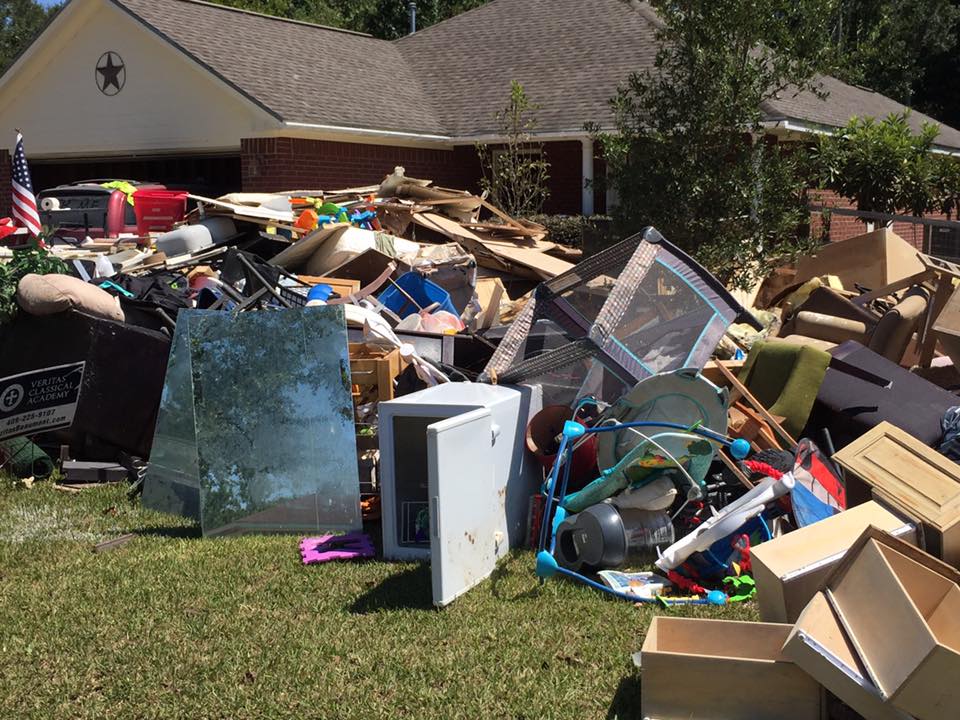 September 8, 2017
Kristie:
Facebook and social media saved many lives in the poorest areas. Local business owners and neighbors in a gutted Main Street shop described how their children were perched on top of cabinets as the floodwaters rose, and 911 wouldn't work. The Coast Guard couldn't get to them because there were white caps and tides in their neighborhood and not enough boats. So they coordinated on Facebook and opened the call for help to the public: "Joe across the street has a light upstairs and white sheet out the window," they said. Those sheets ended up being used to get them out from windows and rooftops.
Today, most of our team just did what they do best, and we were given the freedom to do it. My partner and I searched for the forgotten and those who are unlikely or unable to ask for help. Most areas we were in today had no cell service. The water levels are still bad.
September 10, 2017
Kristie:
Today, we took 300 hamburgers out to Nome and served lunch. We enjoyed a slower pace and watched as the city center began to open up. Home Depot had cars in the lot, but Starbucks and McDonald's are still closed. We had a couple of good endings to crisis situations, though many more crises are just beginning. Small progress brought great joy.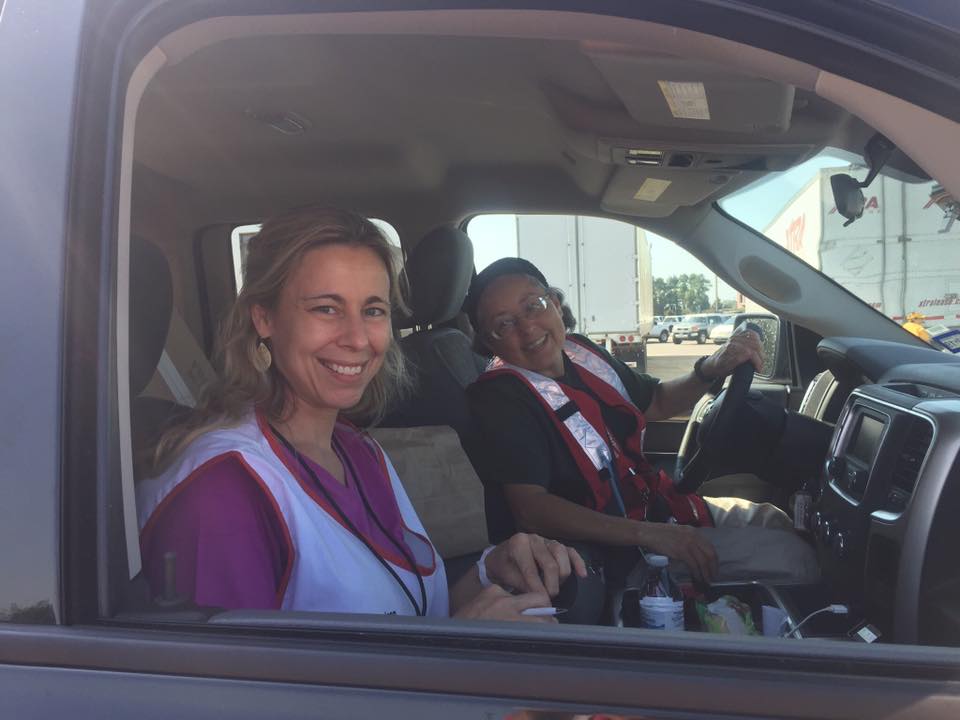 September 12, 2017
Kristie:
Today, things started to return to normal. Shops opened up, and the Home Depot was 75 percent full.
On the other hand, we're still seeing vulnerability and exploitation. Those who struggled before the hurricane are experiencing compounding issues now. Mold is growing everywhere — you can smell it from the street in some places. Some landlords are refusing to remediate and are demanding rent from those who now have no job, or the business is closed. A new shelter opened up yesterday, but the need is so great.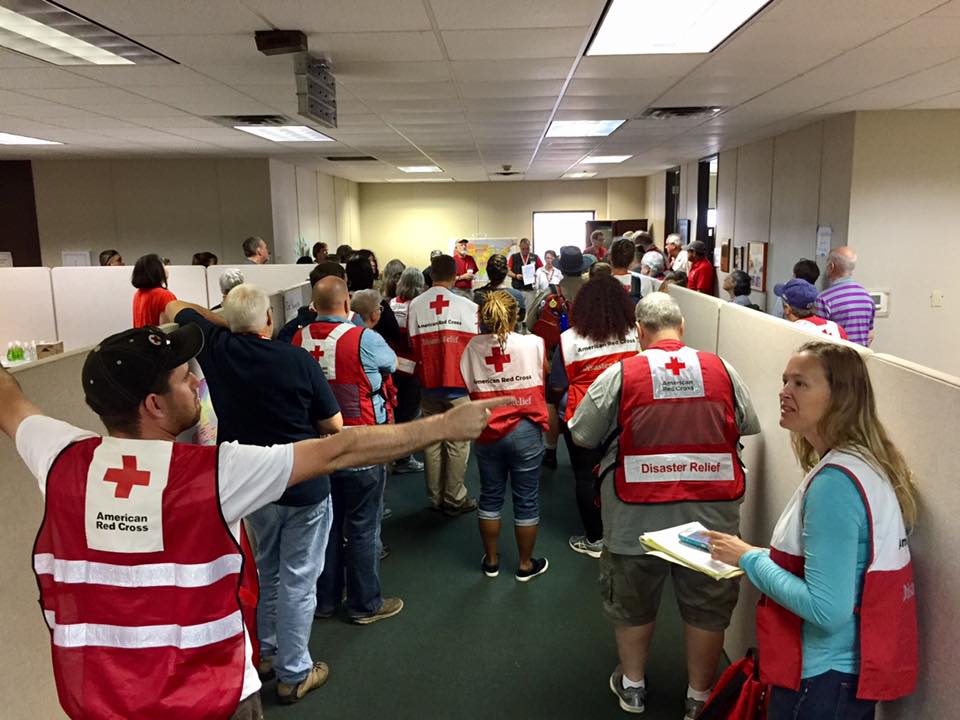 I don't care what anyone says about the Red Cross. Mistakes are made during a huge humanitarian effort like this, but it isn't for a lack of hard work, love or caring for those we are trying to reach. The needs are massive in scale, so we need a massive response. If you think you can help the Red Cross do better, step on up — you'll be welcomed and shown your cot. No hotels here! But we do finally have water, even if it's not hot.