Does Your Child Have PTSD?
June 26, 2017
Continuing our series of posts to highlight the cause and effect of Post-Traumatic Stress Disorder (PTSD) during the June awareness month, one of the foremost experts in the field of child trauma, Dr. Marleen Wong, provides invaluable insight on how to recognize PTSD in children.
Just like adults, children who have experienced violence can be highly susceptible to PTSD. Marleen Wong, clinical professor and senior associate dean of field education, shares the common risk factors, manifestations and long-term behavioral changes that can be associated with children experiencing PTSD.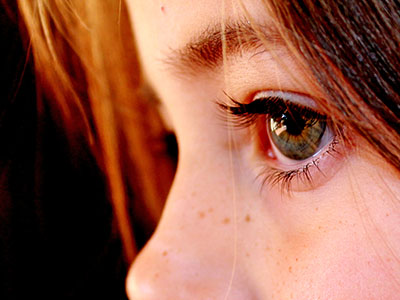 As a board member for the National Center for School Crisis and Bereavement (NCSCB) and  former mental health director for the Los Angeles Unified School District, Wong has helped to create many of the standard procedures used to address PTSD  and child trauma in schools nationwide.
Risk Factors
"In any environment in which a child sees somebody being hurt or they themselves are attacked or threatened, they develop the perception that they could experience great bodily harm or that their lives are in danger," Wong said. "This also ramps up the risk factors for PTSD."
Like veterans returning from conflict, children who experience a violent environment internalize a fight-or-flight mentality, which can be triggered by similar events, a return to the scene where the trauma occurred or a run-in with associated persons.
Any child exposed to violence may suffer from PTSD — whether as the victim or as a witness to physical violence, threats or abuse of any kind. These events may have happened anywhere: at home in an instance of domestic abuse or neglect, in their neighborhood in the form of gang violence or at school as a result of physical or psychological bullying.
The chances of a child developing PTSD are especially high in at-risk communities. One study found that 88% of children in zip codes with the highest rates of crime, gang activity and poverty had been exposed to some sort of traumatic event.
"The first thing that a trained counselor, social worker or school psychologist should ask themselves is 'how do we begin to understand what children go through?'" Wong said.  "How do we help these children, their parents and their teachers to begin the healing process when they've been exposed to community violence?"
Manifestations and Long-Term Behavioral Changes
For the most part, PTSD does not manifest itself like other forms of violent trauma. The physical symptoms are not likely to be obvious until the moment a child is experiencing one of the most telling signs of PTSD —  colloquially known as a "flashback."
"Let's say that a child is walking to the store, and they get to a certain place where they saw someone robbing the store or pushing them down. What they get is a very specific image that is a part of a real experience." Wong explains. "But flashbacks aren't limited to the scene of the crime. They could be at home, they could be in their bedroom, they could be out shopping with their parents, but because these upsetting thoughts are involuntary the child may still show signs of their trauma."
Once a child's "flashback" is triggered, the physical manifestation of PTSD begins as if the event itself was happening in real time. Sweaty palms and increased heart rate can be demonstrative of an overwhelming fear welling up in a child. This shows the child's natural urge to get away. They go into survival mode because they intrinsically believe their lives are in danger, particularly when the traumatic event they experienced involved weapons-related violence.
These physical symptoms of trauma can also manifest as nightmares or interrupted sleep.
Often PTSD may emerge more clearly in the long-term. Behavioral changes in a child over time may include:
avoidance of certain places or people
temporary amnesia (a child simply cannot bring themselves to cope with the event and does not acknowledge the occurrence)
adverse reactions to physical reminders (people or places involved in the traumatic event triggers a panicked response)
bad behavior or "acting out" at school
changes in the way they conduct themselves around classmates
sudden development of hypersensitivity to loud noises or easily startled
How Caring Adults Can Take Action
Teachers are often in the best position to identify cases of traumatic stress in children, but a teacher who sees a child acting violently or with hostility toward classmates might assume that the solution is discipline.
"One of the disconnects for adults is that while they do care about the child, they might not fully understand or even know of the experiences the child has had," Wong said. "They may not  understand how pervasive the aftermath can be in other environments that may have nothing to do with what the child experienced."
Wong lays out the following three ways to take action if you suspect a child may be suffering from PTSD:
1) Speak to the Child
As a parent or teacher, you have a baseline understanding of what is within the range of normal behavior for the child. Is this a child who is typically anxious or are they generally even-tempered and happy-go-lucky? If there has been a noticeable change in behavior, speak with the child at a time and place where that child feels protected and safe (i.e. not in the middle of the classroom).
2) Engage a Mental Health Professional
To help the child, you must do your best to get to the root of the problem. This is important because the child may not even be aware of why they are acting a certain way. If you are not entirely comfortable speaking to the child yourself, engage a mental health professional — perhaps even the school social worker — to do so.
3) Ask Direct Questions
Engage the child in a concrete line of questioning. For instance: "How often over the past year has anyone threatened to hurt you?" Or: "How often in the past year have you seen someone get hurt?" From the answers derived you can identify if the child has been exposed to risk factors associated with PTSD.