Why Do Veterans Become Homeless?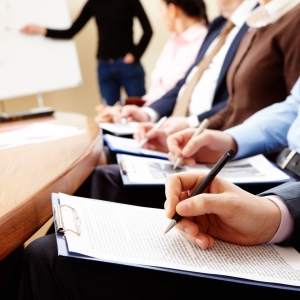 Restructuring standard military transitional training and education could be a critical step in curbing rates of homelessness among the U.S. veteran population.
From enrolling in health insurance to selecting a new career path, military service members face a breadth of unique challenges when transitioning out of the military and back into civilian life. Yet many do not receive adequate training or support to navigate this transition. For veterans struggling with economic hardship or mental health issues, the risks can be dire: it is estimated that over 40,000 U.S. veterans are currently experiencing homelessness, which represents a disproportionate segment of the total homeless population in the United States.
While the factors contributing to this phenomenon are complex, a lack of access to transitional resources and full benefits may prevent some service members from securing affordable housing upon separating from the military. To explore the connections between military pre-separation training and veteran homelessness, we spoke with Jeremiah Mason, a second-year MSW student in the Military Academic Center's Military Social Work Track and the Department of Social Change and Innovation at the USC Suzanne Dworak-Peck School of Social Work. A U.S. Navy veteran, Mason's research centers upon improving the military's transitional education programs and increasing access to valuable resources for all service members and veterans.
USC Suzanne Dworak-Peck School of Social Work: How did you become interested in studying the connection between military separation policy and homelessness?
Jeremiah Mason: I served 14 years of active duty in the U.S. Navy, where my role entailed processing separation paperwork for service members. Through this experience, I gained two important insights: first, that discharge standings are determined subjectively, and secondly, that standard pre-separation training is often insufficient for ensuring that service members are prepared for civilian life.
First of all, I realized that a service member with an outstanding record could commit a single minor offense and be disciplined in one of two ways: either they'd be issued an inconsequential punishment, or they'd be forcefully discharged with an other-than-honorable or dishonorable status, simply depending on whether they were well-liked by their commanders. A positive drug test, for example, can bar an upstanding service member from receiving adequate support and an honorable discharge when he or she leaves the military.
Often, those who receive other-than-honorable or dishonorable discharges are prevented from receiving federal benefits through the U.S. Department of Veterans Affairs (VA). Their discharge status may also make it more difficult for them to find proper housing, health care and employment.
USC: How have these insights shaped your current academic focus and research pursuits?
JM: Since the fall of 2017, I've been conducting research on existing pre-separation processes. The primary aim of this research is to identify viable options for restructuring these processes through new policy implementation.
The larger goal of my research has to do with shifting mindsets. If we can reframe our cultural understanding of discharges (whether honorable, other-than-honorable or dishonorable) to see every service member as deserving of support, we can create a more effective model for military transitional services. My hope is that we can establish a system that equips every service member with the tools they need to thrive in their new civilian life.
USC: How could standard transitional processes be improved upon to better support the needs of service members leaving the military?
JM: As it stands, the DoD Transition Assistance Program (TAP) delivers too much information in a compressed period of time. TAP is a five-day training program consisting of PowerPoint presentations, workshops and lectures on various benefits and resources that can help facilitate the transition to civilian life. It can feel rushed, and it is designed to allow very little interactive engagement from service members—which makes it difficult to fully absorb all of the information being presented.
I think TAP and its associated curriculums would be more effective if they were restructured. Overall, transitional processes should be more comprehensive and accessible to service members over a longer period of time. For example, I would like to see an additional week designated entirely to VA health care benefits and a smoother military transition to the Department of Veteran Affairs, and believe that Veteran Service Organizations (VSOs) should be established as a one-stop shop for transitional resources and assistance after separation.
USC: How can some of these changes help veteran homelessness?
I believe that no matter what type of discharge a service member receives, he or she should be eligible for some degree of federal benefits. After all, even if a service member has exhibited poor conduct, they have still served their country. By granting all service members and veterans access to VA health, housing, financial, educational and career resources—and by making transitional processes more comprehensive and interactive—I believe we could significantly reduce rates of homelessness among veterans.
To reference the work of our faculty online, we ask that you directly quote their work where possible and attribute it to "FACULTY NAME, a professor in the USC Suzanne Dworak-Peck School of Social Work" (LINK: https://dworakpeck.usc.edu)