What do School Social Workers do?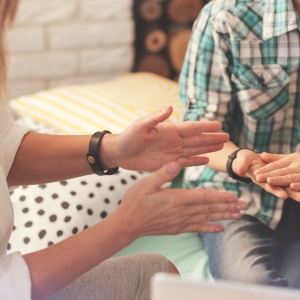 If you have ever considered a career as a school social worker, and are wondering what exactly this position entails, we have the answers.
A degree in social work can open doors to a myriad of careers paths and job opportunities. If you are interested in working with the younger set, few fields are as impactful as school social work. From helping children build social skills to creating community guidelines that address problematic behavior, these professionals ensure the mental and emotional wellbeing of children of all ages and backgrounds.
We consulted Vivien Villaverde, clinical associate professor for field education, to seek answers to some of the most common questions about working in a school setting, as well as how school social workers collaborate with teachers, counselors and the education system as a whole to help students thrive.
What exactly does a school social worker do?
School social workers are responsible for fostering students' social and emotional wellbeing so the are ready to learn in the classroom. Students often need different levels of support, depending on their social skills or issues in their home lives. As trained mental health practitioners, social workers are able to deliver a wide spectrum of services, from building social skills to providing intensive mental health support.
"A school social worker could be working with students on any number of things, from building social skills to learning strategies," Villaverde says. "But they can also help address behavioral issues, family crises or tough interpersonal relationships."
In particular, school social workers provide valuable support to students struggling with truancy or academic performance. They consult with the student, their teachers and, in some cases, their parents to develop a plan for improving the student's attendance or grades.
In addition to skill building, risk assessments are a regular part of a school social worker's responsibilities. This could include recognizing and reporting concerning behavior, such as suicidal ideation or self-injury. School social workers also intervene during school-wide emergencies, providing psychological aid to students and faculty members.
What's the difference between school social workers and school counselors?
School counselors primarily offer students academic support, often performing a number of administrative tasks outside of their counseling duties. School social workers, on the other hand, have more extensive training in mental health issues, giving struggling students a resource at school for dedicated socio-emotional support.
"Because there are so many students per school counselor, they have to focus primarily on academics," says Villaverde. "Social workers help to resolve other problems a student might be going through, so that they can focus on their academic performance."
Why are social work services in a school setting so important?
All students come to school to learn, but they arrive in the classroom with varying backgrounds and levels of academic readiness. When a student is exposed to violence, substance abuse or other problems at home or in their communities, they often struggle to keep up in school and are likely to fall behind peers who come from more stable backgrounds.
"When children are exposed to consistent trauma," Villaverde explains, "their brains are biologically altered. The brain is less capable of using skills that are conducive to learning, like paying attention for a prolonged period or being able to organize, process and analyze information."
On the whole, teachers are neither trained to serve students with traumatic backgrounds, nor are they able to do so in a crowded classroom setting. School counselors, while they may be trained in this area, have other responsibilities on the academic side and often do not have the time or capacity to address these issues. Social workers fill a void for these students and provide them with the specialized help they need.
Not only do in-house social workers help students in crisis, but they are also able to implement interventions on a more universal scale. "With preventative measures in place, social workers are able to address these issues before they become severe and disruptive to the student," says Villaverde.
What makes a school social work position unique?
School social workers have the opportunity to work with children and adolescents through some of the most important moments of their lives. But this career path also introduces social work professionals to issues at the micro, mezzo and macro levels.
"You will be pulled into all three levels of practice," says Villaverde. "There will be coordination and collaboration across the school community, but there will be a need for individual services, and group and family services as well."
What certifications do interested MSW candidates need to pursue in order to become school social workers?
School social workers must meet the specific requirements of the credentialing body in the state they live in. "For the state of California," Villaverde explains, "you need the People, Personnel, and Services Credential, or PPSC. You also have to take the state teacher credentialing test."
Students in USC's MSW program must complete additional clinical practice and hours mandates in order to fulfill the credentialing requirements. Candidates must also meet fingerprinting and background check requirements
To reference the work of our faculty online, we ask that you directly quote their work where possible and attribute it to "FACULTY NAME, a professor in the USC Suzanne Dworak-Peck School of Social Work" (LINK: https://dworakpeck.usc.edu)