What Do Community Organizers Do?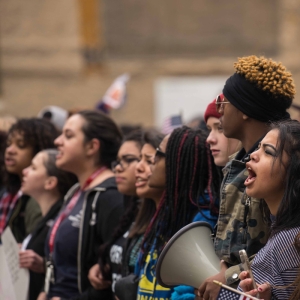 Mobilizing broad social change requires a community-focused, systemic approach—and a healthy dose of tenacity.
The skills gained by Master of Social Work (MSW) candidates in the classroom can translate to a wide range of career opportunities: from micro-level, client-focused care to broader policy work. Those interested in putting a diverse skill set into practice and working directly with communities to affect large-scale change may consider the possibilities of community organizing.
Ruth White, clinical associate professor at the USC Suzanne Dworak-Peck School of Social Work, has spent her 25-year career advocating for the betterment of communities across the globe, from the U.S to Uganda. Her work has focused on building programs in health, social welfare and diversity and inclusion.
For social workers who are interested in exploring this field, White illuminates the multifaceted responsibilities of a community organizer, and what skills may best equip an MSW graduate for a career in this arena.
The Will to Succeed
During White's tenure as a professor and organizer, she has identified certain characteristics in her students that prime them for successful careers in community organizing.
"The main quality that community organizers need is tenacity," says White. "You have to be a bit of an extrovert and not be bothered by the word 'no.'" That tenacity, she says, must be paired with patience and an ability to think big. While systems-wide change can be incremental and often painfully slow to take root, successful community organizers demonstrate an ability to step back and draw inspiration from what they are working to achieve on a larger scale.
Community organizing also demands a high level of flexibility and open-mindedness. Rather than demonstrating an unwavering commitment to one's ideals, organizers must attempt to find common ground with those that they are working with. Often, this includes learning to "speak their language"—both literally and figuratively. Only once this connection has been established can real progress be made.
Ask The People What They Want
"As an organizer, the needs of the community always inform the actions you take," says White. She believes that effective organizing requires a deep familiarity with the community being served—a point she stresses in every class she teaches.
While working on a program in Ghana, a student told her that the one thing she kept in mind was always to "ask the people what they want." Professor White told her, "If that's all you got out of my 10-week class, then I did my job." Much of a community organizer's responsibility lies in listening to communities and then acting to assuage the pain points vocalized by community members.
Once a social worker thoroughly understands the community's needs, the work of meeting these needs must begin. White stresses that there is no "typical day" in the life of a community organizer, nor is there a defined career trajectory for social workers who embark on this path. During White's career, daily tasks have included organizing community meetings, training community members, evaluating programs, and holding advocacy meetings with elected officials.
A Community-Based Approach
White stresses that, in many cases, organizing must be coupled with a clinical approach in order to fully address the needs of community members. "We need clinical workers, too. Mental illness, for example, can't be addressed with community organizing alone."
Still, she emphasizes just how crucial a wider lens approach to social issues can be. Many individuals who seek social and mental health services are dealing with a variety of social stressors, such as poverty and racism, that exacerbate the psychological or health issues they may be experiencing. Focusing exclusively on an individual's immediate needs misses the forest for the trees. "Social change is not going to happen one client at a time," White insists.
This concept—that real change happens when communities are mobilized to overcome divisions and act together for the greater good—is one that many MSW students come to during the course of their studies. As White puts it, they realize that "they want to change more than just people. They want to change social policy." This desire is often an indication that a career in community organizing may be the best path forward.
To reference the work of our faculty online, we ask that you directly quote their work where possible and attribute it to "FACULTY NAME, a professor in the USC Suzanne Dworak-Peck School of Social Work" (LINK: https://dworakpeck.usc.edu)