Web-based Master's Program Hits Stride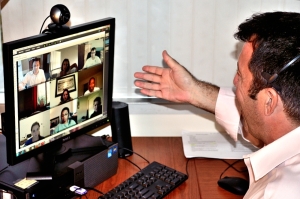 When a paperwork mix-up caused Kate Barlow to miss her chance to enroll in the social work master's program at USC, she had two options. She could wait around for another year, or she could start taking classes through the Virtual Academic Center. She chose the VAC.
The web-based master's program launched in October 2010 by the USC School of Social Work has experienced success, expanding throughout much of the United States and enrolling nearly 1,000 students (compared to 1,200 on-campus students scattered across four Southern California locations).
For Barlow, who decided to stick with the program during her second year rather than commute from Culver City to take classes on campus, the decision has paid off.
"My experience has been very, very favorable," she said. "I've established relationships with students and faculty members. There is a rigor to it as much as there is on the ground."
School officials emphasize that rigor when describing the program, in addition to distinguishing the VAC from other "online" programs that don't feature virtual technology or live interaction between students and professors.
VAC director June Wiley, who also teaches in the web-based program, believes the VAC offers a number of outstanding elements to students, including state-of-the art technology and exposure to forward-looking research at the Hamovitch Center. One dynamic feature is its live synchronous sessions, during which students log on with webcams and engage in face-to-face discussions with their professors and classmates.
"I think that's made the biggest difference in terms of virtual teaching—that level of interaction," Wiley said. "I find the students come to class well-prepared and attentive and eager to learn, and it's helpful to be able to communicate with such ease on the platform."
Available in all but three states (approval is pending), the VAC offers a two-year full-time program, a three-year accelerated part-time program, and a four-year part-time option. As the center continues to increase enrollment and hire new adjunct faculty throughout the country, the school hopes to enroll 1,000 students a year, in addition to hiring up to 200 part-time lecturers.
Classes have a small instructor-to-student ratio, and each student has a faculty advisor. A national field placement coordinator works with a team of specialists to ensure that students find an internship in their home community.
In addition to downloading course materials and other pertinent information through the platform, or learning management system (LMS), students log on once a week at specified lecture times. As students enter the "classroom," their screens fill up with video feeds from other classmates and the professor.
"It looks like Hollywood Squares," said Paul Maiden, vice dean of academic and student affairs.
In addition to offering a quality education to those unable to attend USC in person, he said the virtual platform offers other advantages, such as highlighting groundbreaking research by senior Hamovitch professors.
"Students are getting exposed to social work researchers who are not always able to be in the classroom," he said.
Although the school is planning to conduct research on learning outcomes between students who take classes on campus and through the VAC, Maiden said he has seen little difference in class quality between what he called the "ground" and the "cloud."
In fact, some materials developed specifically for VAC courses are enhancing lectures held in brick-and-mortar classrooms, he said. For example, professors who teach courses on substance abuse have access to a series of video segments with a world-renowned addiction specialist, who was interviewed in his office at Harvard University.
"We would have never been able to bring him here to campus," Maiden said.
Other materials, such as audio presentations and case vignettes that follow a character through early adulthood into older age, are also available to professors on campus.
The professionally produced content has proven particularly valuable to those in the VAC, including Barlow, who said she doesn't have the opportunity to interact with people suffering from schizophrenia, bipolar disorder, or post-traumatic stress disorder.
"It gives us at least a taste of what interaction with an individual with those disorders would be like," she said.
Wiley said professors are able to create a more captivating experience by interspersing videos and YouTube clips into their live discussions, in addition to bringing in the Hamovitch Center's leading researchers for cameo appearances.
"It's a wonderful way to present concepts and again provide that interactive experience that is engaging and lively for students," she said.
Sam Mistrano, a clinical associate professor who teaches three classes in the VAC, said the experience is virtually the same as teaching a course in a traditional classroom. Other than adjusting to shorter class periods and dealing with the occasional technical glitch, he hasn't made any drastic changes to his teaching style.
However, he has noticed that students in the web-based program seem to be more self-reliant and are often professionals with experience in the field.
"They seem to have a stronger sense of why they are in school," Mistrano said.
Doni Whitsett, a clinical professor who has taught at USC for nearly 20 years, said she has also noticed subtle differences between web-based and ground classes.
"Building the relationships was slower, but once you get the hang of it, it's actually a little more intimate," she said.
She has found it easier to conduct role-playing exercises during class due to a feature that allows her to pair off students in their own individual "rooms," allowing her to move from one pair to the next without disturbing their interaction.
Some groups of students have been very engaged, even giving each other mock high-fives on the computer screen. Other classes have been more subdued, she said, with much less interaction than she would expect in traditional classrooms.
Whitsett also noticed more technical glitches when the VAC launched, but said most seemed to be the result of user errors and have largely been eliminated.
As a member of the first cohort to enter the program, Barlow said she expected the occasional technical issue.
"Anytime you are dealing with a new format of any sort, it's not going to be a clean run all the way through," she said.
Many of those issues have been resolved as students become more comfortable with the platform and professors adjust to using the technology, she said.
Despite having the option to switch to ground classes, Barlow decided to avoid the hassle of driving to campus and trying to find parking. Although she acknowledged she likely has less daily interaction with fellow students than if she went to campus, the 54-year-old said socializing is more of an undergraduate experience. In addition, the VAC program offers opportunities for students to get together outside of class for live video sessions and study groups.
Now in her final semester, Barlow said she is looking forward to finding a job working with seniors in the mental health field. Asked whether she is worried that misperceptions about virtual education might hamper her job prospects, Barlow said she would simply explain to any potential employers that she had to complete the same coursework and meet the same ideals as any student on campus.
"USC had a very high standard to maintain, and they had a lot to lose," she said. "But they have produced a program that is very much the equivalent of what is on the ground. It is rigorous, and the expectations are the same."
To reference the work of our faculty online, we ask that you directly quote their work where possible and attribute it to "FACULTY NAME, a professor in the USC Suzanne Dworak-Peck School of Social Work" (LINK: https://dworakpeck.usc.edu)