USC Tackles Race and Racism at Symposium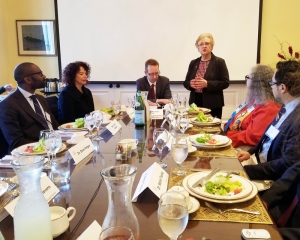 "White people are going to have to give up stuff – a disproportionate access to resources – in order to deracialize society," said John L. Jackson, dean of the School of Social Policy & Practice at the University of Pennsylvania.
"How do you convince them?"
As Jackson said this, a murmur filled the room full of race scholars – many from the University of Southern California as well as a good number from other U.S. institutions of higher education – as they collectively realized the magnitude of this statement and the challenge that followed it.
The researchers had gathered at USC for a symposium organized by Cherrie Short, associate dean of global & community initiatives at the USC Suzanne Dworak-Peck School of Social Work, and co-hosted with Jackson to find ways to advance the real-world applications of their scholarship on race and race relations. The racially and ethnically diverse group of about 20 came from various research backgrounds, including health, social work, gender studies, law and politics.
Marilyn Flynn, dean of the USC Suzanne Dworak-Peck School of Social Work, urged the scholars at the symposium to connect their research to practical use in an effort to translate diversity and inclusion concepts into something more easily digestible for the general public.
"We want to connect science to practice in social change," she said. "How do we reconceptualize these ideas to build understanding?"
Short also emphasized the need to take the ideas in the room to society at large.
"We don't want to just preach to the converted. We want to ensure we take it outside this room," she said.
Digging deeper
Researchers presented relevant findings from their studies to serve as jumping-off points for the day-long discussion, which tackled the issues of race and racism from both a macro context and a more narrow focus on the cultural climate in higher education.
"Institutions can be agents of change or agents of control," said Erick Guerrero, associate professor at the USC Suzanne Dworak-Peck School of Social Work who studies organizational factors to enhance the effectiveness of behavioral health treatments. "We need change at the macro level, and we need [informed people such as] social workers to be at the table when making major decisions on equality and justice."
Gabriel Crenshaw, a psychologist who lectures on neuroscience at the USC Suzanne Dworak-Peck School of Social Work, echoed this sentiment.
"Diversity means nothing if you don't have the power to speak up when you're at the table," he said. "We want to make sure diversity doesn't become colorful without also being meaningful."
Making it stick
The symposium included USC Provost Michael Quick, who is currently leading a university-wide initiative on diversity and inclusion.
"Diversity is still a 'thing' instead of something we are," he said. "I want it to be a core value of the university [so that] when we all walk away, it will stay there."
At the university level, USC has made access and opportunity a priority, with the idea that "creating a community of diverse viewpoints—economic, cultural, intellectual—builds a greater generation of innovators, leaders, visionaries and creators to move society forward," according to avisionfor.usc.edu.
USC currently enrolls more underrepresented minority students than any other private institution in the Association of American Universities. The university also considers veteran status and socioeconomic background to expand student diversity beyond race and gender.
USC also recently welcomed Shaun Harper, one of the country's foremost scholars on diversity and inclusion in campus climate who serves as director of the university's Center for Race and Equity. The center will bring together professors from various disciplines whose scholarship focuses on people of color, racial inequities, immigration and related topics to study and help solve the most pressing race problems in America.
The university recently took a closer look at its classrooms with a week of diversity and inclusion training for its faculty from Jan. 23 to 27. Spearheaded by faculty from the USC Suzanne Dworak-Peck School of Social Work, including Clinical Associate Professor Renee Smith-Maddox who helped coordinate the effort, the program included workshops on racial stereotypes, language of social division, fostering mentoring relationships, and engaging diversity and inclusion in teaching, among many other topics.
Looking inward
"We must model diversity and inclusion," said Tyan Parker Dominguez, clinical associate professor at the USC Suzanne Dworak-Peck School of Social Work. "We can do diversity. It's the inclusion piece where we'll need to grow, as faculty."
Martell Teasley, chair of the Department of Social Work at the University of Texas at San Antonio College of Public Policy, also took a critical look at the role of faculty in the university environment.
"We say we're advocates, but when something serious happens, we step back and say we're just scholars," he said.
Quick, whose own scholarly background is in engineering, suggested the increased use of data in discourse on diversity to serve as evidence of its benefits to society.
"Where else can we try this out if not at a university?" he asked. "They say, never let a crisis go to waste. Well, we've got a crisis."
To reference the work of our faculty online, we ask that you directly quote their work where possible and attribute it to "FACULTY NAME, a professor in the USC Suzanne Dworak-Peck School of Social Work" (LINK: https://dworakpeck.usc.edu)