USC Social Work Offers First-of-its-Kind Counseling at L.A.'s Mexican Consulate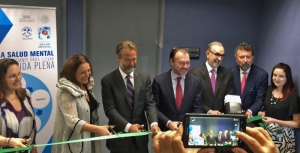 With the Trump Administration's recent revocation of the Deferred Action for Childhood Arrivals policy, and a perceived increase in immigration enforcement, many immigrants are under more stress than ever, especially with the recent major earthquakes in Mexico affecting families on both sides of the border.
But immigrants don't always seek help because of cultural stigma and the threat of deportation, among many other stressors. The USC Suzanne Dworak-Peck School of Social Work is working to change that.
Associate Professor Concepcion Barrio and Paula Helu-Brown, PhD '17, have been working with the Consulate General of Mexico in Los Angeles since January to provide mental health counseling there through a field placement staffed by USC Master of Social Work students.
"This is a very innovative partnership between our school of social work and the Mexican Consulate of Los Angeles, which serves the largest Mexican community in the United States," Barrio said. "Our MSW students will undoubtedly have a rich professional experience that will be made so much more gratifying by witnessing first-hand how their social work practice directly benefits the Mexican immigrant community."
Pioneering practice
Providing direct mental health services in a consular setting has never been done at any consulate across the globe, although there have been ventures that have come close. The Mexican consulate in Ireland, for example, has provided online mental health counseling for Mexican immigrants. The Consulate General of El Salvador in Los Angeles has had a smaller version of this program for the past year, thanks to the persistence of the field education department at the USC Suzanne Dworak-Peck School of Social Work. The Mexican consulate's program combines in-person with online mental health service access, expanding its reach to a network of culturally receptive community agencies for client referrals.
Traditionally, consulates have had social workers on site in cases of unaccompanied minors and family court issues, but this is really the first time that one is serving as an open clinic for mental health services. It's personalized, completely free, and immigration status or insurance capabilities will not be an issue – that's according to Carlos Garcia de Alba, Consul General of Mexico. At a press conference on Sept. 12, he explained that providing this safe space was an important function of the consulate.
"We offer education and empowerment," he said, "but without health, they are nothing. And integral to health is mental health…With the stigmas surrounding it, this is important."
Luis Videgaray, Secretary of Foreign Relations of Mexico and the country's most prominent diplomat, visited the L.A. consulate for the first time ever for this announcement, and spoke of its importance as a model for others to follow.
"The goal is to be active in Mexican communities and attend to the changing needs of those who come to the United States," he said. "This pioneering program is important because we are dealing with a double stigma, immigration status and mental health." Eventually, he explained, he wants to see similar programs at all consulates worldwide.
Helu-Brown was instrumental in developing the program and is currently overseeing its operation as clinical coordinator.
"This program was developed as a response to growing concern about the mental health of Latino immigrants, which seemed to be impacted even more during the campaign and last year's elections," she said. "Many of them are undocumented and afraid to seek services in the community for fear of being deported, so we thought it would be great to bring services to them in a place where they feel safe."
Fulfilling a need
USC Suzanne Dworak-Peck School of Social Work has two master's degree students placed with the Mexican consulate, two with the Mexican state of Jalisco's Casa Jalisco and one in the Salvadoran consulate in Los Angeles.
MSW student Alexandra Zaragoza works in the new mental health office at the Mexican consulate. As a Mexican American with immigrant parents, Zaragoza intimately understands the reasons behind some immigrants' hesitancy to seek mental health treatment and is able to offer culturally relevant services, including psychological first aid and group therapy, under the supervision of a licensed clinical social worker.  
"Since I was a child, I saw how much my parents and family struggled in order to be successful in life," she said. "It is extremely hard for someone to come to another country and face issues such as language barriers, racism and not knowing a single soul to guide you. They come to this country for a better life and with hope to be accepted, but that is not always immediately the case."
Zaragoza said she believes many of the people who go to the consulate for help do so because they feel a sense of safety and comfort.
"On my first day and within minutes, there were already families in the waiting room seeking help. For someone to take the initiative to come forward and ask for these services is unheard of in our culture," she said. "It is amazing to be able to help these individuals who seek support, to set goals, provide them with self-empowerment, and give them resources they need in order to be healthy, physically and mentally. This is why I am so glad I am able to be part of this."
To reference the work of our faculty online, we ask that you directly quote their work where possible and attribute it to "FACULTY NAME, a professor in the USC Suzanne Dworak-Peck School of Social Work" (LINK: https://dworakpeck.usc.edu)