USC Social Work Alumni making a difference in schools across the U.S.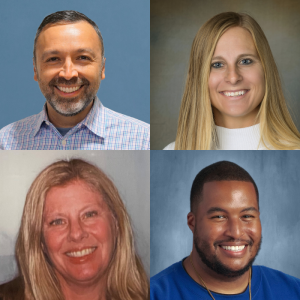 Early behavioral health intervention with youth in school settings could be key to addressing a myriad of physical and mental health issues throughout the lifespan.  It is increasingly clear that social determinants of health (SDOH) are indicated in up to 50% of adult health conditions, and the impact of adverse childhood experiences (ACE) lasts well into adulthood. Providing children and adolescents with access to behavioral and mental health professionals who can offer resources and interventions to address these complex issues is essential to reducing the long-term impact of trauma.
As a leader in the training of social workers in school and educational settings for over two decades, the USC Suzanne Dworak-Peck School of Social Work educates clinicians who are making a difference in schools and communities across the country every day — from  major cities and school districts to rural and small-town environments.
Delivering care to California classrooms
In two of the largest school districts in California — and, in fact, the country — Jabril Rollins, MSW '18, and Joel Cisneros, MSW '05, are providing students, teachers, administrators, and even parents with a new idea of the impact a social worker can have in a school setting.
At Glen Park Elementary School in the San Francisco Unified School District, Rollins focuses much of his efforts on proactive prevention programs to help surface issues before they become problems in the classroom or on the schoolyard. He has developed several group programs that cater to the specific needs of his student population, including dealing with having divorced parents, anger management, social skills and self-regulation. He began a group for children who have difficulty talking about their feelings, oriented around the animated movie "Inside Out." Rollins even leads restorative justice sessions in the classroom and provides teachers and students with training to continue on their own.  
"When you say 'social worker' most people think Child Protective Services," Rollins said. "They don't know about so many of the other tracks that are available."
In a majority-female profession such as education, Rollins often finds himself the only male — as well as one of the only Black — individuals on campus, so presenting himself as a role model and a resource is important to him. A regular practice of being on the playground every morning to greet the children as they arrive for school affords the parents with an opportunity to alert him to any issues their children may be experiencing. He can then be aware of anyone who might need a little extra help that day.
At the other end of the state, Cisneros is administrator of the Student Health and Human Services Division for the Los Angeles Unified School District (LAUSD), which includes oversight of the mental health department. In this role he oversees the social and emotional well-being of the district's 565,000 schoolchildren at over 1,000 schools, with more than 800 psychiatric social workers. His social work team works across LAUSD to implement programs from early childhood training and consultation all the way up to psychiatric emergency response for threat assessments.
Cisneros views the "client" as the entire district, including each of its schools and the social-emotional well-being of teachers, staff and particularly the parents.
"It is important to recognize that if the adults aren't well then students aren't well," Cisneros said. "They are the emotional vessels for our kids." Toward that end, Cisneros has launched a social-emotional learning series and supportive outreach directed at giving parents the tools they need to be effective caregivers.
In a highly diverse environment such as LAUSD, it is essential that those providing mental health care in schools have a deep understanding of the racial, socioeconomical and cultural challenges experienced by the students on many levels. Los Angeles is often at the forefront of emerging issues influenced by national concerns, such as LGBTQ+ rights and the Black Lives Matter movement. Cisneros knows social workers have the broadest training to handle the complex needs of his district.
"Social workers are the Swiss army knife of mental health," Cisneros said. "They are able to navigate in the most critical moments in a person's life, then the next day be able to talk policy and impact funding."
One issue that that is concerning across the board for both Rollins and Cisneros in their respective California districts is addressing is the lag in social skills that many school children have experienced returning from distance learning during the pandemic.
"Kids weren't around peers their age for a lot of time," Rollins said. "So now being back in a group environment we're finding that those social cues, like self-regulation skills, have not been learned and tested and tried."
Training a workforce across the country
In recent years, the MSW program specialization in schools and educational settings at USC has extended its reach across the U.S. through its online option, training a new workforce outside of California. Subsequently, this has helped to bring more social workers into school districts across the country, and more widely demonstrate their impact on educational and health outcomes.
In New Hampshire, Kristen Doherty, MSW '19, always thrived when working with kids and loved helping people. "I honestly feel like I've been a social worker most of my life," she said.
Doherty, a licensed school social worker (LSSW), is currently the student assistant program counselor at a high school serving predominantly rural, lower socioeconomic students.
"Going to USC helped me put out a better message," Doherty said. "I was exposed to cultural dynamics in my classroom that I had never been exposed to before, living in New Hampshire for more than 20 years. I didn't know how isolated I was."
Nebraska social worker Sara Gentry, MSW '19, faced a school system that knew very little about social work. In fact, she is the first social worker to be hired by her educational service unit, which encompasses a number of school districts on the rural western side of the state.
"I kind of bullied my way into school social work," Gentry said.
After starting out in child and adult protective services, she knew she wanted to parlay her experience into practicing social work in a school setting, but no training in this specialization existed where she lives. She took a risk, accepted a position as a services coordinator in the educational services unit and began planting seeds within the administration for why social work would be an important addition. Simultaneously, she began pursuing her MSW at USC, specializing in school and educational settings. 
"A huge appeal for me with USC was the option to attend online and have class time with other students from across the United States, finding out what was happening in school social work in other areas," Gentry said. "I graduated right before our school district went remote due to the pandemic, and it was a strength that I had done my education online because I was far more comfortable in the world of telehealth than my coworkers."
Administration in the educational services unit created her current position as a school social worker to serve as her practicum placement during her studies. Upon receiving her MSW the position was made permanent. 
Although based halfway across the country from one another, Doherty and Gentry face similar issues in the rural communities they serve. Their students struggle with poverty, substance use, depression, suicidality and generational trauma. Doherty has implemented behavioral health prevention programs at her school to target these issues, offering both group and one-on-one counseling options. Gentry's educational services unit covers multiple K-12 school districts over a 12,000 square mile radius spanning nine counties. She also takes the approach of focusing on strengths-based perspective and prevention programming, teaching kids the skills to address issues before they become severe. 
"In social work we're taught to meet people where they are, and in our rural communities the schools are where everyone is," Gentry said. "That's where people go for funerals, that's where they go for sporting events, any type of get-together, and they are often the number-one employer."
Doherty sees the goal as helping people understand each other better and respect differences. "My students like to joke that Mrs. D's office is the 'no-judgment zone.' I like that."
Learn more about the MSW specialization in school and educational settings at the USC Suzanne Dworak-Peck School of Social Work, and the new graduate certificate in Trauma-Informed Practices in Educational Settings.
To reference the work of our faculty online, we ask that you directly quote their work where possible and attribute it to "FACULTY NAME, a professor in the USC Suzanne Dworak-Peck School of Social Work" (LINK: https://dworakpeck.usc.edu)