USC Leads Countywide Demographic Homeless Survey for First Time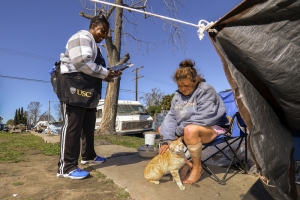 Tammie Johnson sits a stone's throw from Los Angeles International Airport, where thousands zip around the world every day. But swiveling on a chair next to her tent, she doesn't feel like she's going anywhere.
"I don't know how long I can last out here," she said.
Before Johnson, 54, was homeless, she said, she had a place in Hermosa Beach and a good job at Northrup Grumman. "I've had new cars — I've had it all," she said. "But those things came to an end."
After her sister was killed in a drive-by shooting back home in Ohio about 20 years ago, she said, her days became consumed with hard partying. "I was doing everything I could to feel numb," she said.
Her full-time job became a string of part-time gigs. She lost her apartment and slept at the homes of different friends. She ended up relying on boyfriends and when her last boyfriend ended up on the street, she did, too. Now she's alone, living in Manchester Square for over a year. There used to be apartments here, but the airport, which owns the land, razed them to make way for future development. Today the sidewalks are covered with encampments.
On a recent weekday, Johnson was one of thousands of homeless people approached by USC social workers for a demographic survey.
The survey is in partnership with the Los Angeles Homeless Services Authority (LAHSA), a joint county-city agency, which will use the data — along with its homeless count — to aid in policy decisions. It will be completed in the coming weeks and the findings likely will be ready in the spring.
It's a complex task: The county is the most populous in the country and extends from the port to Malibu to the high desert areas of Palmdale and Lancaster. The project requires hitting the streets, since 75 percent of L.A.'s roughly 47,000 homeless population is without shelter.
This is the first time USC has partnered with LAHSA on the project.
"The knowledge USC has about L.A. County makes a great deal of difference," said Sarah Mahin, director of policy and planning at LAHSA.
USC will be doing the methodology, the survey and statistical analysis, a different approach from years past when LAHSA divvied up the work among multiple organizations. USC hired about 30 surveyors — some USC graduates, some USC doctoral and Master's of Social Work students — to do the legwork.
USC's survey aimed to ask deeper questions of the homeless, inquiring about everything from their health, disabilities and how long they've been homeless to any history of domestic violence and whether they are a veteran. The university also partnered with service providers to reach harder-to-find populations such as youth, families and women.
A complex issue
Faculty members will also use the data to publish reports with recommendations.
"The issue of addressing homelessness is incredibly complex," said Associate Professor Karen Lincoln of the USC Suzanne Dworak-Peck School of Social Work, who is leading the survey. "There's not a simple solution. It will require multiple areas of expertise on how to address mental health needs, substance abuse needs, housing needs, health needs … From a policy perspective, we really need to be multidisciplinary."
Lincoln is particularly interested in people like Johnson, who are nearing or past retirement age, because they're under-researched and have different needs. She'll be publishing a report on homeless older adults.
"We've never really examined age as a factor in the homeless population," Lincoln said. "It's a really new territory."
When asked where government money needs to go, Johnson doesn't hesitate.
"It's housing — period," she said. Although she'd love permanent housing, she's not interested in temporary housing offered to her, like shelters. She finds them dirty. She'd rather live on the streets.
Similar feelings
More than half the people in her encampment on a recent afternoon felt the same way.
"Offering someone his or her own apartment has been revolutionary to date, but if we are offering people apartments in places where they don't want to live or under conditions that are not tolerable to them, they may decide to say no," said USC Social Work Assistant Professor Ben Henwood, also the co-author of the book Housing First. "From my standpoint, the trick is figuring out how to allow for personalized care and maximize self-determination while bringing to scale enough options that make that possible."
Right now, it can take a couple years for someone to get to the top of the waiting list for permanent housing. Recent legislation aims to change that.
Proposition HHH, a $1.2 million bond measure approved by city of Los Angeles voters in 2016, will go to building more permanent housing. Measure H, another measure before county voters March 7, would assist that program along with creating more resources, such as job counseling and substance abuse treatment.
But that's thinking ahead, something Johnson doesn't do.
"I'm always constantly thinking day to day, instead of long-term," Johnson said. "That's what it is, it's about surviving."
Soon Johnson will have to find a new home. The airport is developing the land and police are letting them know they have to relocate.
She didn't have a plan.
To reference the work of our faculty online, we ask that you directly quote their work where possible and attribute it to "FACULTY NAME, a professor in the USC Suzanne Dworak-Peck School of Social Work" (LINK: https://dworakpeck.usc.edu)