USC alumni named NASW Social Work Pioneers® for 2023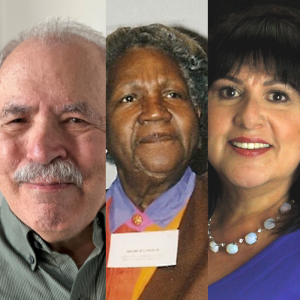 Each year, the National Association of Social Workers Foundation (NASWF) selects social workers who have explored new territories and built outposts for human services on many frontiers to be distinguished as NASW Social Work Pioneers®. They are recognized as thought leaders, mentors and luminaries whose work transformed communities and often influenced nationwide improvements. It is one of the highest honors bestowed upon practitioners in the social work profession.
From combating racism during the turbulent 1970s to restructuring child welfare services to developing health centers for thousands of residents in low-income communities, three outstanding alumni of the USC Suzanne Dworak-Peck School of Social Work are named NASW Social Work Pioneers® for 2023.
The groundbreaking achievements of Gary M. Bess, PhD '01, Ivor J. Echols, DSW '68, and Judy D. Webber, MSW '93, were honored at an induction ceremony in Washington, D.C. on October 14, 2023. NASW Social Work Pioneers® have paved the way for thousands of social work professionals to impact society and the betterment of the human condition, and are role models for future generations of social workers.
They join a highly notable group of 22 fellow USC alumni who have attained his honor. We celebrate these remarkable alumni who have changed the lives of so many individuals, families and communities.
Gary M. Bess, PhD '01: Improving access to health care
For more than 40 years, Gary M. Bess has focused his career on the practice of macro social work, improving access to health care and reducing disparities among marginalized populations. In 1991, he founded Gary Bess Associates (GBA), a consulting firm specializing in resource development, grant writing and program evaluation for health and human services agencies. Through GBA, Bess is credited with supporting the development of more than 50 Federally Qualified Health Centers (FQHC) throughout the United States. GBA assists FQHC applicants in determining the scope and scale of primary care, behavioral health, oral health and other services to meet federal compliance requirements. Bess and GBA assist clients in receiving more than $50 million in public and private grants annually through new requests and renewals.
A particular specialization for GBA is serving racially and ethnically marginalized populations, leading the firm to become a national cross-site evaluator for federal agencies, including Indian Health Services, the Agency for Native Americans and the Substance Abuse and Mental Health Services Administration (SAMHSA).
Bess describes his path as a social worker as unconventional, developing a for-profit corporation committed to social work values and using a social work skillset to work for organizations and within communities. He is a recipient of the Lifetime Achievement Award from the NASW Chico Chapter and inducted into the California Social Work Hall of Distinction in 2021. Bess is honored to be named an NASW Social Work Pioneer® and looks forward to meeting his fellow Pioneers and learning about their contributions.
"Social work careers are broad and deep," Bess said. "I anticipate learning about new needs within populations and communities, and how these individuals have made a difference. It is really the social work profession that deserves a pioneer award."
Ivor J. Echols, DSW '68 (1919-2000): Advancing civil rights
Ivor J. Echols was a pioneering educator, civil rights activist and prominent advocate for social justice, with a particular focus on supporting the Black community and individuals living in poverty.
A professor and associate dean at the University of Connecticut School of Social Work for 20 years, she played a pivotal role in recruiting minority students and fostering multicultural understanding. Echols developed curriculum around the African American family and community, and increased the knowledge of faculty on the impact of racism and oppression on American society.  Her ability to unify and inspire both Black and white students alike is considered one of her greatest areas of impact on the future of the social work profession.
During the turbulent 1970s, Echols promoted professional civility and strengthened the social work profession through her leadership. She helped develop the National Committee on Minority Affairs, served as secretary for the United Neighborhood Centers of America, member of the Advisory Committee on Aging for the National Urban League and led Connecticut's important State Advisory Committee to the U.S. Commission on Civil Rights. She advanced the rights of minorities and women as founder and first president of the Connecticut Caucus of Black Women for Political Action.
Her career accolades include NASW Social Worker of the Year in 1979 and Connecticut Woman of the Year in 1978. Her enduring impact on social work and civil rights is further recognized through the Dr. Ivor J. Echols Memorial Scholarship, benefiting University of Connecticut social work students of color and ensuring her legacy as a beloved teacher and trailblazer.
Judy D. Webber, MSW '93: Revolutionizing child welfare
Judy D. Webber, the longest serving child welfare director for the State of California, transformed the role of social workers in the child welfare system. Under her leadership, social workers became champions of family support, child well-being and community health, rather than simply mandated reporters of abuse and neglect and oversurveillance of poor families. Webber is celebrated for her unwavering commitment to promoting a child, youth and family wellness system that fosters collaboration for families to thrive.
Webber was influential in raising awareness about the traumatic consequences of separating children from their families and the historic role of child welfare in perpetuating inequalities, particularly for children of color. Her career has been defined by her proactive approach to addressing the root causes of child welfare involvement and promoting nurturing family environments.
She was one of the first child welfare directors to use data and geo-mapping to identify geographic regions that have disproportionate representation of Latinx families in the child welfare system. This data-sharing was the catalyst for multiple unprecedented cross-system initiatives, including the Neighbors Together program and expansion of the Healthy Start program placing social workers in local schools. She was a driving force for innovation in emerging cross-system, public and private collaborations to support children and families. Under her leadership, Webber created a comprehensive approach that engaged all health and human service systems to ensure wide-ranging and expedited access to alcohol and drug services, specialty mental health services and primary care for parents whose children were removed and placed in the child welfare system.
"Like all social workers, I entered this field to help others," Webber said. "I believe it was my destiny to be in the helping profession. I will continue to use my voice, this award platform, the classroom and any other venue I can to promote the transformation of child welfare in our country for children, youth and families in need of help, hope and opportunity."
To reference the work of our faculty online, we ask that you directly quote their work where possible and attribute it to "FACULTY NAME, a professor in the USC Suzanne Dworak-Peck School of Social Work" (LINK: https://dworakpeck.usc.edu)